Singin' in the Rain
Screenplay by Betty Comden and Adolph Green, songs by Nacio Herb Brown and Arthur Freed
Chichester Festival Theatre
Opera House, Manchester
–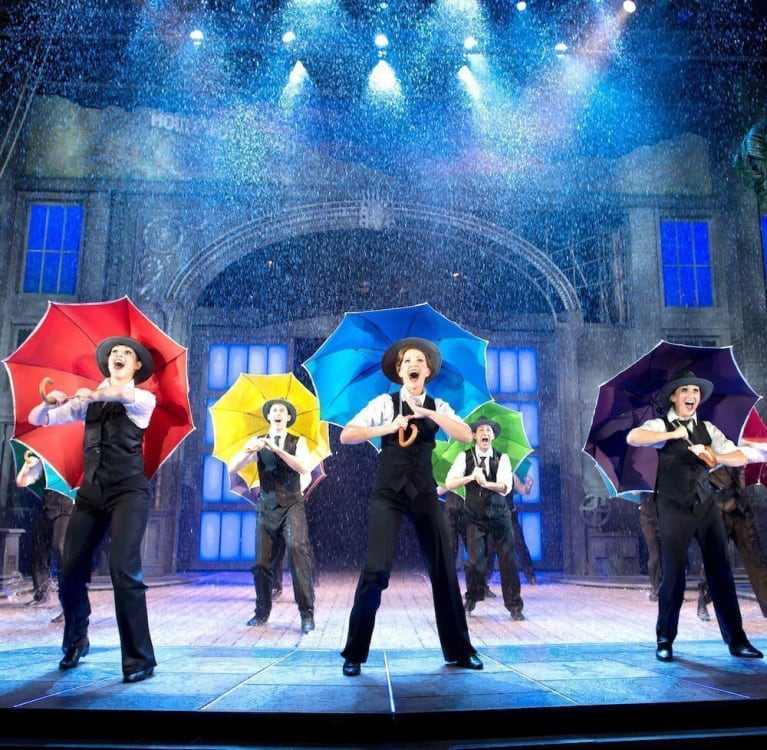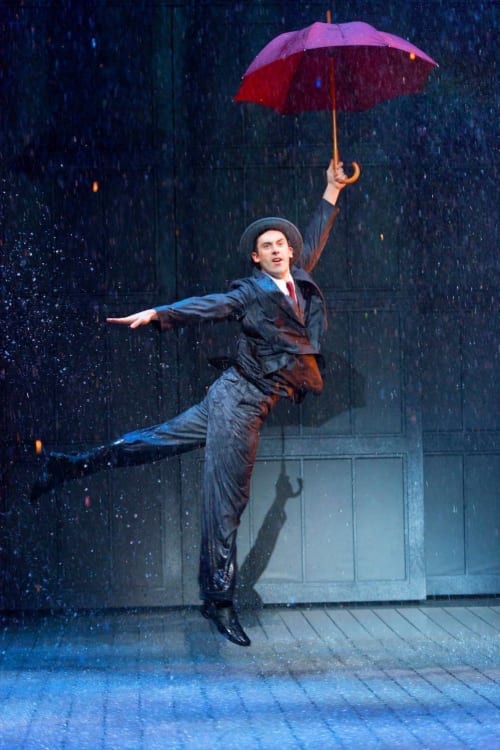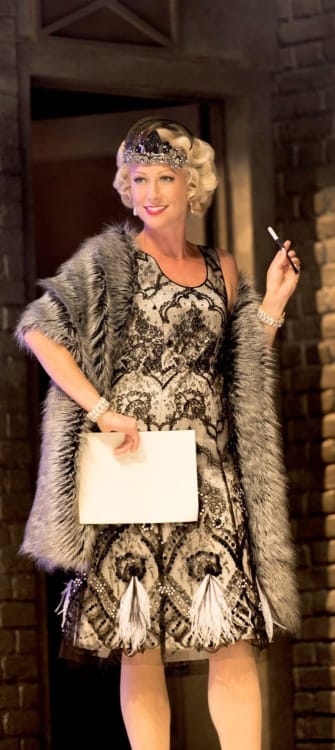 While 3D cinema may not have turned out to be the game-changing phenomenon that the studios hoped it would be, in 1927 the 'talkies' were exactly that, and many of them weren't ready for it.
This Comden and Green satire on the Hollywood studio system finds the perfect movie star couple Lockwood and Lamont—not quite so friendly off-screen as on—about to start their latest historical romance picture, The Duelling Cavalier, when The Jazz Singer suddenly becomes a hit. The head of the studio, R F Simpson, insists that the new movie must have sound if the studio is to survive.
But there are problems—well, one big problem in the shape of starlet Lina Lamont. Her beauty on the silent screen is soon forgotten when she opens her mouth to reveal a voice that could cut glass and the brain of a very small child. She also believes the publicity the studio puts out about her romance with Don Lockwood, but he has fallen in love with a chorus girl, Kathy Selden, who may have the answer to their immediate problem on her way to stardom herself—but not if Lina has anything to do with it.
The 1952 film is an undoubtable classic—voted last year by Sight and Sound the 20th greatest film ever made—with a wonderful team of Gene Kelly, Donald O'Connor and Debbie Reynolds. It was what would now be called a jukebox musical, created from the Freed and Brown back-catalogue, but the songs were seamlessly integrated into the script.
Jonathan Church's production for Chichester, beginning its first UK tour here in Manchester, pretty much takes the screenplay of the film and places it on the stage, which often doesn't work but for this film, which consists mainly of a series of famous set-pieces, it looks like it was meant as a stage show from the start.
Andrew Wright's choreography is sharp and impressive, but it lacks the great storytelling that Gene Kelly brought to his dance pieces. The "Broadway Melody" ballet is a bit disappointing as there are large sections of it that are just dancing, as good as the dancing is, without the strong narrative drive that Kelly brought to the whole piece.
But that's a niggle rather than a big minus. The famous scenes are all there with nods to the original staging and choreography where the effects in the film can't be reproduced but it is all freshly conceived for the stage rather than a poor copy of a film, as many screen-to-stage adaptations are.
The stand-out performance by a long way is Stephane Anelli as Don's best friend and former cabaret partner Cosmo Brown, who is a brilliant comic performer but also creates a warm and loveable character that always has the audience's sympathy. The part of Lina Lamont was created so perfectly by Jean Hagen in the film that it is difficult to imagine it done another way, but former Steps member Faye Tozer captures the essence of Hagen's character and makes it her own.
James Leece is heartthrob Don Lockwood and is clearly a talented dancer with a pleasant singing voice, but he doesn't quite have the presence to portray the charismatic Hollywood star. His certainly isn't a bad performance, but he doesn't shine and is overshadowed by others. Opposite him, Amy Ellen Richardson gives a lovely portrayal of Kathy Selden.
It's a good stage transfer of perhaps the greatest film musical of all time, sharply directed and choreographed with some wonderful numbers and good performances, plus you may get a good soaking in the title number if you're lucky from the impressive rain storm. An ideal family outing to the theatre before the Christmas shows and pantos begin.
Reviewer: David Chadderton