Singin' in the Rain
Betty Comden and Adolph Green, songs by Nacio Herb and Arthur Freed
Salisbury Playhouse, New Vic Theatre, Newcastle-under-Lyme and Octagon Theatre Bolton
Salisbury Playhouse
–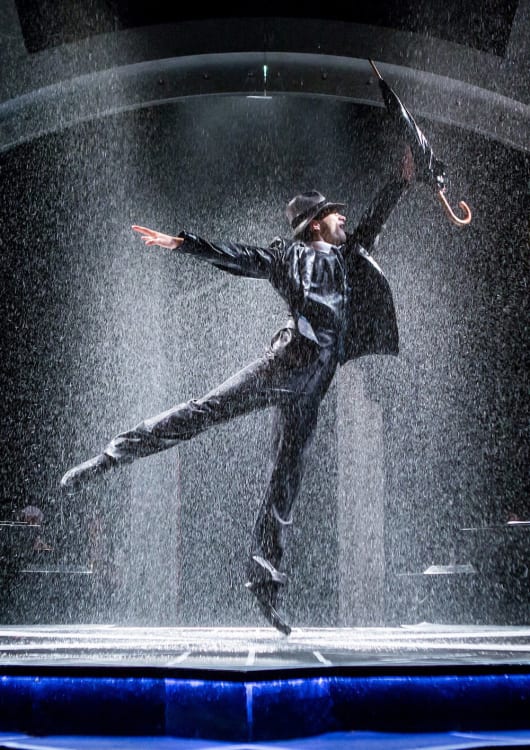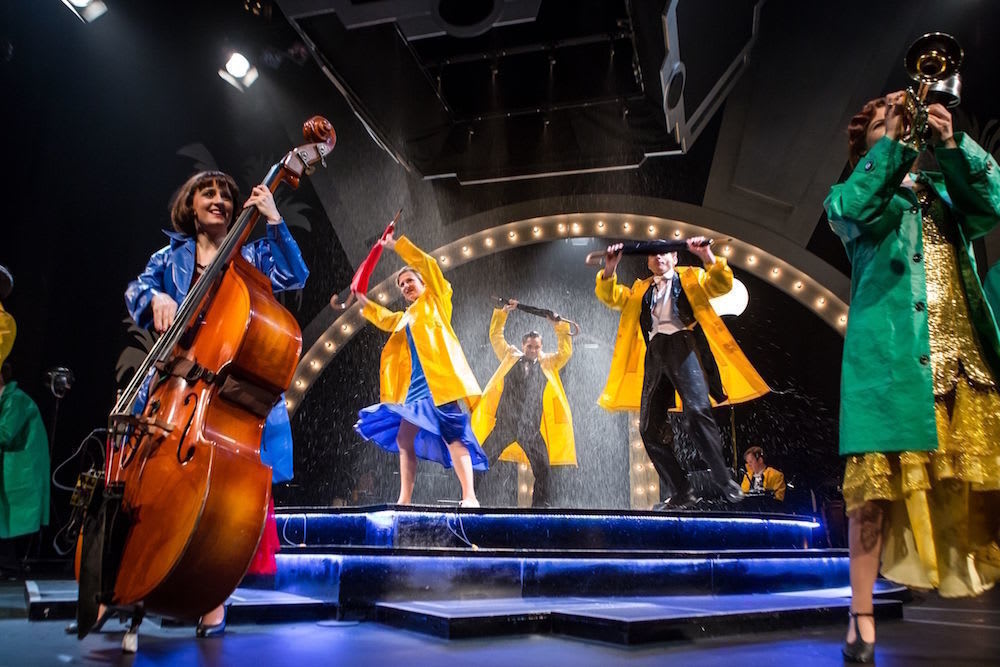 Versatility? It's something we've come to expect from Salisbury Playhouse. They're not just thoroughly competent actors, you see, but each one is a dancer, a singer and a musician. Wendy Paver, for instance, isn't just Phoebe. From the programme, we discover she plays seven instruments during the performance as well! And she's not alone.
This time they've teamed up with the New Vic Theatre Newcastle-under-Lyme and the Octagon Theatre, Bolton, to bring us the classic musical which had its first performance sixty-four years ago in 1952.
Set in 1927, it tells the story of three friends: Don Lockwood (Matthew Croke) an acclaimed and popular movie star, his friend Cosmo (Christian Edwards, who, during one of his dances, actually does an acrobatic front flip, not something, I think, that even Gene Kelly ever achieved) and the studio boss and film producer R F Simpson (Philip Starnier). They are all engaged in making a new film, The Dancing Cavalier, when a cosmic event threatens to make, not only them, but their whole way of life, completely redundant.
Yes, you've guessed it, folks. Not only has someone got around to inventing the talking picture but an actual movie, The Jazz Singer, has been made and is doing spectacularly well in terms of box office receipts and critics' enthusiastic approval.
The implications for Mr Simpson and his production company, Monumental Pictures, are profound. Who's going to bother to turn out to watch silent movies any more? They're going to have to talk.
And no longer can Don use the love scenes to whisper bitter invective into his co-star's ear, to the accompaniment of romantic melodies, with sentimental sweet nothings appearing as surtitles on the screen. Because they have a history, these two. Love birds they may be for public relations purposes and Lina Lamont (Sarah Vazmar) is happy to encourage and enjoy the attention that being Don's publicly acknowledged love interest inevitably brings, but, as far as Don is concerned, that is all it's about.
They've got six weeks to turn The Dancing Cavalier into a talking picture then. But the biggest problem of all turns out to be Lina. Not only does she have a voice like rusty nails and reminiscent of the less savoury areas of downtown New York in the days of Al Capone, but her vocal renditions have all the musical appeal of Florence Foster-Jenkins (about whom a film has just been released. If you're tempted, I suggest taking some emergency ear plugs just in case). Voice coaches have no effect. Will the charming and vocally proficient Kathy Selden (Eleanor Brown) be able to help and how will Lina react to her intervention?
This is a joyous piece, colourful, brightly lit and full of familiar, half-remembered songs like "You are My Lucky Star", "You Were Meant For Me", "Good Morning" and, of course, the title song, "Singing in the Rain". Most productions issue polythene protective covers to their front row audiences, I think, for the singing in the rain scene. In this production they have two such scenes. It's all good fun.
At last, we make our way out of the theatre with just two thing on our minds, really. Will it be raining? And do we feel like singing? No. In spite of a few ominous clouds overhead, it's not yet raining and yes, with all those lovely songs still ringing in our ears, we certainly do.
Reviewer: Anne Hill