Singin' in the Rain
Betty Comden and Adolph Green; Nacio Herb Brown and Arthur Freed
Michael Harrison and Jonathan Church, Chichester Festival Theatre
Sheffield Lyceum
–

Listing details and ticket info...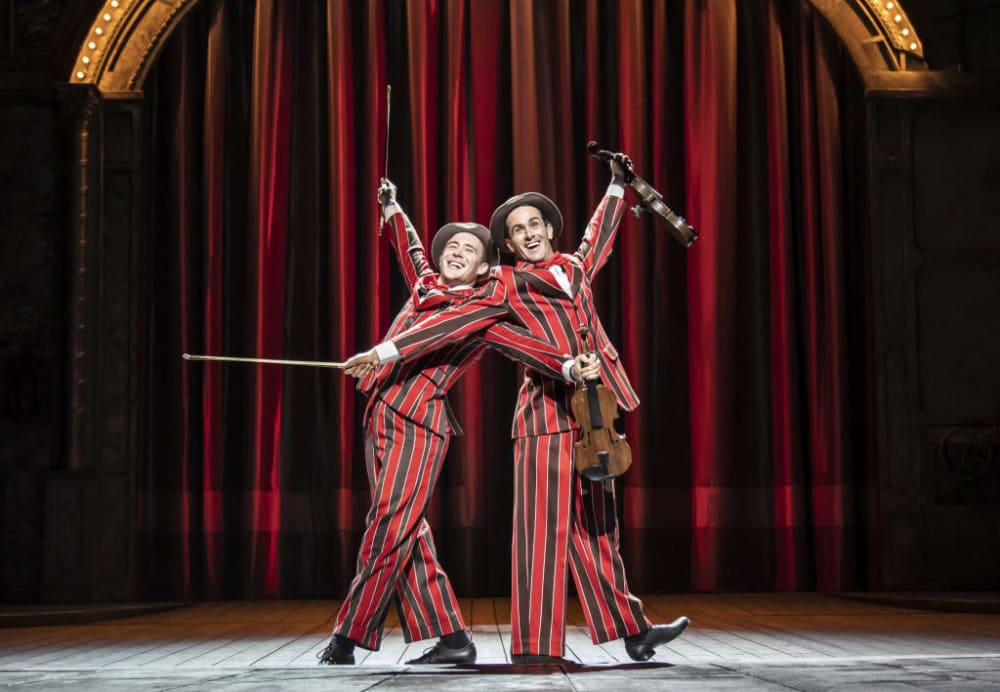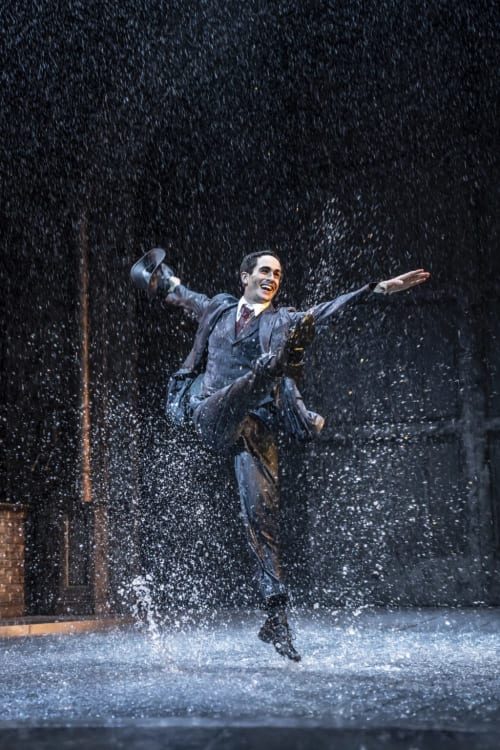 A packed audience in the Sheffield Lyceum thoroughly enjoyed the current dynamic touring production of Singin' in the Rain from the Chichester Festival Theatre.
The show started life as the 1952 movie starring Gene Kelly and Debbie Reynolds with a first stage version on Broadway in 1985. The current production does honour to the film version, has retained characterisation and comic scenes familiar from the film and skilfully replicates some of the original, highly entertaining choreographic sequences.
Gene Kelly hit on the idea of setting the musical at the time when silent movies were giving way to 'the talkies' and much of the comedy and romantic interest circulates around the character of Lina Lamont (Jenny Gaynor), a huge star on the silent screen who cannot adapt her hideous voice. A voice coach struggles to help her, but Lina is incapable of rounded vowels. "I cayent steynd 'im!"
Sam Lips is a suitably handsome and charming Don Lockwood with a splendid voice and excellent dance skills, amply represented in the famous umbrella sequence and title song which closes the first half.
Charlotte Gooch is beautiful as the romantic female lead, Kathy Selden, and her singing and dancing are accomplished and a suitably delightful contrast to the abrasiveness of Lina Lamont.
Ross McLaren occupies the comic spot and is particularly effective in audience favourites like "Moses Supposes" and the highly energetic "Make 'em Laugh" which includes cleverly adapted action from the film.
The set is easily transformed by lighting effects to represent backstage as well as front of house. This is particularly helpful in the later part of the action when we need to see Kathy providing the voice for the miming Lina and provides a huge space for full company dance sequences.
Costumes are many and varied, particularly bright and attractive in the nautical sequence and when Lina is in period costume with wig when making her silent film.
The large chorus of singers and dancers are full of energy and visually exciting. Dance sequences include beautifully arranged group tableaux, perfect synchronicity and occasional gymnastics. Movement and song are accompanied throughout by the full and resonant sound of the orchestra.
Anyone who enjoyed the film or has seen a staged version of the musical will find this production a tribute to the original and an exhilarating evening in the theatre.
Reviewer: Velda Harris