Singin' in the Rain
Screenplay and adaptation by Betty Comden and Adolf Green; songs by Nacio Herb Brown and Arthur Freed
Lyceum Theatre, Sheffield, and touring
(2009)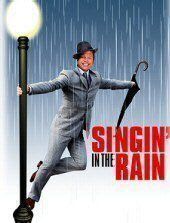 A delightful evening that even the ice-cream ladies enjoyed, while the whole audience were humming and clapping to the mixture of film, singing, good and (intentionally) bad dancing, gymnastics and lively interaction.
Just in case anyone is new to the story, it is about the ruination of the silent films when Al Jolson's voice was first manifest at the movies. Alison Pollard directs an adroit mixture of short but vigorous performances of the early days of the struggling performers making the most of their dancing, athletic and acting skills to make their way on the well established, but suddenly threatened silent films.
Poor Lina Lamont (Amy Griffiths) who, looking beautiful and making her name in her silent films, had a voice which croaked like an overblown parrot. When sound was the only way to survive in this new turn of events, replacing her voice with that of Jessica Punch, played by Kathy Selden, might have worked except that Jessica also happened to replace her in the affections of Don Lockwood (Tim Flavin). He and his dancing partner Cosmo Brown (Graeme Henderson, who also choreographed) had started as a couple of song and dance men and got themselves into silent films, particular the handsome hero type, Lockwood.
But you do not go just to have the story of boy meets girl retold once again. It is the delightfully intermingled showing of the old jerky movie dramas, interspersed with excellent dancing in a range of styles and colourful costumes, clever timing of furniture moving, teaching of elocution, in vain as far as Lina was concerned, and a plan to rescue the film magnate, who might have become Warner Brothers, if only he could solve the voice problems.
The familiar songs are particularly well staged, with Singin' in the Rain sung by Tim Flavin with real rain, well real water anyhow, pouring down on the stage and umbrellas used then and later as colourful accompaniments to the singing and dancing. The orchestra, directed by Gareth Williams, added their own polish to the musical introduction as well as throughout the performance. It was clear that this show was so obviously enjoyed by the audience, and seemingly by the cast as well, encouraged by the audience responses.
Sheila Connor reviewed this production in Woking
Reviewer: Philip Seager