Single Spies
Alan Bennett
Chichester Festival Theatre and Birmingham Repertory Company
Chichester Festival Theatre
–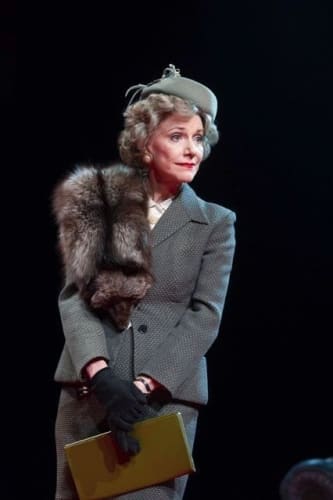 Although this is two plays and each about one of the infamous Cambridge Spy Ring, in his book Writing Home Bennett confesses that espionage interests him "not a bit". What does intrigue him is the idea of exile and the comment he gives to Guy Burgess, "I can't say I love my country because I don't know what that means," is one of his own.
He explored that theme in an earlier play, The Old Country, and after its first performance by chance happened to dine with actress Coral Browne who recounted her meeting with Guy Burgess in his somewhat squalid Moscow flat in 1958.
An Englishman Abroad was born from that encounter and with his trademark dry, wry humour Bennett makes no judgements on the situation, except in the case of a sales assistant refusing to sell pyjamas intended for Guy Burgess. Their customers, he states importantly, include the Royal Family and he is not going to deal with a traitor. His patriotism is somewhat diffused when confessing that the establishment he serves is actually Hungarian.
The second play, A Question of Retribution, is set a decade later and Anthony Blunt, an art historian and Surveyor of the Queen's Pictures, is being interrogated (or gently questioned is a better description) by Chubb representing the Intelligence Service. Blunt, now known to be a traitor, has been given immunity from prosecution if he agrees to give the names of others in the ring, and Chubb is showing slides of people suspected of subversive activities with little success, but at the same time he is learning a great deal about art.
A discussion develops concerning a particular Titian portrait—what was seen and what was either concealed or not immediately visible and did it really matter anyway—and are they still talking about the painting!
The same five-strong cast performs in both plays with Belinda Lang as the very stylish and wittily acerbic Coral Browne and Nicolas Farrell a dishevelled and inebriated Guy Burgess. It seems his escape to 'freedom' has led him into a different captivity and his one companion / guard is a young Russian balalaika player, but he still wants to dress as an English gentleman and has invited Browne to lunch with the purpose of measuring him for a suit to be bought in Saville Row. Lunch, as he has burnt the stew, consists of one tomato and a grapefruit.
A quick switch of character in the second play and he becomes Chubb, lighthearted and happily absorbing knowledge of paintings while failing to get any success with his slides. David Robb is Blunt and plays him exactly as I would have believed him to be: aloof, keeping his secrets and his sexual inclinations firmly to himself, but very stiffly upright and immaculately attired.
Switching to Buckingham Palace, his assistants play a trick and disappear while he is hanging a picture, so he is unaware that the Queen has just walked in. In this character, Belinda Lang is just as confidently witty and with a wicked sense of fun behind the regal manner.
The play is beautifully written, well attended, excellently performed and well received by a large and enthusiastic audience, with Rachel Kavanaugh's sympathetic direction keeping the action firmly on track. Enjoyable, informative and at times very funny.
Reviewer: Sheila Connor