Single Spies
Alan Bennett
Chichester Festival Theatre & Birmingham Repertory
Sheffield Lyceum
–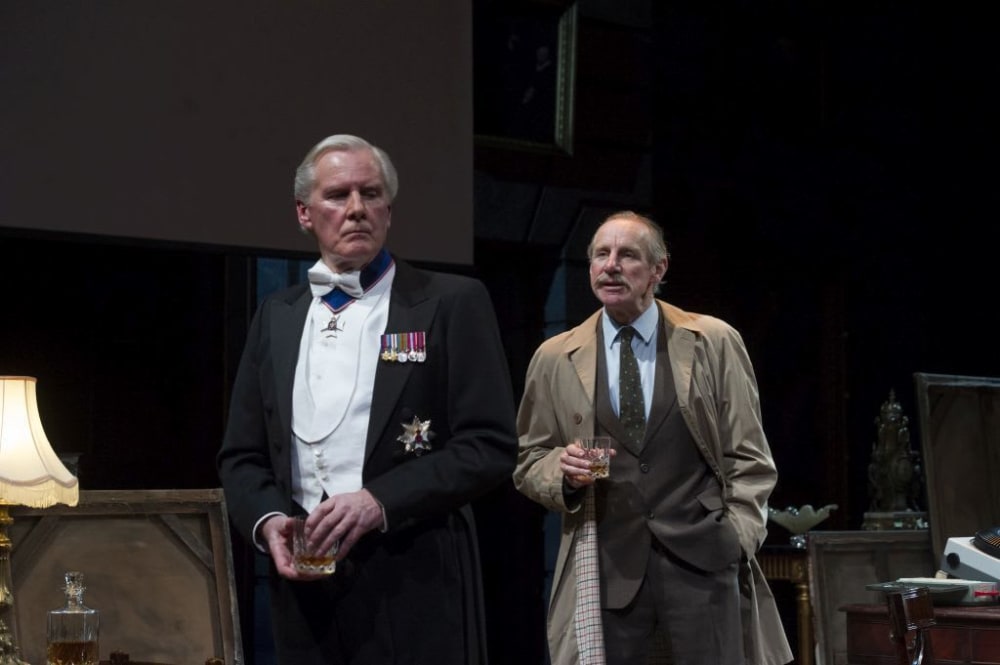 It was at a post-show supper in 1997 that Alan Bennett first heard Coral Browne's story of her encounter with Guy Burgess in Moscow in the winter of 1958/1959, some years after his defection.
Burgess was living in squalor, deeply lonely, and desperate for any contact with the old country. Ironically, although he was a spy, he retained a love of the English countryside and the anomalies of the British character. It was the political system he had rejected. "I did what seemed right at the time."
Browne's account of the meeting and Burgess's request for her to order him a suit from his London tailor lies at the core of the first of the two plays, An Englishman Abroad, in this two-part programme.
In the second of the two plays, A Question of Attribution, the central metaphor is Titian's painting, An Allegory of Prudence, which allows Bennett to explore the experience of Anthony Blunt, another member of the Cambridge Five, who was recruited by Burgess in the mid-'30s.
When the painting, part of Queen's collection, was cleaned and later x-rayed, there were three shadowy figures hidden beneath the surface, which had not been apparent for years. Similarly, Blunt remained unexposed until 1979.
Although Bennett tells us that he was more interested in exile than espionage, it is not surprising that, as an outsider, observer, concealer and lonely man himself, he was drawn to the experience of these two secret men.
Like Burgess, Bennett has an extraordinary affection for Englishness, its character and institutions, which does not stand in the way of objectivity and a delight in gentle satire. His presentation of the Queen in A Question of Attribution is surprisingly generous.
A neo-classical wall designed by Peter McKintosh serves as a background to Burgess's scruffy Moscow flat and as hanging space for paintings in the Queen's Gallery.
Nicholas Farrell doubles as a sadly pathetic, eccentric but likeable Burgess in the first play and a sharp MI6 interrogator who waits in vain for any revelations from Blunt in the second. The juxtaposition of photographs of suspected spies with paintings fits in with the theme of attribution. Can we believe what we see?
Belinda Lang convincingly replicates Coral Browne's gravelly voice, super sophistication and essential kindness and returns in the second half as the young Queen, who is no-one's fool, knows that Blunt is a betrayer and warns him that climbing up a ladder is a dangerous activity that could lead to a fall.
David Robb is remarkable as the totally non-judgemental Tailor, who remembers his erstwhile customer as a gentleman, recalls his distinctive requirements and disregards his fall from grace. A nice portrait of a special kind of snobbery.
In contrast, Paul Grunert as the shop assistant who refuses to replace Burgess's pyjamas gets a lambasting from Browne for stupid illogicality. Grunert reappears as the Restorer in the second play.
There are strong supporting performances from David Young as Tolya and Phillips, Joseph Prowen as Colin and other members of the cast.
This is an enjoyable and stimulating double programme, informative about the key figures, and particularly interesting for Bennett's distinctive exploration of exile in the first play and living with secrets in the second.
Reviewer: Velda Harris