Sinners Club
Lucy Rivers
Gagglebabble
Theatr Clwyd
–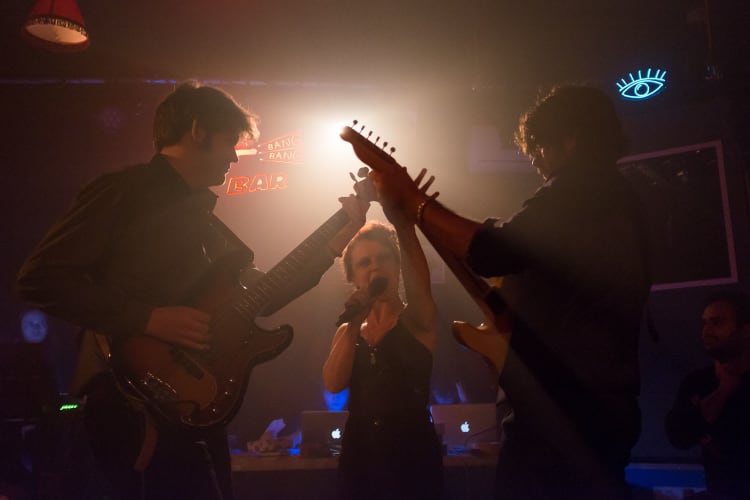 Is it a sign of a truly good night out at the theatre when you struggle to describe exactly what you have witnessed? When boundaries are not so much pushed as systematically dismantled before your very eyes and concepts blur and shift with a bewildering but intriguing frequency? Well if it is, Sinners Club could well be the definitive example.
Gagglebabble aims to break theatre taboos with what it calls "gig theatre", a performance that incorporates rock 'n' roll to present often dark tales. Well they don't come much darker than the story of Ruth Ellis, the ill-fated daughter of Sunny Rhyl, and they don't come much more rock 'n' roll than the raunchy performance delivered by Lucy Rivers.
Rivers has written Sinners Club, as well as being the dynamic performer, driving the show with the help of her band The Bad Mothers. The story of Ruth Ellis is an uncomfortable subject, the last woman in Britain to be hanged for murder and a woman who certainly suffered more than her share of misery during her life—not that her defence at trial effectively reflected this.
This fast-paced production leaves the viewer in no doubt that the life of Ellis is simply a chapter of unfolding social disasters of the sort experienced by many to this day. Not all of these, however, end with murder and certainly none end with the individual at the centre of events being sent to the gallows.
It would be wrong to ignore the fact that people at the time found this unsettling, which is a major reason why she is the last woman to hang, and the production pays due reference to headlines from the time by clever use of projections, which has the effect of adding to the unsettling tone that develops.
Lucy Rivers has placed the story in the context of a recording studio where she is recording an album with The Bad Mothers. This is a flash of dark inspiration which allows the inevitable tensions of the studio to intermingle with the grim story of Ellis through a series of songs which give full vent to the power and range of Rivers's voice.
The songs, all originals composed by Rivers, are generally what we could call a range of gothic blues-tinged rock with the exception of one highly catchy country-style song that provides a much-needed shaft of light.
Sinners Club is a breathtakingly bleak and original examination of an individual's landmark story that helped to change the nature of criminal law in this country.
Reviewer: Dave Jennings