Sir Gawain and the Green Knight
Unknown poet, translated by Simon Armitage
Shakespeare's Globe
Sam Wanamaker Playhouse, Shakespeare's Globe
–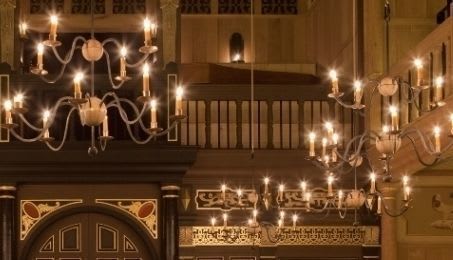 This poem, a medieval romance written in the late 14th century by an unknown author, survives only in a single copy now in the British Library. It is the story of a knight from King Arthur's round table who accepts a challenge made by a strange Green Knight.
It is New Year's Day in Camelot and King Arthur has asked to hear of some new adventure when this unknown knight rides in. He is a man of more than normal stature with green skin, green beard, dressed in green on a green horse with an axe in one hand and a holly bough in the other. He challenges the court to a Christmastide game: He invites someone to strike him once with his axe, without opposition, on condition that come one year and a day he may return a like blow.
Arthur's nephew Gawain, the youngest knight, takes up the challenge and strikes off the huge man's head but the Green Knight doesn't die. He picks up his own head and reminds Gawain that he must seek him out next New Year's Day to be struck in return, then mounts his horse and rides away.
Next winter Gawain sets out to find the Green Chapel where he is to met the knight. On his search finds shelter in a castle where his honour and honesty are tested before finding the Green Knight and facing the consequences.
It is not a complicated story: apart from the axe-work and some significant kisses, the liveliest sections describe the castle lord out hunting. However, this is a poem made for speaking and Simon Armitage is a poet (and there are not many) who reads his own work well. He is aided by actors Polly Frame and Tom Stuart and with Jon Banks providing musical support on two different kinds of harp this becomes a much more theatrical experience than your usual poetry reading.
Like the original medieval poet, Armitage loves lots of alliteration and strong rhythms, whether it is Arthur looking forward to hearing "the tallest of tales" or Gawain knowing as he seeks out the Green Knight that "to find him is fatal, that's a fact."
The poet's own gentle Yorkshire delivery is beautifully matched to the candle-lit environment of the Sam Wanamaker Playhouse. If it's a slight surprise to find Polly Frame voicing the Green Knight, the clack of her heavy heels as she mounts the platform imposes authority and her rich, rounded tones with a Scots touch to them are perfectly fitting and quite different from the flirty fine lady she also presents. Both contrast with the innocence of Tom Stuart's fresh-voiced young Gawain.
Director Nick Bagnall (who also directed Armitage's The Last Days of Troy at the Royal Exchange and the Globe) places Armitage at a central lectern but, although this remains a reading not a dramatization with each of their three voices sometimes being used in the narration, quoted speech is spoken in character and the whole space is used in performance providing visual interest and movement as well as establishing audience contact and, with auditors placed above and behind in the musicians gallery, providing opportunities to address all of them.
Many interpretations have been put upon this poem and its intentions from Christian allegory to coded homosexual message. This presentation begins with a passage in the old English original and a light-hearted lift and seems to reveal an almost tongue-in-cheek attitude to medieval chivalric romance that gives it remarkable freshness.
"It gives me great gladness," as the poet himself puts it, to say how delightful and engaging this presentation turned out to be. It felt like a luxury evening for a select few—as enjoyed from my £60 premium seat—but prices in the Wanamaker Playhouse do start at £10 if you book early enough.
Reviewer: Howard Loxton