Siro-A (Christmas Edition)

Amuse Inc, Japan
Leicester Square Theatre
–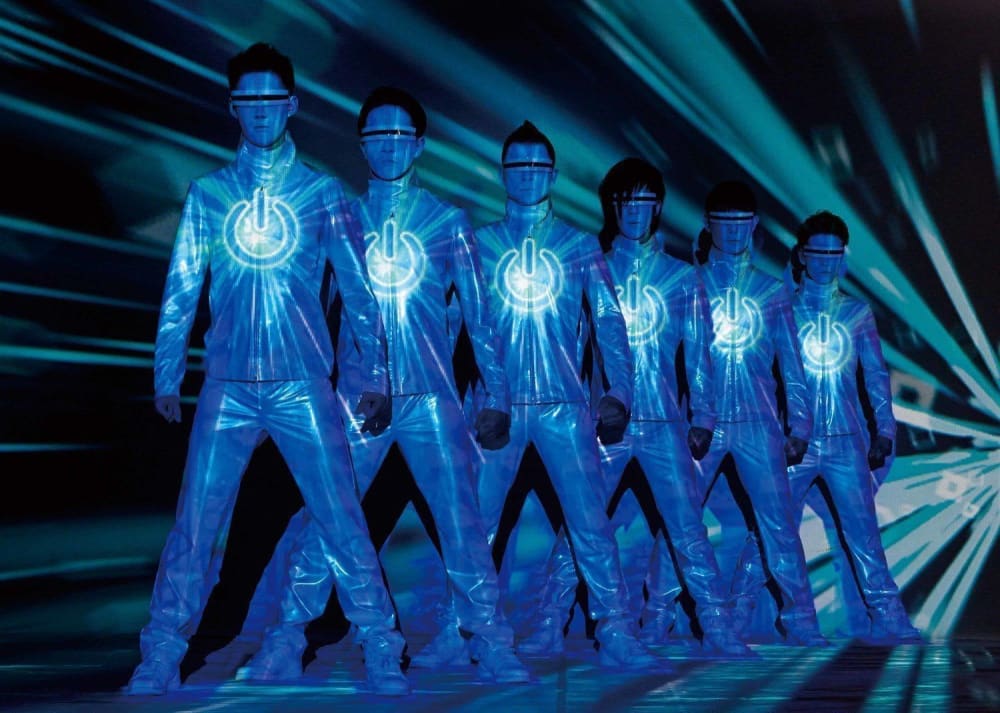 Siro-A is made up of six young men in white plastic suits and odd haircuts, their faces whitened. They are DJ Kentaro Homma, video artist and operator Daichi Norikane and four physically versatile performers Fumiya, Yohei, Toshiya Arai and Keiji Miya working with director Cocoona.
Their show is a 70-minute long succession of techno soundtrack, live performance and stunning visual technology that blends front and back projection with versatile physical action with balletic and acrobatic elements with split second timing and pin-point location accomplished with aplomb.
Audience who fancy a spot of participation may be invited, after entering the auditorium, to pose for a photograph. There is no reason to hesitate; it will end up in the show but they aren't out to embarrass, the results are entirely engaging.
Things kick off with a guy in a high stovepipe hat that matches his white outfit. Up on stage when he kicks off the performance, he turns into the "I" in the projected opening titles, then a sentry-box Guardsman in a bearskin before the scene shifts and he's Big Ben and a whole succession of London landmarks and, by a deft piece of trickery, turns a projected image into a Union Jack.
That's just the beginning of a display of optical imagery that is witty and fast moving. There is a send-up of a succession of blockbuster movies where words stand in for images as they capture the essence of 007 and Rambo and on through The Matrix and The Full Monty on to Mamma Mia and The Exorcist.
There are martial arts, sumo, kabuki and a maneki neko to add a particularly Japanese flavour, geometric fantasies, a perfectly timed sequence where video and real life keep merging into each other, choreographed images that match real body parts to projected images, real people playing projected instruments, fighting with projected weapons.
Placings and reactions are almost always pin-point perfect and just one sequence when they are not serves to emphasise the skill that is involved, not least in some tightly matched shadow work.
Norikane adds an extra element with digital manipulation of images that provides a hilarious finale. To find you are applauding yourself in an encore is a brand new experience.
This show is exhilarating and really good fun and it crosses all language barriers. You can get a taste of it on their web site. Thank you Siro-A! ありがとうシ 白A!
Reviewer: Howard Loxton