Sister Act The Musical
Music by Alan Menken, lyrics by Glenn Slater, book by Cheri Steinkellner and Bill Steinkellner with additonal material by Douglas Beane, based on the film by Joseph Howard
Jamie Wilson Productions
Eventim Apollo, Hammersmith
–

Listing details and ticket info...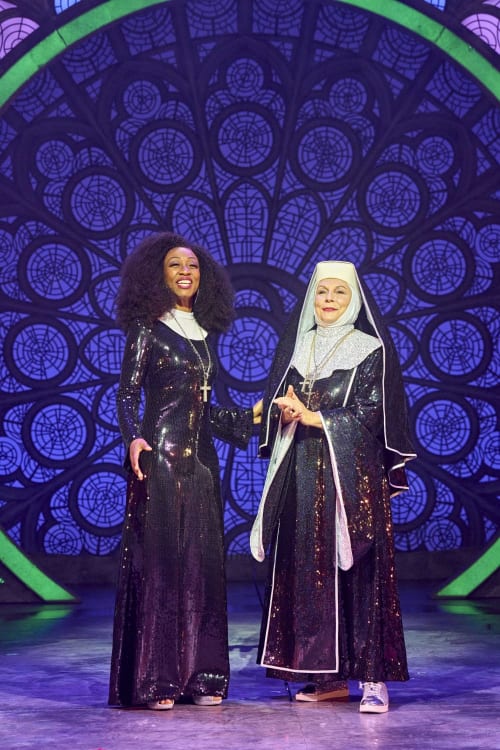 I think it all began in earnest in 1943 and 1944 with the big box office successes of Going My Way with Bing Crosby and Barry Fitzgerald and The Bells of St Mary's with Bing Crosby and Ingrid Bergman. The Catholic Church was delighted with the propaganda.
Nuns had always been popular in literature. Now they became popular in film and theatre. What is it about nuns that appeals to the public? What do Rodgers and Hammerstein's The Sound of Music, Powell and Pressburger's Black Narcissus, Francis Poulenc's Dialogues of The Carmelites, Ken Russell's The Devils and John Patrick Shanley's Doubt have in common and which would you take your mother superior to see? Is Paul Verhoeven's Benedetta high on your list of movies to see?
Alan Menken and Glenn Slater's Sister Act was scheduled to open in 2020. Whoopi Goldberg, who had played the Mother Superior at the London Palladium in 2010, was to have played Deloris Van Cartier, the role she had created in the 1992 film.
COVID delayed the production twice. Deloris is now played by Beverley Knight. Jennifer Saunders is the Mother Superior.
Deloris is a nightclub singer who witnesses a murder committed by her gangster boyfriend. She seeks refuge in a convent where she jazzes things up. What does the Pope think of nuns kicking the habit and behaving like silly schoolgirls behaving like chorus girls and singing and dancing with Ronald Searle-like abandon?
Beverley Knight has the personality, the voice and the star quality Deloris and such numbers as "Fabulous, Baby" and "Sister Act" need in a barn of a theatre like the Eventim Apollo in Hammersmith. Clive Rowe is the cop who loves her and Rowe has three lightning quick costume changes, one after another, whilst singing, "I Can't Be That Guy".
Lizzie Bea as an apostate stops the show with "The Life I Never Led". The Damon Runyonesque gangsters (Bradley Judge, Tom Hopcroft and Damian Buhagiar) have their show-stopping moment when they sing "Lady in the Long Black Dress".
Bill Buckhurst's frenetic production is very long and very, VERY LOUD. The act 1 finale, "Take Me to Heaven", and the act 2 finales, "Spread the Love Around" and "Raise the Roof", have the audience on their feet.
Reviewer: Robert Tanitch