Sister Act
Music by Alan Menken. Lyrics by Glen Slater. Book by Ceri and Bill SteinKellner
Jamie Wilson, Kevin McCollum, Gavin Kalin, Robbie Wilson and Curve
Sheffield Lyceum
–

Listing details and ticket info...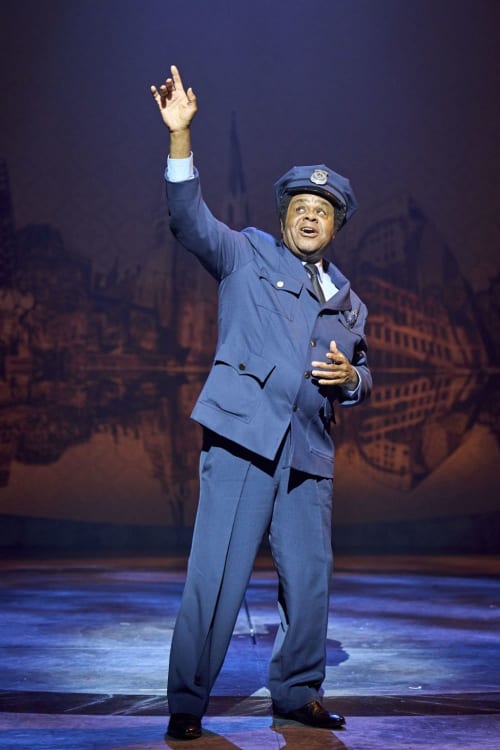 A full house at the Lyceum gave an enthusiastic welcome to Sister Act, a show some had waited more than two years to see because of COVID restrictions. Their patience was rewarded.
The production is bright and brassy, bursting with energy and a visual delight.
The principal role of Deloris was faultlessly performed by understudy Gabrielle Davina Smith, whose stage confidence, powerful voice and vigorous dancing was a delight to watch.
Lesley Joseph, familiar to stage and TV audiences, is commanding in the emotionally complex role of the Mother Superior. Joseph brings a wide experience to her performance honed in productions of theatre classics (Peter Hall's A Midsummer Night's Dream) as well as pantomime and popular TV roles as in the sitcom Birds of a Feather. She gives a moving and heart-rending delivery of "I Haven't Got a Prayer".
The actors in the other principal roles also bring a wide range of skills to their performances. Clive Rowe is a convincing Eddie Souther, humane, comedic and entertaining, while Graham Macduff makes a remarkable transformation as Monsignor O'Hara from repressed churchman to outrageous song and dance performer. Rowe's "I Could Be That Guy" was enthusiastically received by the audience.
As Sister Mary Robert, the postulate nun, Lizzie Bea also goes on a journey. Her song "The Life I Never Had" reflects her growing realisation that she may be unfit for the life she is planning to devote herself to. Bea has a powerful voice and contributes to the dance sequences with energy and enthusiasm.
The bad guys are also well represented in this production. Jeremy Secomb is an appropriately tough and violent gang leader who commands the stage as an actor and is convincingly threatening in "When I Find My Baby". His three henchmen provide comic entertainment in well choreographed fight sequences and are effective in small group song and dance routines.
The cohort of nuns also plays an important role in the production with strongly individualised performances from each member of the choir and resonant singing and vigorous dancing in the choruses.
Morgan Large's set design suggests the vastness of a cathedral with a huge sweeping arch and a stained glass rose window which adapts effortlessly to represent street scenes and to enclose smaller sets like a police office or a nightclub, which are pushed on with maximum efficiency. In a programme article, Large talks about the importance of collaboration and consultation in the development of a complex production of this kind.
The costume design is functional (good for dancing nuns), outrageous and cleverly witty on occasions, and as the action proceeds moves from the blackness of the nun's habits to climax in a bright multi-coloured sparkling line-up at the end of the show.
There is much to entertain in this well acted, well sung, visually and musically exciting production which was clearly a treat for the many fans who had waited so long to see it.
Reviewer: Velda Harris