The Killing of Sister George
Frank Marcus
Arts Theatre
(2011)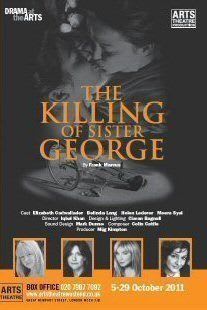 "What's wrong with Sister George?" one character asks, and it is a question that needs answering.
The Killing of Sister George tells the story of June Buckridge (Meera Syal), a popular actress, famous for her portrayal of a character named Sister George on a very Archers-like BBC radio soap. The play opens the day she receives the news that her character is to be written out of the serial in an attempt to boost the ratings. June is a heavy drinker, a heavy smoker, very short tempered and, much more worryingly, prone to violence.
Living with June is Alice McNaught (Eliazabeth Cadwallader), described at first as a flat mate although she is clearly something more. Throughout the play she is forced to complete a series of humiliating acts by June that make the supposedly loving relationship between the two of them more and more difficult to believe. There are interventions in the action from Mrs. Mercy Croft (Belinda Lang), June's Producer at the BBC, and Madam Xenia (Helen Lederer), a fantastically batty clairvoyant from the flat downstairs who offers warning that all in the future is not looking rosy.
The final moments see Alice, exhausted by the abusive relationship she has with June, being offered a way out and a place to live by Mrs. Croft, whose own intentions toward her seem somewhat questionable. Following their departure June is alone on stage with nothing but the broadcast of Sister George's funeral on the radio to keep her company. As the lights fade she begins slowly and with increasing distress to moo like a cow. In this moment she has driven away the love of her life through her own stubbornness and refusal to change. It should be tragic: the problem is, it isn't.
It doesn't appear to be a fundamental problem with the play itself, although Marcus' juggling of scenes of clown-like comedy with moments of real pathos do sometimes seem to jar in a way that allows neither the comic nor the tragic full space to breathe. But it is rather something missing in the central relationship between June and Alice that is the flaw. They never quite convince of their supposed six year relationship or give the audience reason to want it to work out. Syal's portrayal of June is well measured with moments of genuine love and tenderness, but there is something in her that is just too hard-edged to ever allow the audience to fully empathise with her.
Cadwallader, on the other hand, brilliantly injects Alice with such a likable childlike charm and sense of fun that it is hard to resist constantly supporting her through the duration of the play. When in the end she leaves June alone by herself there is a strong feeling that perhaps she should have done that a long time ago.
This production is by no means a failure; far from it, moments of comedy do provide genuine laughs. One particular moment in which Alice and June impersonate Laurel and Hardy is impressive in its clowning precision. The notion of the BBC cutting one of its best loved characters in a knee jerk attempt to boost ratings may also carry warnings for anyone in charge of the budget cuts that are soon to be descending on that particular institution.
But this production is not a great success. The subject matter of same sex relationships is not today as revolutionary as it once was, and the way The Killing of Sister George deals with the topic seems not to have aged well. The biggest problem though, that it is impossible to look past, is the lack of love that should beat strongly at the centre of the play. Without it we are left with a well put-together, well-staged and pleasant evening but one that is just lacking its heart.
"The Killing of Sister George" plays at The Arts Theatre from until 29th October.
Visit our sponsor 1st 4 London Theatre to book tickets for The Killing of Sister George
Reviewer: Alisdair Hinton