Sister Josephine Kicks the Habit
Ian McMillan, based on the songs of Jake Thackray
Leeds City Varieties
(2005)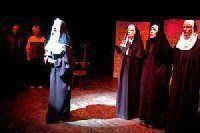 'Sounds great fun and larks,' said Jake Thackray (the "Noel Coward of Yorkshire") to Ian Watson, co-producer of this musical tribute to Thackray. They were discussing the possibility of a musical based on Jake's infamous songs and characters.
Well, the play is up and running, and sadly Jake died before he could meddle, modify and enjoy.
Based around the escapades of Sister Josephine, a crook taking shelter in a convent, the show features a handful of characters celebrated in Jake's songs. A cast of six do the business and with nine song characters and a posse of police there is a lot of business to do: doubling and coming and going.
Jake certainly gets his fun and larks: with book by Ian McMillan and Fine Time Fontayne directing, we'd expect little less. This pair of South Yorkshire likely lads plot a steady course through the rhubarb and custard of Jakes work.
If there is a fault here it is over reliance on the vulgar and sentimental pulse in Jake's work. Where is the satire: the sharp tooth and beady eye? It's there alright, captured by Neil Gore's magnificent, intelligent, stimulating musical arrangement. Gore's settings - praise be - are equal to the songs themselves, magnificently capturing Jake's style of commenting on, supporting and expanding the lyric.
The production has a first class cast of accomplished actor/instrumentalists; and they can sing. It rests now, until a national tour in 2006. Given a bit of reconsideration and fine-tuning it deserves to run and run.
Peter Lathan reviewed this production at its premiere.
Reviewer: Ray Brown