Sister Josephine Kicks the Habit
Jake Thackray (characters, words and music) and Ian McMillan (book)
Helmsley Arts Centre, North Yorkshire
(2005)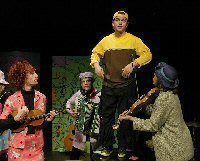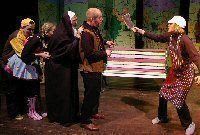 For those who don't know, Jake Thackray, who died in 2002, was a singer/songwriter from Swaledale in North Yorkshire. His speciality was comic songs about characters he invented (or, perhaps, met and exaggerated just a bit!). Ian McMillan has taken just some of the songs, their characters and the characters' stories, and turned them into a piece of music theatre. The range of characters he has put onstage - nine of them, played by a cast of six - have one thing in common: love and/or lust, the major themes of Thackray's songs.
The play is set in a small Yorkshire Dales town where live Billy Kershaw, a young Jack-the-Lad who likes to love 'em and leave 'em; Isobel, the young daughter of the town's fierce female butcher; the cleaver-wielding Butcher herself; the Brigadier who wants to settle down; Sister Josephine, a "nun" whose real name is Norman; Molly Metcalfe, who has been left on the shelf and hates it; The Toffee-Maker and the Blacksmith whose children want them to go into a home; and the motor-cycling Widow of Bridlington, out for a good time. Oh yes, and there is a sprinkling of nuns and police officers thrown in, as well as a trio of fearsomely ugly, musical instrument playing, sexually deprived ladies.
Thackray's songs were almost always funny (with a few exceptions, such as the delightful song about the River Swale which ends the show), usually satirical, generally wry, sometimes winsome, but always very perceptive and gentle about human weaknesses, and McMillan's play captures their mood perfectly. At times - as in the scenes between the Toffee-Maker and the Blacksmith - he walks that very delicate line between sentiment and sentimentality, but manages always to stay on the right side, so that we are left almost in tears but actually laughing.
Directed by Fine Time Fontayn and designed by Steven Appleby, the play makes a lot of demands on the cast: most have to swap characters frequently, going off-stage in one character and returning, sometimes within seconds and at a run, as another, and they play a variety of instruments between them, including guitars, fiddles, flute, accordion and drums, and, of course, they all sing, sometimes accompanied, sometimes a capella.
And they handle it well: Colin Kilbride (looking uncannily like a young Philip Schofield) plays a very appealing Billy and Charley Desborough is Isabel, the girl who makes him abandon his philandering ways (as who would not, for she looks gorgeous and has all the bounce and enthusiasm of the teenage girl), as well as a policewoman and the convent's Mother Superior. Neil Gore's Brigadier starts off as a pompous stereotype but, as he reveals more and more of himself to us, we warm to and feel for him, as we do with most of Thackeray's characters. The Widow of Brid (Elizabeth Eves in a nice display of hardness and sensitivity) undergoes a similar transformation, while William Wolfe Hogan swaps effortlessly between Sister Josephine and the tottering, sweet-natured Blacksmith - and, at one point, a startlingly ugly horsey woman playing the fiddle like a guitar. Finally there is Jackie Drew who was suitably scary as the Butcher and heart-rending as Molly Metcalfe on her shelf, but whose performance as the doddering Toffee-Maker was an absolute joy.
Would it work outside of Yorkshire? Definitely. There are obvious local references, but they are no more esoteric than the Welsh references in Under Milk Wood, and, like the inhabitants of Llaregyb, the characters are human beings first and Dales men and women - or Welsh - second. But the main reason is that it is very funny and very human.
"Sister Josephine" tours to the Swaledale Festival (Monday 30 May to Thursday 2 June), Selby Arts Centre (Saturday 4th June), Lawrence Batley Theatre, Huddersfield (Monday 6 to Wednesday 8 June) and Leeds City Varieties Theatre (Thursday 9 to Saturday 11 June). It will also play the Epsom Theatre, the Middlesborough Theatre, and the Laundry Theatre, Bowness on Windermere, in 2006, with more dates to be announced.
Ray Brown reviewed this production at the Leeds City Varieties.
Reviewer: Peter Lathan