Sitting
Katherine Parkinson
Arcola Theatre, Avalon and the BBC
Arcola Theatre
–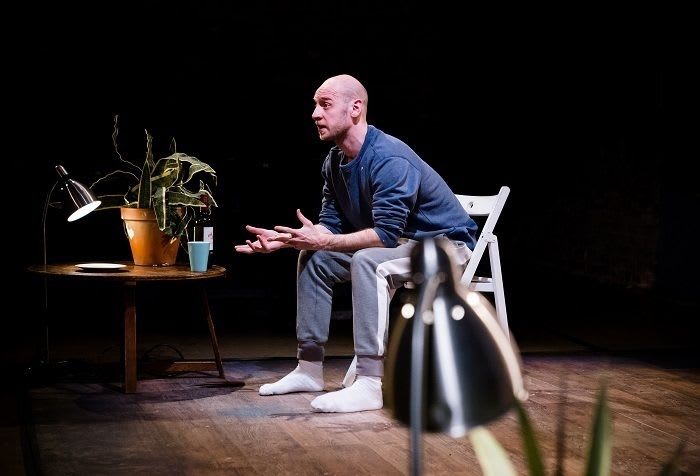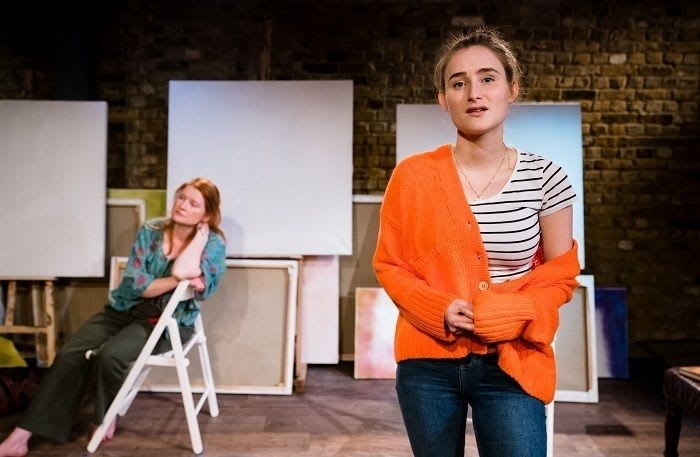 It's not unusual for people to treat taxi-drivers and hairdressers, personal trainers and priest, doctors and barmen as temporary psychotherapists, pouring out secrets and problems about their marriages and relationships, families and work, anxieties and troubles, as they slouch into the black cab's leather, cower in the confession box or prop up the bar.
However, in Katharine Parkinson's debut play, Sitting, first seen at in Edinburgh last year, it is portrait painter John to whom Luke, Mary and Cassandra bare their souls as they perch on white wooden chairs in the artist's studio.
John remains unseen. Their words, interleaved and overlapping, seem to be spoken directly to us—paradoxically both successively and simultaneously. If the sitter-speakers seek an answer, confirmation or correction from the portraitist, then they receive no reply, which occasionally creates an awkward silence.
Yet, this silence draws forth their 'confessions'. They trust John: his name suggests dependability, compassion and intelligence. The potted plants and chocolate biscuits on the side-table, the art books stacked on the coffee table, the Baroque aria floating from the 1970s turntable work all work their relaxing magic. There are three blank canvasses behind the sitters. As their stories unfold, so their words form psychological pictures of past and present lives.
Mark Weinman's Luke is an out-of-work painter and decorator. His wife—whom he respects but 'can't stand'—is expecting their first child. Luke is prone to jumping in with both feet and Weinman brilliant captures his combination of blokeish garrulousness and honest sensitivity. Luke is forever back-tracking, in word and deed: hastily swallowing faux pas with mumbled, rambling explanations, or hurriedly re-dressing when disillusioned of his mistaken assumption that he was to pose naked.
But, if there's no need to bare his body, then the emotions of Luke's heart do escape from beneath the nonchalant façade. He's concerned about fatherhood: anxious about everything from the not-so-trivial matter of the colour of the baby girl's bedroom, to his daughter's name—Luke's preference is Isla (an Isla could be anything that she wants to be, a lawyer, a diplomat…)—to his own lack of fatherhood skills. Above all, he is afraid of repeating the failings of his own absent father.
The amiable good-humour of single mum Mary (Hayley Jayne Standing) masks a disturbing, tragic family history. Her smiles, brightly coloured clothes, easy manner and chattiness can't keep Mary's memories of her love for and loss of the dead sister whom she worshipped buried for long. Standing conjures a gentle wistfulness that touches the heart much more sincerely than all Mary's casual "me darling"s.
Similarly, Poppy Fardell's Cassandra adopts the self-conscious confidence of an aspiring actor. She arrives clutching a bottle of Rioja—"£17.99, that's the price not the date"—a word that Luke can't pronounce, though he can down a glass or three. But, Cassandra's anxieties and vulnerabilities quickly come to the surface. She's been told that she has a "telegenic face" but she's obsessed with the size and shape of her nose. She prefers the world of make believe—or plain-faced lies—than reality. Her shoulders are tensely set; her feet, in tight green pumps, twitch incessantly.
Parkinson's television and theatre credits as an actor serve her well. She has a good ear for a witty one-liner and sustains persuasive verbal idioms which neatly define the individual characters. She shows some skill in 'crafting' too: the characters' speeches overlap with neat synchronicity at times and she has a sure feeling for cadence and rhythm.
Hints that the lives of the three characters—of different ages, from different eras and places—may interconnect surface quite soon, but, while there is pathos in the revelations of the final ten minutes, the tying up of loose ends doesn't feel entirely natural or convincing. Previously, the monologues have been too static, not assimilated within an ongoing narrative, such as one might find in a play by Brian Friel.
That said, these are strong performances at the Arcola Theatre and Sarah Bedi's direction is deft and unintrusive. At the close, the coloured lights which have cast increasingly concentrated hues onto the blank canvasses propped on easels to the rear cohere into striking likenesses of the characters whose outer and inner lives have been illuminated by their stories. Parkinson proves herself an adroit painter with words.
Reviewer: Claire Seymour