SIX
Toby Marlow and Lucy Moss
SIX UK Tour
Sheffield Lyceum
–

Listing details and ticket info...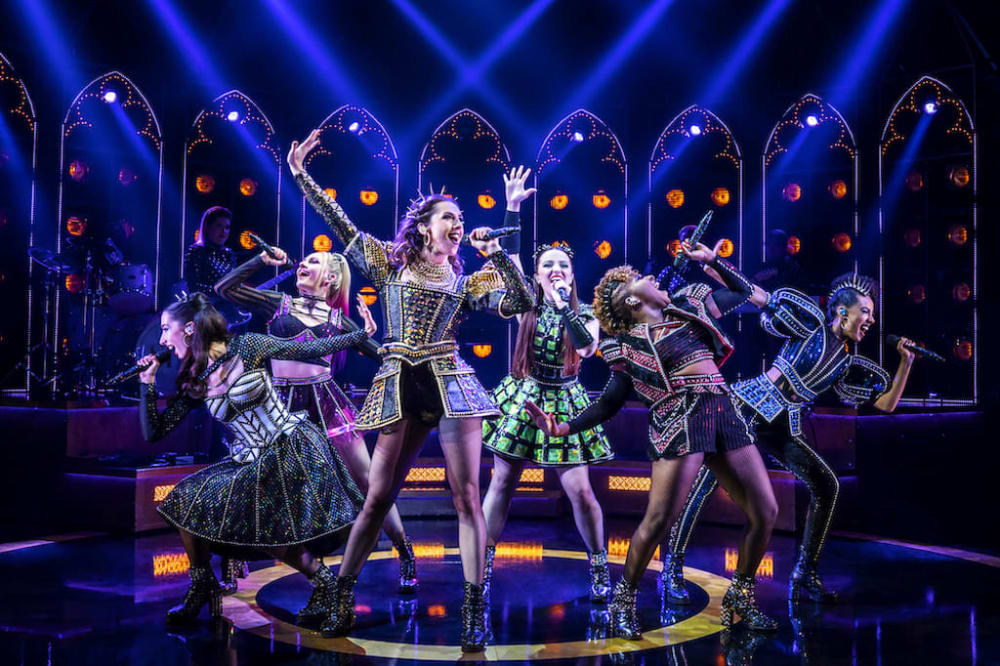 What a thrilling, joyful, foot tapping theatrical experience which played to a packed house of young and largely female enthusiasts at Sheffield's Lyceum last night.
Everything about it was exemplary. The music was dynamic, loud and impeccably rhythmic, performed by a group of female musicians; the set, lighting and costumes are a feast for the eye; and at the heart of it an amusing script expertly delivered by the accomplished cast of six, playing Henry the Eighth's divorced, beheaded, expired and one surviving wife.
Originating in Australia, performed at the Edinburgh Festival, now touring the UK, the musical takes its place among the most lauded in recent years, a viral hit with the second most streamed cast album.
After an introductory ensemble piece asserting the solidarity of the six wives and permitting a view of the glittering Tudor-style costumes in action, the performance settles into a sequence in which each queen in turn gives a spirited account of her relationship with Henry.
Chloe Hart as Catherine of Aragon begins with an account of her marriage to Arthur, Henry's older brother, seven years of incarceration after his death and the subsequent marriage to the much younger but very attractive Henry. The years in which she fails to provide a male heir leads to his insistence on a divorce and her refusal to comply. "I WON'T!"
Next up is Jennifer Caldwell as Anne Boleyn, a charmingly flirtatious characterisation in which she inveigles her way into a marriage with Henry but eventually cannot resist the attractions of a younger courtier. She is outraged when Henry has her executed. "He cut off my head!"
Casey Al-Shaqsy's Jane Seymour provides a contrast to the full-throttled, vigorous performances of the two previous wives. She tells us she loved Henry, was happy that she bore him a son, but devastated that she didn't live to see him grow up. Her solo introduces a necessary sadness into the previous energetic comedy and prepares us for the next.
Having failed to find a satisfactory home-grown wife, Henry turns his attention to Germany and Anna of Cleves. This leads to some fun and games with the German accent. Grace Melville makes the most of Anna's outrage, when Hans Holbein's flattering portrait has led to high expectations which are not fulfilled and Henry packs her off home again.
As Katherine Howard, Jaina Brock-Patel gives a winsome account of her early sexual encounters, so it is not altogether surprising that the ageing and increasingly unattractive Henry does not meet her expectations. Her supposed infidelities are exposed and she follows Anne Boleyn to the block. She also loses her head.
Alana Robinson plays the last wife, Catherine Parr. Her great sadness is that she was on the point of marrying the young man she loved when Henry's eye fell on her and there was no way in Tudor England that she could refuse him. She carries her regret with dignity and treats the ailing king with kindness and love. A moving performance.
In the concluding ensemble piece, each queen speaks of loss but finds consolation in female solidarity, mutual support and a pride in being one of the six despite the consequences.
Every aspect of this production is commendable. The script by Toby Marlow and Lucy Moss is informative as well as being outrageously amusing. The choreographed routines by Carrie-Anne Ingrouille are bursting with energy, and the set, costume design and lighting effects (Emma Bailey, Gabriella Slade and Tim Deiling) are delightful and visually impressive.
Much credit must go to the wonderful sound produced by the small band (musical director Jenny Deacon on keys, Laura Browne on guitar, Kat Bax on bass, Vanessa Dominique on drums) and how appropriate that this is an all-female band which reinforces the female solidarity of the script and the performances.
Reviewer: Velda Harris