Six
Toby Marlow and Lucy Moss
Kenny Wax, Global Musicals and George Stiles
The Lyric, Theatre Royal Plymouth
–

Listing details and ticket info...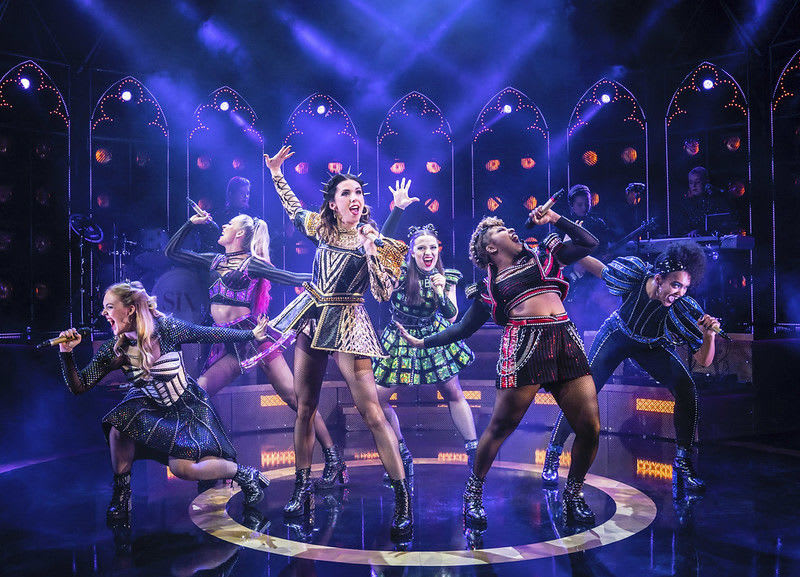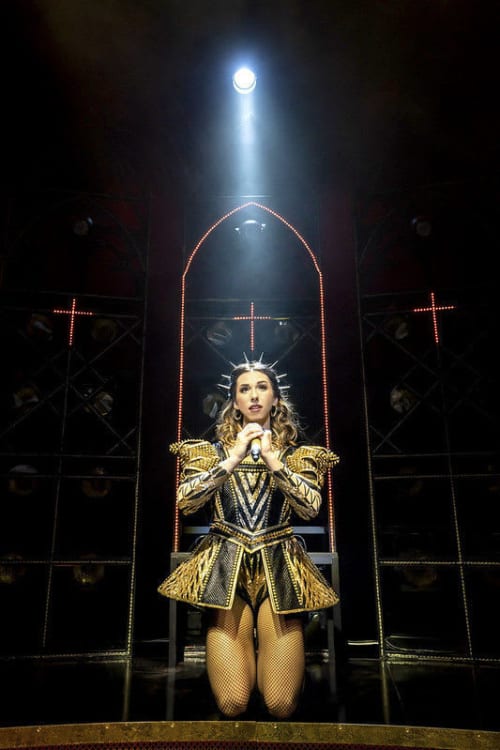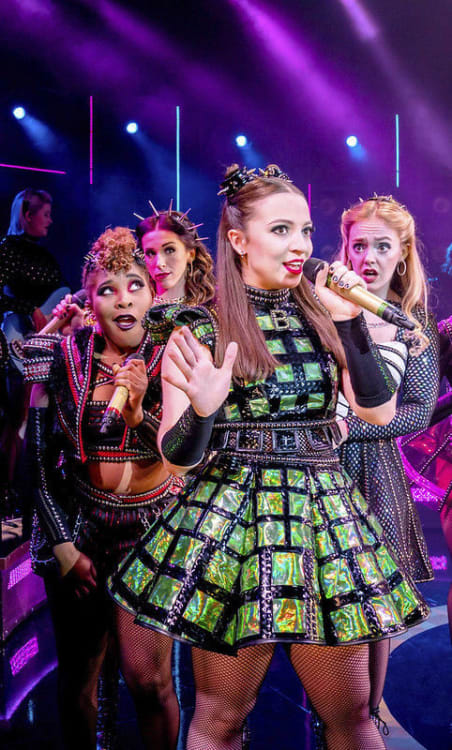 Brash, sassy and such good fun: Six deserves its five Olivier award nominations and the rave reviews following it around the globe.
Starting life as a Cambridge University student offering by composer Toby Marlow and co-writer Lucy Moss at the Edinburgh Festival, Six has grown to cult proportions with soundtrack and merchandise selling out.
The six wives of Henry VIII may be known best as divorced, beheaded, died, divorced, beheaded and survived but, there is absolutely no doubt: they are live and loud and keen to tell their stories.
The killer queens step up to the mic in a myriad-genre supposed sing-off to find the most miserable tale of woe at the meaty hands of the king who put a ring on it—six times. But these are no shrinking violets—rather Tudor roses sharpening their thorns to tell their gory stories of glory and disgrace strutting their stuff in Gabriella Slade's glitzy computer-era take on Tudor costume.
The somewhat frenetic non-stop 80-minute bid for the Queen Bee crown starts with Lauren Drew as stroppy Catherine of Aragon whose "No Way" is a sad story of being imprisoned for seven years to 'help' grieve the loss of her new teenage husband only released to marry his brother, her miscarriages and Henry's infidelities, the Vatican and the sceptre of life in a nunnery in an unflattering wimple wrapped in Axle Rose-eque moves and boots; and shades of Beyonce and Shakira with a thrilling, spot-on top C.
Unshaken by the competition, feisty 'pret a manger' temptress Anne Boleyn (Maddison Bulleyment channelling Lily Allen and Avril Lavigne) tells how she rolled up her Greensleeves, left the French court to find fun and a man and chose the royal ruff to smear her raunchy red lipstick upon. Excommunicated for X-rated shenanigans, she changed the course of history but lost her head for the lack of a son.
Slowing the pace and adding pathos, Caitlin Tipping is Jane Seymour, Henry's one true love (so she says) and bearer of his son. Her soaring ballad "Heart of Stone" is poignant and tells of standing by her badass monarch, happy times and anguish at dying in childbirth.
Any lingering despair is stomped all over by Anna of Cleves (belter Shekinah McFarlane). Rejected, despite her wunderbar Wonderbra, by the wheezing, wrinkled womaniser 24 years her senior when she didn't look like the profile picture provided by the Haus of Holbein. All R&B, rap, neon glasses and attitude, hers is an absolutely joyous tongue-in-cheek rendition of the 'heartbreak' of being abandoned: queen of the castle alone on the throne of a beautiful palace with loads of dosh and no one to tell her what to do. Boo hoo.
The 'least relevant' Katherine (Vicki Manser) is next up: "All You Wanna Do" is all very early Britney Spears and Ariana Grande as her flirty jailbait frivolity belies a dark and sleazy childhood where trust and chemistry are never legit and an ageing, angry and possibly impotent Henry is quick to sever the connection.
Finally, the survivor and quietly feminist Catherine Parr (a graceful Elena Gyasi) softly—and with more than a nod to Corinne Bailey Rae—speaks of finding and losing true love, widowhood and how, when the king commands, there is no choice.
There's top trumps with miscarriages and mistresses-offs; witty and trite lyrics ("couldn't wait any more to get my corset on the floor / tried to elope but the Pope said nope / All you ever hear and read about, Is our ex, and the way it ended, But a pair doesn't beat a royal flush, You're gonna find out how we got unfriended"); debate as to whether abandoning a child through dying of natural causes or losing one's head is worst... and much, much girl power is oozed.
There is nothing to choose between the six voices—all faultless both singly and in harmony—Carrie-Anne Ingrouille's choreography is jaunty and apposite, and all plaudits to the four fab female musicians (whose names I sadly didn't catch) playing live on stage throughout.
Vibrant, vacuous, and such good fun.
An almost 100% standing ovation from a full house in TRP's first non-social distanced production for an awful long time and what a great start back.
Reviewer: Karen Bussell