Skin Deep
Music by David Sawyer, text by Armando Iannucci
Opera North
Thetare Royal, Newcastle, and touring
(2008)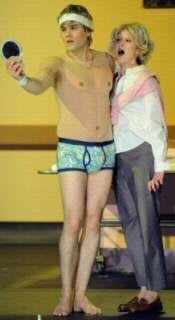 Opera North should be applauded for commissioning (jointly with the Bregenzer Festspiele, Royal Danish Opera and Komische Oper Berlin) a new, modern operetta, particularly one which is sharply satirical, looking at obsession with appearance and the attempts, through plastic surgery, to "put right what Nature got wrong", and for taking the risk of using first-time librettist Armando Iannucci, best known for TV satirical series such as Alan Partridge.
Dr Needlemeier (Geoffrey Dolton) runs a private "aesthetic surgery" clinic in Switzerland with Lania, his wife (Janis Kelly), whom he operates on every year on her birthday to make her even more beautiful. Their daughter Elsa (Amy Freston) is in love with a boy from the village, Robert (Andrew Tortise), but she won't marry him until he has various imperfections corrected by her father. Needlemeier is having an affair with scarred receptionist Donna (Annie Gill in this performance). He is also using cast-off bits of his patients to create an elixir of youth.
Cue the start of a series of complexities of plot which end up with swapping the faces of Liana and Donna, Robert being made so perfect that he falls in love with himself so that the only way Elsa can compete to to have herself reshaped to look just like him, the removal of a testicle from famous Hollywood actor Luke Pollock (Riccardo Simonetti in this performance) to complete the elixir, all of which culminates, in the third act, in the doctor's new private clinic in California where the elixir is constantly fed to a chorus-full of Robert and Donna clones and to which comes Pollock (looking - inevitably! - for his bollock).
There is a subplot which features Global Glamour TV reporter Susannah Dangerfield, played by the very tall and extremely glamorous Gwendoline Christie, who ends up getting the Hollywood star Pollock when he is reunited with his missing part, for she is the one who finds it!
Good plot, a very funny situation, some great lines, some effective and almost cartoonish scenes, some interesting music, but the whole, I'm afraid, is somewhat less than the sum of its parts. The third act is repetitive and, to choose an appropriate word, rather flaccid, in spite of a superb set (much better than the rather utilitarian set of acts 1 and 2) and a nice coup de théâtre in the final fate of Needlemeier and Donna. And the music can at times serve to obscure rather than illuminate.
Audience reaction was muted, polite rather than enthusiastic. Not a flop or a dud (although it has been so described) but a lot needs to be done on the third act if the piece is to be revived.
Reviewer: Peter Lathan