Skylight
David Hare
Theatr Clwyd
Anthony Hopkins Theatre, Theatr Clwyd, Mold
–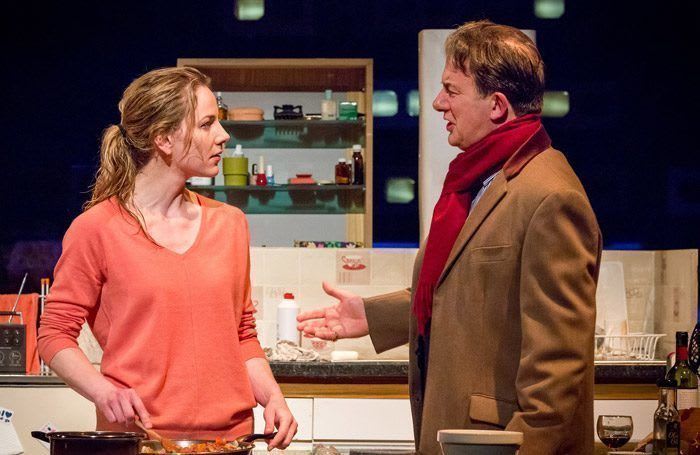 The first impression as you enter the Anthony Hopkins Theatre is James Perkins's outstanding stage design. A host of coloured breeze blocks surrounds the set of the spartan flat inhabited by Kyra. Clever lighting subtly gives the impression of the soulless high rise in East London in which the play is set.
It's a suitably grim setting for Tamara Harvey's production of the David Hare story of lost love and clashing values. Kyra, a school teacher in a particularly challenging area, is visited twice in an evening; once by Edward Sergeant and then by his father Tom. Edward, played by Oscar Betterham, sets the tone for the evening of questioning Kyra and her life choices, clearly feeling let-down at her decision to leave his family home and "make a style choice to live in Outer-Siberia".
There is clearly tension between Edward and his father, a man who he thinks is living his life through the Yellow Pages. Later, Tom explains that arguing with Edward has been reduced to men's tennis; rallies are redundant and you just put in your biggest serve and hope it doesn't come back.
However, it is the object of both men's affections, either as surrogate sister or former lover, Kyra, upon whom a good degree of the focus falls. Jeany Spark is a placid counter to the wise-cracking and brilliantly blustering Jay Villiers as Tom. Since being widowed, Tom has been pondering his life, relationships and a good deal of other things judging by the opinions he freely dispenses during the performance. He also seems preoccupied with the room he had built for his dying wife, featuring the eponymous 'skylight', where she spent her time watching the birds and emotionally drifting further away from her husband.
David Hare's script invites us to consider the contrast between the wealthy businessman, complete with chauffeur and holiday home, and the struggling teacher living in freezing conditions and devoted to her profession. However, it is a testimony to the skilled performances that sympathy doesn't always flow the way you may expect despite the constant stream of barbs and cynical asides from Tom as he hints at perceived self-righteousness in Kyra. "There's plenty of injustice in the world", he says, "the question is why you have gone out to look for it".
This is a well presented and slick production which, while thought-provoking, does tend towards the maxim that all is never as it seems.
Reviewer: Dave Jennings