Slava's Snowshow
Created and staged by Slava Polunin
New Victoria Theatre, Woking, and touring
(2006)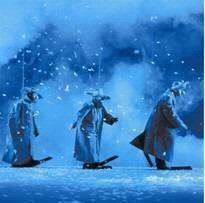 I almost gave Slava's Snowshow a miss, clowns in the snow seemed like a children's circus act, but then I saw Simon Callow's comment that it was "the single most beautiful thing I have ever seen in a theatre." This is a man who knows a thing or two about theatre, so I was not about to argue with his judgment – and what a show!
For sheer inventiveness, versatility, amusement, amazement, surprises and pure beauty there's nothing to touch it. Beginning with a storm of sound and colour the clowns arrive as if from a spaceship through swirling smoke and from one little yellow clown with a rope around his neck to the final blinding snowstorm we are treated to a range of visual and sound experiences with comedy, humour, pathos and plenty of totally unavoidable audience participation. Don't get alarmed – this participation is truly fun, but if you really want to avoid it get a seat in the circle. You might find that at the end of the show you will be rushing down to join in as were many people on the night I attended. The clowns don't just run around the audience – they climb over them, and you don't know where to expect the next one. At one point there is a clown carrying a dripping umbrella and one following to mop up the shoulders dripped upon. O.K. – you had to be there! Descriptions are impossible, but it touches almost all the senses – even taste if you happen to catch one of the wandering bubbles in your mouth.
The little yellow clown I assume to be Slava himself, all the others are in dark green long coats and with strangely large and flapping ears and very elongated feet. These are clowns as you have never seen them before, shy creatures and very quirky, and they can convey their thoughts and feelings with just a simple twist of the head, a shrug, or a wave of a hand. It is amazing how much feeling, expression and fun can be achieved with a coat stand complete with coat and hat, telling a story of a parting on a train platform, and just how two telephones and different voices can be so hilarious.
The twelve clowns are amazing performers, but also the staging, lighting and sound technicians are essential to this very unique and fascinating show and they do a brilliant job too.
Having become a favourite with the people of his native Russia, Slava now travels the world "with an art which contains the spirit of nonsense and absurdity ..with clowning full of poetry and insanity".
The spontaneous standing ovation at the end came in very useful to ward off attack by giant balloons, while the bemused clowns watched from the stage, and the whole auditorium turned into a giant playground as the children delighted in throwing 'snow' over everyone.
It is a truly magical, exciting, funny and wondrous show. Get a ticket - if you can!
Touring to Birmingham and Bath
This review was first published in Theatreworld Internet Magazine.
Reviewer: Sheila Connor