Slava's Snow Show
Vyacheslav (Slava) Polunin
Presented by Matthew Gale, Mark Goucher and Jenny King
Royal Festival Hall
–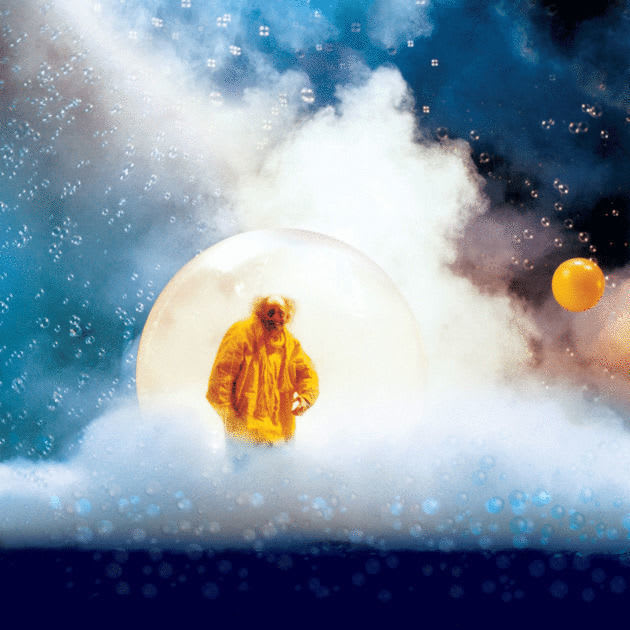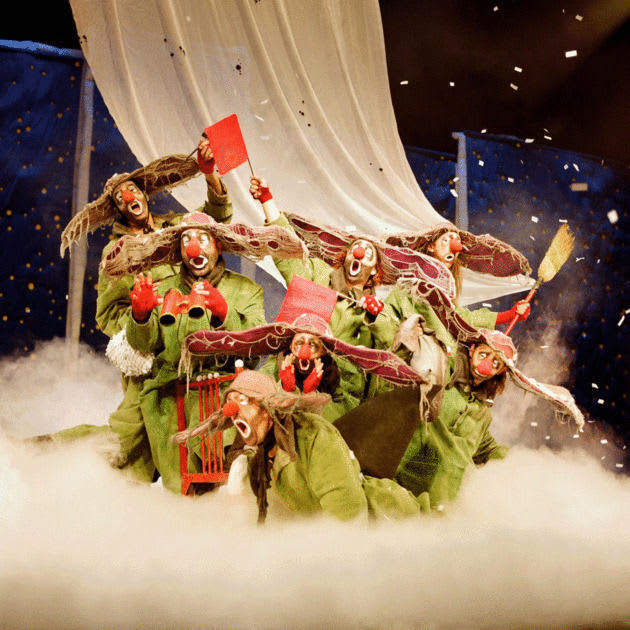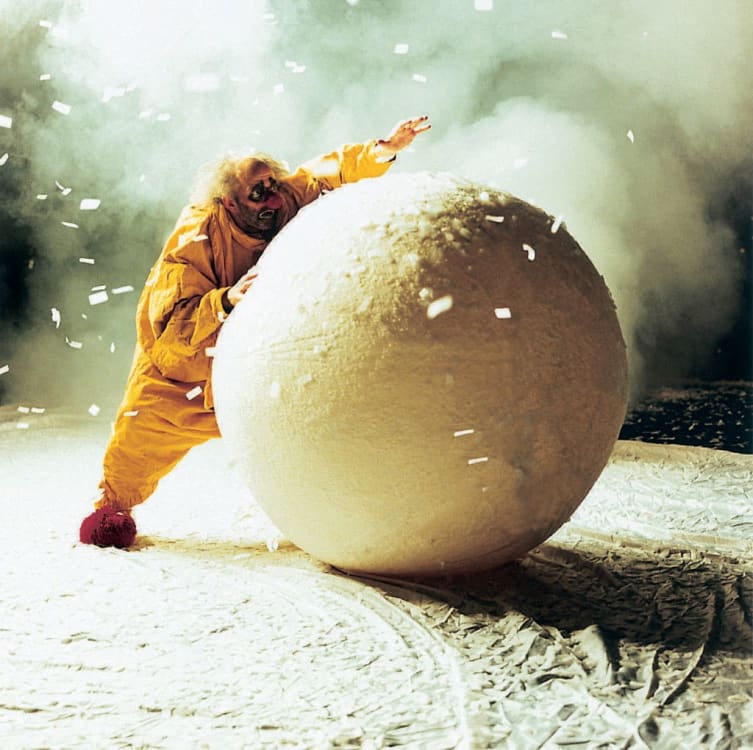 Slava first mounted his Snow Show back in 1993 and since then this award-winning spectacle has brought joy to millions all round the world. First seen in London two years later with a company newly formed to perform it, it has played here many times. This is its fifth consecutive Christmas season on the South Bank.
After so long a life—and Slava created his yellow-clad clown called Assissiaï and his conversation on inflatable telephones for a television show even earlier—it would be easy to become tired and mechanical. When reviewed here last three years ago, our reviewer clearly felt it had lost some of its magic but, though there are elements that seem mechanical, it also has the precision that comes from regular repetition and much remains fresh and surprising (though it may be a decade or more since I last saw it).
It's a show that sets the subtlest, tiniest gesture against bold brash effects; you can look for the influence of Becket and absurdism, often it demands close observation much closer to theatre than circus ring comedy. There is a risk that the very young might find some sections boring, but the child in the heart of the adult will respond to it.
With a setting that looks like a wall of huge, worn old mattresses and costumes that hint at an indefinable sadness, there's that clown contrast of pathos and laughter, including the clown with a rope round his neck contemplating suicide (here there are two of them). They may be there to amuse us—but they move us too.
There's also that other classic turn of a man embracing a coat on a hat stand: but here he tears up the letter his imaginary lover has pushed in his pocket and it turns into a snowstorm. There's a moment of deliberate banality when a clown wearing a shark's fin circles an iron bedstead turned boat and it is such simplicity, though powered by technology, that is still behind that snowstorm's blinding white blizzard. There is paper snow on the floor as you enter the theatre and a great deal more when you leave it.
The souvenir programme now lists nine actors in addition to Slava Polunin who play the Yellow Clown and 17 as his antagonist Green Clown: there is no indication of which performers on which night. This time I didn't see Polunin but these are all polished performers following in his footsteps.
Director Victor Kramer gives the show a definite discipline but the essence of the show is a sense of disorder and it is this and the liberation it gives to the audience that gives this show its success and its reputation rather than its subtleties. Music adds to the excitement and atmosphere drawn from composers that range from Beethoven to Karl Orff and Vangelis.
At times the clowns invade the auditorium charging over the seating. If they have umbrellas they are not for protection but to shed rain. A huge cobweb advances over the complete stalls; giant snowballs on stage become huge balloons bouncing out overhead.
It is true that this has become a commercial international touring commodity (seats £20 to £75 with a premium price of £95—but there are a limited number of concessionary tickets that include under-16s) but you have to give a cheer for a show that produces such joy that half the audience wouldn't leave until they put the lights out.
Reviewer: Howard Loxton