Slava's Snow Show
Created and staged by Slava Polunin
The Lowry, Salford
(2011)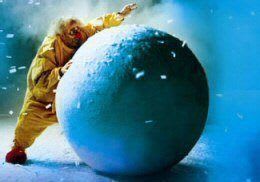 Russian clown Slava Polunin's now world-famous Snow Show, which he first brought to London seventeen years ago and is still packing theatres across the world, spends another autumn half term holiday in Salford.
Slava's Snow Show is, basically, a series of clowning sketches without words, all set to a mixed soundtrack that includes plenty of Vangelis, bits of classical music and some Russian folk music amongst others. Many of the visual gags and knockabout routines are far from new or original, but there is something about the execution of the whole thing that is absolutely captivating, somehow managing to be both funny and moving at the same time.
Part of the skill is in the attention to detail, as a simple raising of an eyebrow is projected to the back of this large auditorium and draws in the whole audience. Part of it is the unhurried way in which everything unfolds, very reminiscent of Laurel and Hardy, where looks are held for ages or we watch someone doing nothing as we wait for the penny to drop. This is true family entertainment that appeals equally to all ages, but it doesn't feel the need, like a lot of children's entertainment, to be constantly rushing about and shouting to stop its audience from getting bored.
Some of the scenes are little more than looks between the clowns—in particular the rivalry between the main yellow clown and the pack of mischievous green clowns—with lots of laughs gained from simple but very skilfully executed tricks such as the way they appear to grow and shrink. The melancholy heart of the whole show is obvious from the start when the main clown enters with a noose and looks for somewhere to hang it as he places it around his neck, continuing with an extended Dying Swan routine that takes him into the audience and back with arrows through him and ending with the old trick of putting his arm into the sleeve of a coat on a hanger to bring it to life but making from it a routine that rivals Brief Encounter for the most moving station platform farewell scene ever.
Of course there is also snow, which litters the floor when you enter and then starts to fall on the audience in the second half, before they are blasted with a blizzard of it. There are also occasions when water is sprayed into the audience, the whole of the stalls is covered with a giant spider's web just as the lights come up for the interval and then the audience is encouraged to stay at the end and play with giant inflatable balls. You certainly miss out on some of the fun if you sit upstairs for this show.
So it's big and colourful, funny and sad, impressive and very cleverly conceived and performed, plus there's lots of genuinely fun and unthreatening audience participation. It's something that everyone should see at least once, but many go back again and again (third time for me). Forget the clowns of horror films and unfunny circus routines from your childhood; Slava has taken the clown back to being great family entertainment and also created a thing of beauty.
Reviewer: David Chadderton