Slay It with Music
Book and lyrics by Michael Colby, music by Paul Katz
A Stage Kindly
Greenwich Playhouse
(2011)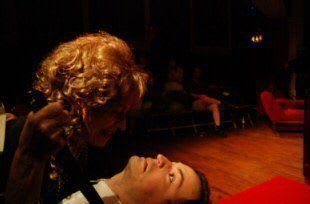 After a successful run at The Space earlier this year, Slay it with Music transfers to the Greenwich Playhouse where audiences who didn't catch it the first time round can enjoy a production best described as a musical killer thriller.
Poor old Enid. Once the brightest star in the sky, she's since fallen on hard times, relying upon her sister's fame to finance her and butler Zachary. An incident which saw her hairdresser get the chop - literally - didn't help things and when sister Marcy's TV soap opera Poughkeepsie gets axed, things seem to go from bad to worse. That is, until one day Enid is approached to rekindle her career in a new slasher movie. Determined that it will bring no good, goody two-shoes sister Marcy demands Enid turn it down, but showbiz is in Enid's blood and others would kill for such a chance...
As Enid, Andrea Miller delivers a captivating performance. An experienced actress, she appreciates the subtleties of her text and ensures that every word has meaning. Not only a strong performer, her singing too is equally impressive and there is great partnership between her and Andrew Hayler as butler Zachary.
Enid's sister, Marcy, played by Ellen Verenieks, is one of those frightfully annoying characters who always end up the victim. Verenieks plays her well and, along with Miller, camps it up good and proper when required.
Slay it with Music parodies titles such as Sunset Boulevard, The Bad Seed, What Ever Happened to Baby Jane? and mixes them with a hint of Little Shop of Horrors and the Rocky Horror Show. The problem is that, in an attempt to be gory, writer Michael Colby has introduced a number of sub-plots which are seemingly superfluous and introduced numbers, with music from Paul Katz, which drag the piece like a dead weight.
A quasi-traditional 'whodunit', Colby and Katz are unhappy with one murder initiating the narrative, so introduce a further, albeit accidental one, during the first act and then two more in Act Two. The latter murders add nothing to the narrative and seem to exist as padding to ensure the show reaches full-length status. However, in striving to make the show a two acter, many of the musical numbers go on for that little bit too long and others, just like the murders, although interesting, neither drive the plot, nor reveal anything new about a character; they are completely superfluous.
One such number appears early in Act One where Katz and Colby give the game away by providing the murderer with a 'diversion' song entitled "I'm in Love". Anyone au fait with the genre easily puts the pieces of the jigsaw together, meaning that the detective work is over within the first twenty minutes. Were this number to constitute part of the murderer's motive statement in Act Two, a much more dramatic and shocking 'reveal' could easily be achieved.
That aside, director Joseph C Walsh has done a sterling job keeping the show alive. In various roles Candice Palladino, Gemma Rook, Mark Lawson, Hayley Sheldon and Nick Whitfield erupt with energy and engage with the audience in the intimate surroundings of the Greenwich Playhouse. A well thought out set by Ric Lipson helps transform the studio theatre and, with James Cleeve on piano situated in the corner, A Stage Kindly prove that the Playhouse is the perfect venue for musicals as well as plays.
Slay it with Music, like the title of Enid's slasher, could do with its own fair share of Chop Chop-ping, but thanks to the sterling efforts of the cast it still constitutes a frightfully fun night out. It is just such a shame that with the Edinburgh Fringe currently in full flow, those north of the border won't get to sample this UK premiere this year.
"Slay it with Music" plays until 4th September 2011
Reviewer: Simon Sladen