Sleeping Beauty
Written and directed by David Lee
Gala Theatre, Durham
(2007)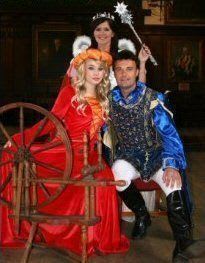 Halfway through the first scene the person next to me muttered, "Are they trying to make this an opera?" and I have to confess that I was thinking along similar lines. It was a sign of things to come: this production is heavy on music but comparatively light on comedy. Except, that is, for Pee Wee Price (now a regular in the Gala pantos) as Cuthbert the Jester who works his fingers to the bone to get laughs - and what does he get for it? Bony fingers!
(Pantomime) joking apart, he does get the laughs and establishes a real relationship with the audience, kids and adults alike. He knows the panto comic role inside out and is obviously very comfortable in it.
Also very comfortable in role is Joanne Heywood as wicked fairly Carabosse who clearly relishes winding up the audience, which she does to great effect. Comfortable too (even when faced with the frequent microphone problems which dogged them, especially in the second half) are Maureen Nolan as the Crystal Fairy and Mike Holloway in the dual role of the Princes Gallant and Valiant.
The two support comics, Paul Hartley as King Humphrey and George Kelly in the Dame role, Queen Hilda, don't really have the material to work with and, when working the audience, tended to cut the routines short before the kids (and the adults, who were definitely up for joining in as much as possible) really got going. One wonders if this was a directorial decision, made to fit in the fourteen songs, which were far too many and extended the running time to over two and a half hours.
Music was clearly central to the director's vision of the piece and Lisa Marie Bowman (Princess Briar Rose) was obviously chosen for her vocal abilities. She sings beautifully but, even allowing for the fact that principal girl can be one of the most unrewarding roles in panto, never really made contact with the audience, even in the curtain call, where, to be honest, she looked bored.
As I left, I heard a little girl of about 9 or 10 say to her mother, "Too much singing, not enough acting." Replace "acting" with "comedy", and you can't get a more succinct review than that.
Reviewer: Peter Lathan