Sleeping Beauty
Alan McHugh
Crossroads Pantomimes
Churchill Theatre, Bromley
–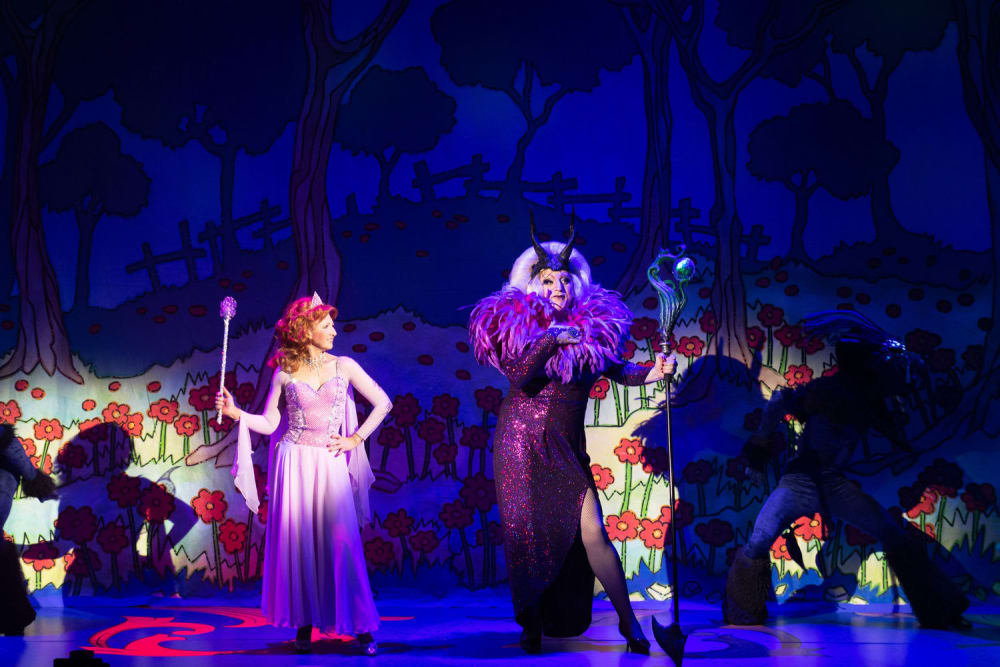 When Bad Fairy Corona cursed Pantoland last year, theatres throughout the land were forced to slumber. Twelve months have since passed and panto season is well and truly alive and kicking in Bromley.
For a tale about nodding off, there's no chance of that at the Churchill Theatre as the overture blasts away the cobwebs and continues at a deafening level throughout the show. It's almost impossible to hear the cast as they valiantly attempt to deliver their vocals, which is a shame as the production features a host of new numbers and inventive lyrics to well known classics.
In a plot described as "threadbare" by one of the characters, musical numbers feature heavily and include a running gag whereby Lee Mead's Prince Harry of Holby breaks into "Any Dream Will Do" with knowing aplomb as he channels his celebrity persona. But it's not all BTS and Gloria Gaynor, Comic Lloyd Hollett skilfully delivers music hall-worthy patter songs inspired by great comedians and tasty cuisine to the tune of the "Can Can" as well as engaging in a crowd-pleasing dance battle with the Lilac Fairy that has younger audience members up on their feet joining in.
One of the show's most striking moments occurs at the conclusion to act one when Bonnie Langford's Lilac Fairy and Joelle Moses's Queen Voluptua deliver a rousing rendition of "There Can Be Miracles", later joined by Claudillea Holloway's dreaming Princess. This may not seem significant to many, but it should not be underestimated how progressive this is. Where else might you see such a pivotal moment in the narrative delivered by three female cast members that also celebrates their vocal prowess and power? Whilst many pantos would fail the Bechdel Test, this Sleeping Beauty excels.
Moses brings a feisty nuance to the lusty Queen in a role usually reserved for the Dame, with Langford's perky Fairy a prime example of panto professionalism. However, both are no match for the powerhouse that is Myra DuBois in the role of Carabosse.
Whether berating the audience, playfully ad-libbing or delivering tongue-twisters about shoe shop shining and sushi shop-worker sisters, DuBois commands the stage and in addition to Villain occupies much of the space usually afforded to the Dame. Whilst this enables DuBois to show off her immense talent, the lack of Dame leaves Hollett's Muddles bereft of a sparring partner and often isolated, delivering his material alone on stage as per a variety bill.
Without its interval, the show would run for 90 minutes straight through and it seems that some of the changes earmarked for a pandemic panto season have remained. The addition of a half-time break leaves an unbalanced second act running at only 35 minutes, having been streamlined so much that it avoids almost any quest and ignores explanation of how Muddles finds the kidnapped Prince. There is also a slight air of staleness to the production, particularly due to the absence of any 2021 chart hits and an over-reliance on old pandemic jokes referencing bubbling, Dominic Cummings and toilet roll shortages.
Strong performances make this Sleeping Beauty an engaging trip to Pantoland. A refreshed script would bring further vitality to a production that harks back to the pandemic, but looks forward in terms of embracing the Drag Villain and addressing contemporary pantomime's gender imbalance.
Reviewer: Simon Sladen