Sleeping Beauty
Adapted by Lee Waddingham from a script by Ian Billings
Paul Holman Associates
Connaught Theatre, Worthing
–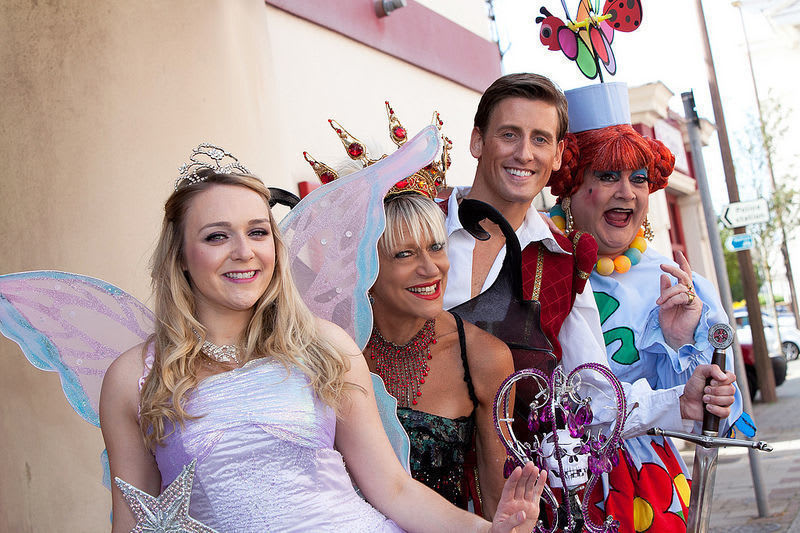 With two theatres in Worthing, the Connaught prides itself on being the town's home of traditional pantomime. In their third production at the venue, Paul Holman Associates presents Sleeping Beauty, although it's not quite the version of the enchanting fairytale known to most.
Sleeping Beauty is a difficult title to present as a pantomime, but has enjoyed great popularity in recent years after Disney re-released the title as part of the motion picture's 50th anniversary in 2008 and Qdos launched their large-scale production at the Birmingham Hippodrome in 2009. With the 100 year sleep a vital component of the narrative, writers have invented many ways to keep the action interesting and exciting, but sadly this isn't the case in Worthing.
Within the first ten minutes of Act Two, Princess Aurora has been awoken by the Prince and the story is over. Well, it would be, were there not an additional piece of plotting which sees Carabosse plan to poison the Princess and sell her to the gypsies. The problem with this alternative narrative is that the second act stalls and shudders through two plot conclusions as well as a lacklustre wallpapering scene and ghost gag, which help pad things out further.
With Bobby Crush as the pantomime's Dame, it is odd that the production does not utilise the time travelling narrative to enable him to display his piano playing skills as Nurse Katy Cough-Drop learns new styles and genres from each era she visits. Instead, Crush's act celebrates the awakening of Princess Aurora and helps add more minutes to Act Two, whilst an elongated school room scene fleshes out Act One.
Nikki Kelly's Carabosse is wicked and nasty, full of venom as she seeks revenge for a forgotten invitation at Princess Aurora's birth. A strong and experienced Villain, it is a shame her stage time in Act One is rather limited and prologue heavy as she delivers information about the christening and curse as a lengthy monologue rather than the action being delivered by the rest of the cast in flashback.
The production is full of contemporary hits including One Direction's 'Live While We're Young', Jessie J's 'Domino', David Guetta's 'Titanium' and this year's panto staple 'Gangnam Style'. Crush even manages to get internet sensation 'One Pound Fish' into proceedings, whilst the Muppets' 'Mahna Mahna' acts as a welcome change to the customary 'Hiya Kids'.
With such a musical cast, it is no surprise that the production is musical number heavy. Sophie Bloom's Aurora is a delightful Princess who, along with Jon Moses's Prince Rupert, brings a wonderful sound to proceedings, as does Helen Peters's Lilac Fairy. Strong musical numbers are supported by James Donaghey and Rhys Owen with members of Glendale Theatre Arts School, who execute Kelly Sims's sharp choreography with great energy and panache.
Next year's title has been announced as Jack and the Beanstalk. With stronger plotting and less padding, the theatre's first male-led quest narrative since 2009 could be a giant success.
Reviewer: Simon Sladen