Sleeping Beauty
Janice Dunn
De Montfort Hall and Imagine Theatre
De Montfort Hall, Leicester
–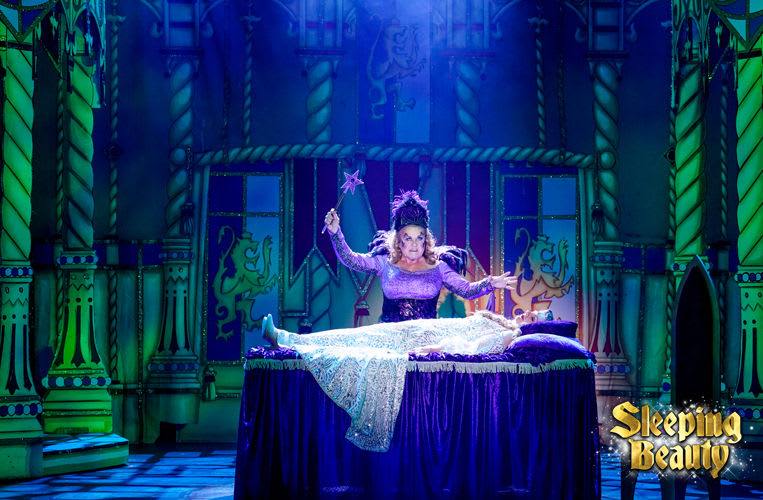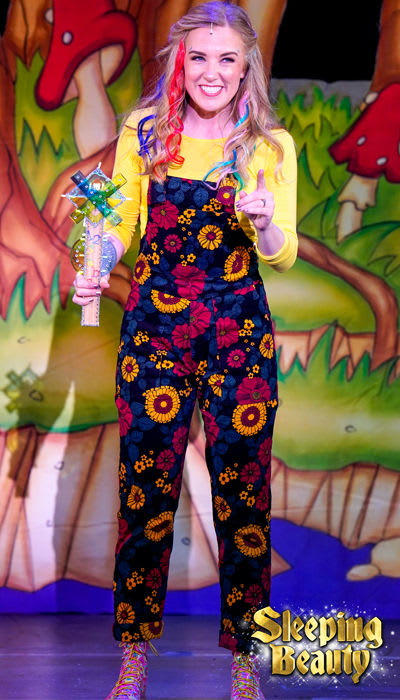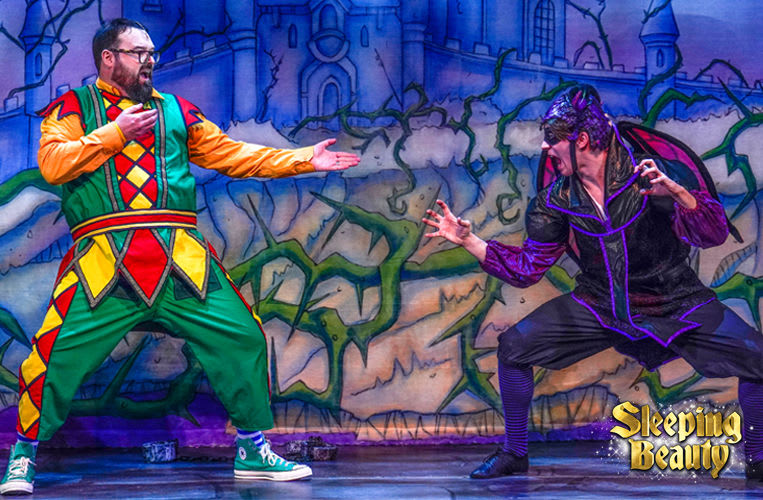 With a bouncy disco opening number, a gorgeously lit set of greens, purples and sparkles and a good proportion of the audience thrilled at the sight of CBeebies presenter Maddie Moate as Fairy Phoenix, Sleeping Beauty gets off to a great start.
As with so many pantos around the country—and world—it's been two years since the last production and, like an old friend, we delight in welcoming back the hisses, boos and it's-behind-yous.
But there's something not quite right—or maybe ready—with this production. Judging by the ticket pricing, this is a preview performance. Two key characters are not played by the advertised stars: Leicester panto dame stalwart Martin Ballard is billed as Nanny Nancy, although for this performance, Ben Millerman (also company stage manager) hoists himself into the increasingly outrageous costumes. Prince Pablo is played by Luke Bell rather than Matthew Pomeroy as programmed. No reason is given for these changes but both Ballard and Pomeroy did such a brilliant job in Aladdin, the last panto at De Montfort Hall, it's hard not to compare. Millerman and Bell do a fine job but a little more panto polish would help.
That said, all Sleeping Beauty panto ingredients are here: King Alfie (Andy Abraham) and his Queen (I think Alexandra Brookes although not credited in the programme) long for a child. Evil Carabosse (Wendi Peters) grants their wish with the arrival of Princess Rosa (Natasha Lamb), but with significant cursed caveats. Spindles are forbidden as a result. Rosa grows up, flirts with Prince Pablo, but at her 18th birthday, an ill-judged gift of a spindle results in her falling into 100 years' sleep. No more spoilers, but I think we're in pretty familiar territory.
There are several wow moments as Luke Bell shows off his skills as a magician with Princess Rosa as his assistant. Lamb also assists in the entertaining scene where Jarred the Jester (Jarred Christmas) performs "which bucket is the Princess's head under". Christmas is a successful comedian and compère and keeps things moving well here, although some of his humour didn't seem quite right for this panto and felt a little aggressive at times.
Wendi Peters as Carabosse steals the show and is a safe pair of evil hands, delivering curses, cackling laughs and all-round menace with aplomb. Andy Abraham (an X Factor runner-up) impresses with his super-smooth and soulful voice and leads many of the musical numbers. There's a nice interpretation of Taylor Swift's "Shake it Off" (in this case "Bake it Off") in the kitchen scene, and a fun if exhausting-looking version of "The Twelve Days of Christmas".
Writer and director Janice Dunn keeps everything moving at a good pace (although a 35-minute interval seems excessive), and overall, all the requisite panto ingredients are here. I think it just needs a little more time and performances to rise to show-stopper level.
Reviewer: Sally Jack