Sleeping Beauty, A Gothic Romance
Matthew Bourne, music by Tchaikovsky
New Adventures
Festival Theatre, Edinburgh
–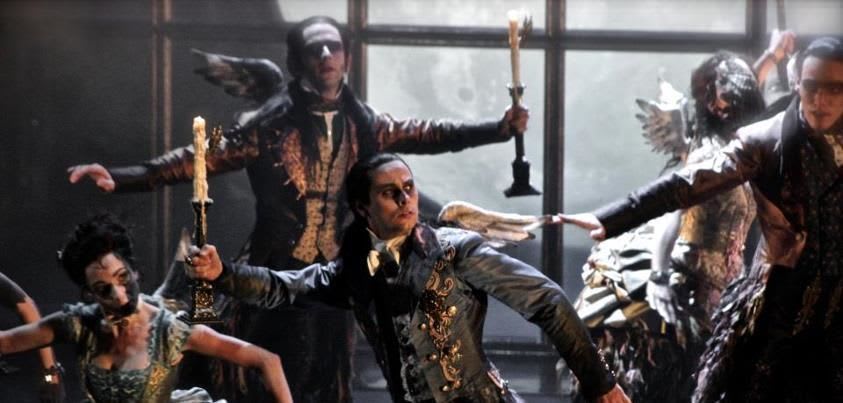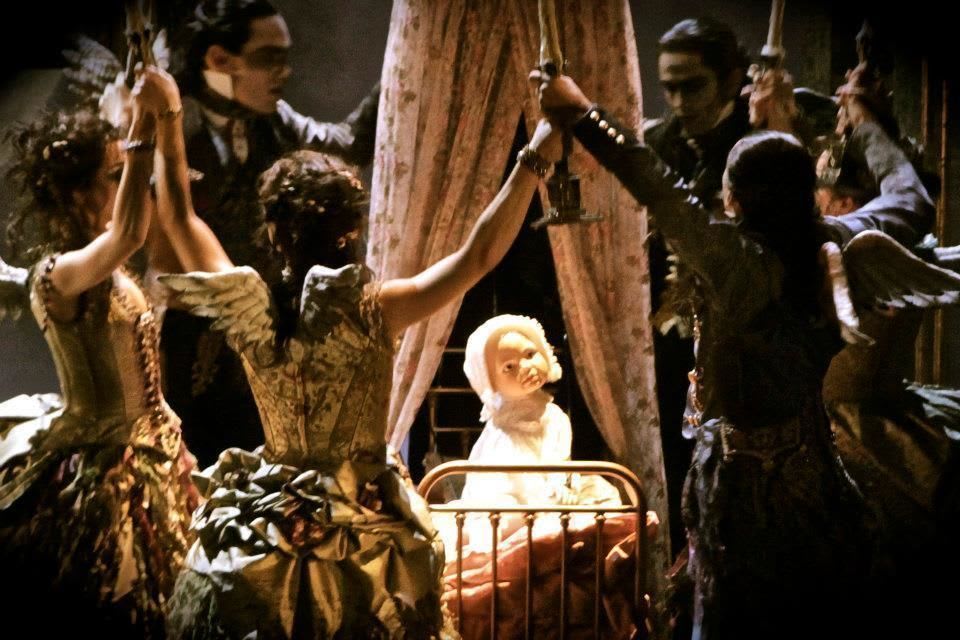 Matthew Bourne's newest adventure is a love story that lasts over a hundred years, allowing the choreography, costumes and characters to evolve over time.
The production doesn't stray from the gothic theme—even the lightest act, Aurora's coming-of-age picnic in 1911, has the cast in creamy shades of bone. There is much less comedy than with some of Bourne's previous work and thus this dark show fully immerses itself in its morbid theme.
Act one is in the sumptious palace of Aurora's parents; her father King Benedict (Ben Bunce) is undoubtedly modelled on Russian Tsar Nicholas II or possibly British monarch George V, but then they were cousins with identical facial hair. It is all warm, cosy fun with baby Aurora (a multi-controlled puppet) climbing up the thick velvet curtains.
The two words of the title are elegantly explored by adhering to quite a strict palette of colours, deep red, dark shades and some hints of bone, a real rich romantic oil painting style beauty is created. Aurora's sleep is well documented from desperately trying to stay in the land of the awake to her existence in the land of dreams.
The dream world of sleepwalkers and birch trees is a simple but effective way of evoking the place where Aurora is confined by her deep sleep. Neither dark nor pleasant, the purgatory in which Aurora is imprisoned is haunting and sends a shiver down the spine.
The dark fairies are my favourite creation in this production. Their long hair, pale skin and much earlier period costumes with wings emphasises their distance from the mere mortals. The fairies' pieces are very fine especially their first scene with baby Aurora. Count Lilac King of the Fairies is particularly good, played by the bird-like Liam Mower, gliding around the stage.
By sticking very rigidly to its gothic romance theme both aesthetically and plotwise, this makes for a very powerful piece. Unlike the original story, Bourne allows Aurora a lover she has known before her ensleepment. Rather than a prince, her love is equally fairytale, a boy far beneath her station. How is he still alive after her century-long nap you ask—you'll have to see the show to find out. Let's just say it's in vogue at the moment.
Caradoc (Adam Maskell) is also excellent and clearly the baddie with his creepy sideburns. Wonderfully over-the-top as befits a fairytale villain and the ending clash between him and Count Lilac is a rich overdose of gothic imagery.
Reviewer: Seth Ewin