Sleeping Beauty
Andrew Pollard
Greenwich Theatre
Greenwich Theatre
–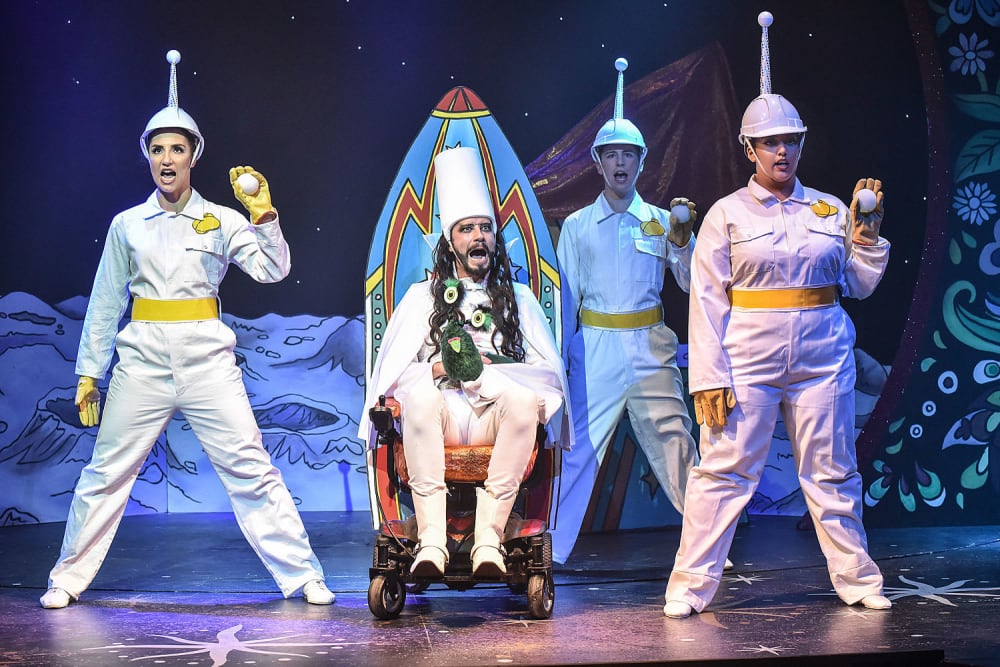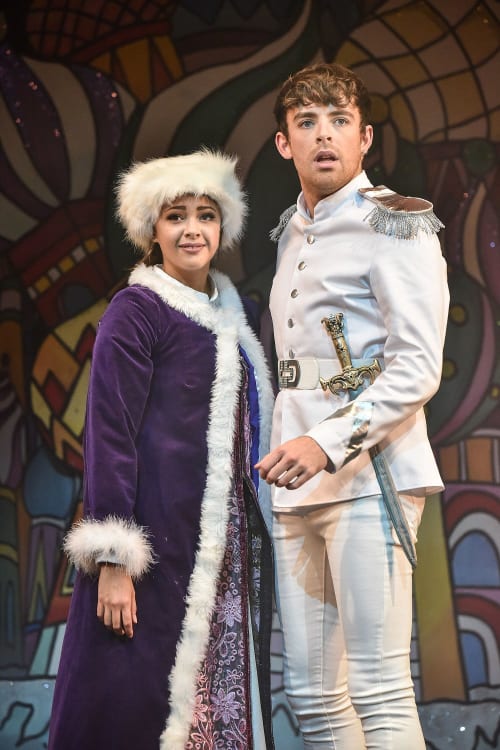 2019 marks a number of anniversaries, but perhaps one of the most memorable is that of the moon landing fifty years ago. In that same year, another discovery also took place as Ewan Hooper first set foot in the derelict Greenwich Theatre seeking to breathe new life into the venue.
Andrew Pollard's pantomimes have always breathed new life into the genre and, amongst all contemporary practitioners, he is one of the greatest. Balancing tradition with progression, Pollard knows how to keep the staples of the genre intact whilst playing with well-known and much-loved narratives to give audiences something relevant and new.
This year's pantomime harks back to the first he wrote and appeared in at the venue in 2006: Sleeping Beauty. But in this new version of the tale, 1869 and 1969 intertwine as Ewan Hooper himself takes centre-stage, awakening a nineteenth-century Fairy Fabergé from her slumbering egg having mistaken it for an old theatre prop. Soon, he finds himself rewarded with a trip to the past, but Ewan's fleeting stay in Russia is only the beginning of his journey…
As the centre of time, Sleeping Beauty plays heavily on Greenwich's location, rooting it firmly in the community with its ability to set and manipulate the clock. In a production that encompasses Tsarist Russia, Swedish au pairs, Scottish heroes, Swinging '60s London and a trip to the Moon, the absurdities of pantomime are fully embraced, if at times this does mean the plot becomes slightly confusing.
Wicked Rasputin hopes to rule the world and to do so must rid Greenowitz of Tsar Ivan the Slightly Irritable and marry his wife Tsarina Bertha. When a magical mirror with the power to babify any grown adult backfires, Rasputin sets out to make his curse on Princess Anastasia come true and ensure she pricks her finger and dies.
The production wades through plenty of narrative exposition in act one and it isn't until over three quarters of the way in that the audience first meet the eighteen-year-old Princess Anastasia. All grown up and looking for love, she soon meets 1969's Ewan Hooper who, thanks to Fairy Fabergé's manipulation of time, has been brought back from the future so that the two can fall in love.
Whilst some of the cast's faux accents never fully settle, the production's strength lies in its comic antics and pure unadulterated anarchy, so frequently missing in contemporary pantomime. From a Russian Doll inspired night-attire stripping sequence to grown adults playing newborn babies and a space-walk set to Sandie Shaw, where else could pantomime celebrate black pudding and conclude with a mass space-pudding flinging fest to defeat Rasputin and save Earth from impending disaster?
A haunted bedroom scene would benefit from a little more pace and some pre-Princess trimming would help streamline act one, but the Greenwich cast must be one of the most committed in Pantoland with each character propelling the complex narrative and delivering an impactful performance in amongst the madness.
Pollard's Dame is one of the best in the business with Anthony Spargo's Rasputin a lesson in the art of villainy. Martin Johnston's bumbling Tsar Ivan captures the very essence of eccentricity with Eli Caldwell's Björn stealing many a scene with his hot-pant-wearing, meatball-loving Swedish au pair. Funola Olufunwa (Fairy Fabergé), Regan Burke (Ewan Hooper) and Esme Bacalla-Hayes (Princess Anastasia) impress with their strong vocals and it is refreshing to see a production of Sleeping Beauty that dispenses with passivity and provides the Princess with the task to save her loved one, who at Greenwich is a kidnapped Ewan disguised as 'Major Tom' holed up on the Moon. Keeping Up?
Musical number "Seasons of Love" might not quite receive the sentimental impact intended as Anastasia grows up, but by Sleeping Beauty's triumphant conclusion, the whole audience is singing along to "All You Need is Love"'. What better way to finish a show that celebrates teamwork and the importance of family whilst also looking forward to Greenwich Theatre's prosperous pantomime future?
Reviewer: Simon Sladen