Sleeping Beauty
Kenneth Alan Taylor
Nottingham Playhouse Theatre Company
Nottingham Playhouse
–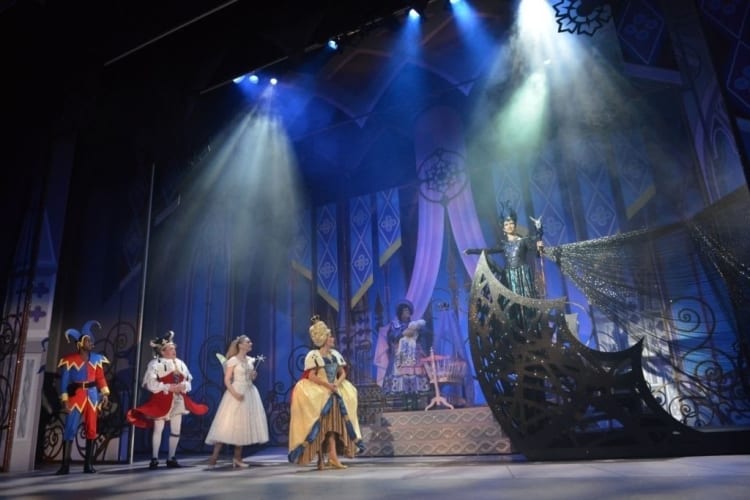 Sleeping Beauty is perhaps the darkest of all pantomime narratives: a tale in which a wicked fairy hopes to murder the princess and inflict misery on everyone on account of a forgotten invitation.
Some productions gloss over the darkness, but in Kenneth Alan Taylor's thirty-first pantomime for the Nottingham Playhouse he embraces it, making for a production strong on both plot and character.
When Maleficent curses the Princess Rosalind, Queen Gertrude and King Hubert decide that the best course of action is for Fairy Wisheart, Nurse Tilly and Jerry the Jester to move far away from the castle to evade the wicked fairy and remain safe until the curse is broken on her 21st birthday.
This not only enables a strong opening scene in which all of the court is introduced in turn, but provides a real sense of danger as Rosalind grows up outside of the castle grounds, bereft of her parents and making new friends.
As always with a Playhouse panto, each and every character is well defined and, as Rosalind, Kelly Edwards successfully conveys the Princess's frustration at not only being under house arrest but also having to marry a betrothed Prince. Whereas many pantomimes now dispense with any sense of class conflict, Taylor embraces it via some comedy dialectal patter between characters and in Rosalind firmly wishing to marry someone for love, whether royalty or commoner.
There are some wonderful moments of theatricality in the production based around mis-identity, not only in Rosalind and Prince Alexander's first encounter, but also with Maleficent who disguises herself as Fairy Wisheart to fool the lovers. The fact this happens on multiple occasions keeps the audience on their toes and engaged with the narrative as they too fall prey to Maleficent's evil plotting.
But for all the darkness, the production has plenty of light, shining through in the form of John Elkington's banjo-playing Dame, Rebecca Little and Anthony Hoggard's rapping royals and Tim Frater's smile-inducing Jester. Cheeky animal puppets interrupt a love number a la The Muppets' "Mahna Mahna" and Nurse Tilly does a wonderfully comic striptease complete with strategically-placed chemical hazard warnings.
Musical numbers from Frozen have the audience singing along, with "Positive Thinking" and "Happy Go Lucky Me" complementing the contemporary chart hits as Tim Meacock's stunning scenery creates the most luxurious setting to any pantomime.
When Maleficent conjures a thick thicket of thorns to encapsulate the castle, Meacock's intricate, glitter-encrusted design sweeps across the stage only to be destroyed later in a triumphant finale which includes one of the most effective disposals of the Villain the pantomime stage has seen and has the audience aghast at what they have just witnessed.
One of the UK's première regional theatres, the Nottingham Playhouse has created yet another glorious pantomime full of charm, warmth and elegance.
Reviewer: Simon Sladen