Sleeping Beauty
Jez Bond and Mark Cameron
Park Theatre
Park Theatre
–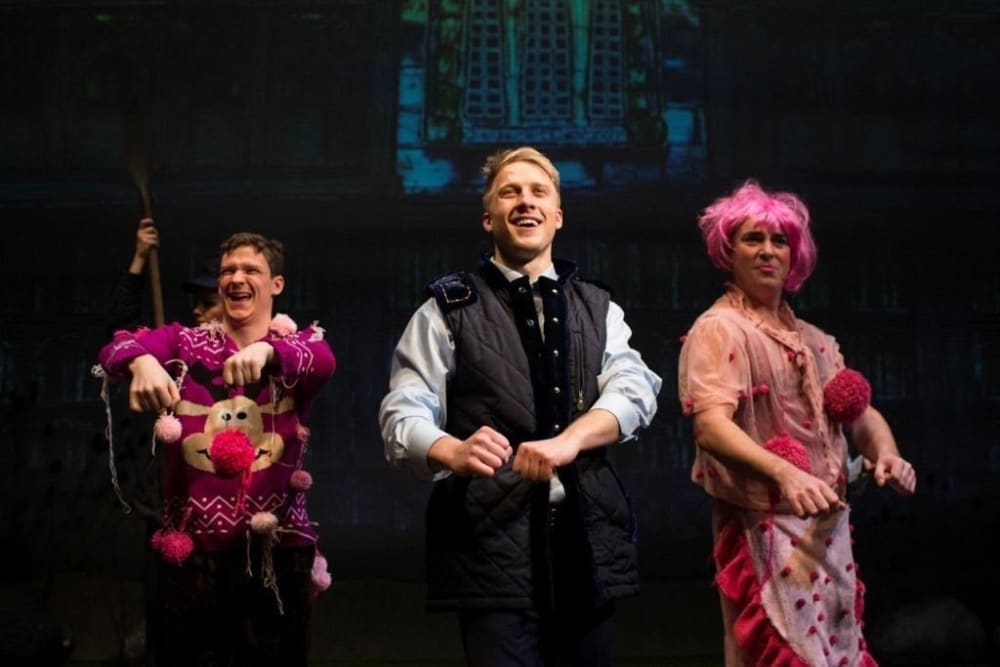 The tale of Sleeping Beauty and her one hundred year sleep has received myriad theatrical adaptations since its publication in 1697.
Tchaikovsky's ballet, Humperdinck's opera and of course a great array of pantomimes have all graced the stage since 1806. For Park Theatre's inaugural festive season, Artistic Director Jez Bond and Associate Artist Mark Cameron have created a show that uses many pantomime conventions, but which more closely resembles a children's musical.
Bond and Cameron's version of the tale focuses on the theme of love without ever becoming sickly sweet or too romantic. A Princess and Young King grow up in adjoining kingdoms and are destined to meet. Unfortunately for the Princess, she is victim of a curse that will see her fall asleep if she pricks her finger before her eighteenth birthday, whilst that of the Young King's is more personal in nature as he favours a second persona to masquerade as a confident young man.
The notion of destiny in the two lovers' story is strengthened by allusions to Romeo and Juliet in the prologue, but luckily for the Princess and Young King a Happy Ending prevails in a re-telling of the tale that provides each and every character with a strong back-story and gives the piece great depth.
As so much is explained and all characters explored, the piece does lack the pace of a pantomime and it is interesting to note that, having originally been announced as one, any reference to the artform has been removed from Park Theatre's web site. Bond has openly stated he prefers to think of Sleeping Beauty as a "Christmas musical" with the printed script and score available as the programme supporting this and strongly framing the text as a piece of new writing, as practiced by the Royal Court.
Pantomime staples such as a cooking scene, a songsheet and birthday shout-outs are all present, but the anarchy, topical allusion and slapstick chaos so vital to achieve the genre's energy are not and the convention of shouting "Tots Tots!" when a cast member mentions "Pilipots" is dropped after a few scenes, leaving the audience unsure of when to participate due to the production's constant tip-toeing between genres.
The piece shares much more in common with the musical in terms of form and structure and there are nods to Oliver! and Les Misérables in Bond and Cameron's safe and tuneful score, which truly comes alive when a saxophone is played live during "Is This Love?" against the show's recorded backing track.
Victor Craven's projection design moves the action swiftly between scenes, never drawing attention away from the team of six actors who between them play myriad roles and get the opportunity to demonstrate the true artistry of performance. Craig Fletcher's swift transition between Young Prince and the character's quirky Professor alter ego is particularly impressive with his schizophrenic musical number "Two Personalities", a real lesson in the art of performance.
Language is put to great use with invented dialects and neologisms injecting humour into the piece as the Dame speaks of venomous thart-splarts and the audience choose to see Toad in the Squadge, Duck á la Duudaday or Roast Capawa created before their very eyes. Bond's direction also ensures non-verbal communication is used to comic effect, in particular the licking of one's finger before turning a page, which results in a gesticular double entendre when the lovers are re-united towards the end of the show.
A charming musical that could entertain young audiences all year round, Bond and Cameron have established their very own style of Christmas show for Park Theatre and one which will no doubt become an integral part of the theatre's programming in festive seasons yet to come.
Reviewer: Simon Sladen