Sleeping Beauty
Nicholas Pegg
Queens Theatre
Queens Theatre
–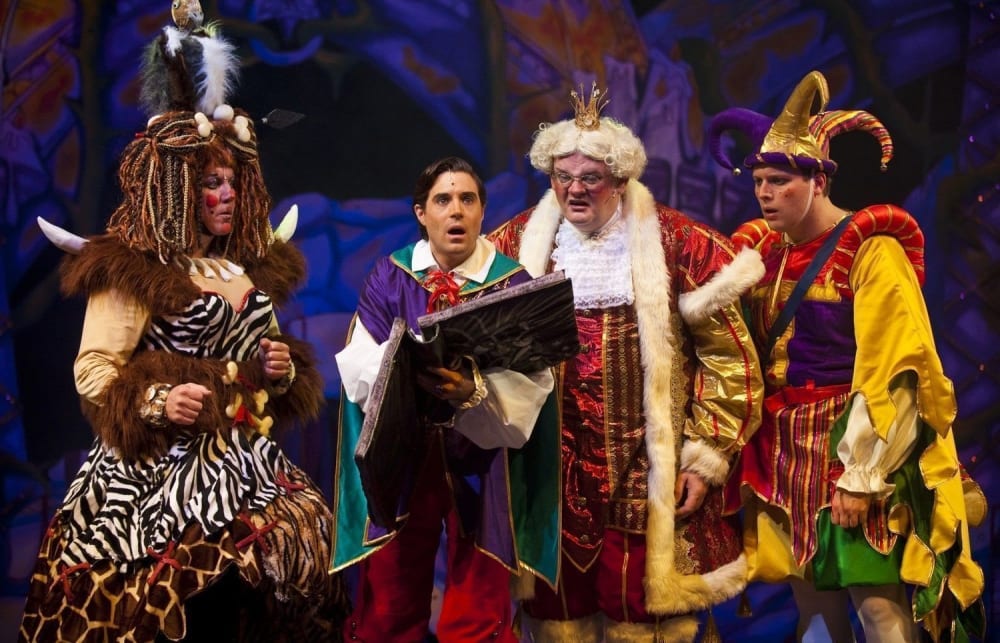 The lure of a big A-list celebrity, designer costumes, flash sets and an overpriced bar during panto season might appeal to the masses searching for a truly magical night.
This year there's perhaps more of this than most to choose from with shows starring everyone from Priscilla Presley to the man now known as simply The Hoff to enjoy
Sleeping Beauty at Hornchurch's Queens Theatre offers something uniquely different. It doesn't have anyone starring in it I'd ever heard of before, the set is two-dimensional for the most part and the costumes are far beyond what you might expect for a local theatre; dripping in glitz, sparkle and imagination and yet slightly cringeworthy.
Going with my three god-daughters who live locally helped clarify what's truly important about a kids-based, fairy-tale inspired production such as panto. For them, being able to cheer at chant at youngsters from their school, or girls and boys they know from the park brought genuine smiles to their faces.
It also made them boo and hiss at them even louder when they were being mischievous during the show. Searching the programme for their friends' pictures and chatting to the other mums and dads replaced my usual dash to the bar for a quick vino during the interval.
It was also very touching to be constantly reminded by one god-daughter in particular she too had performed on the same stage during the summer. All of this brought with it a surprising layer of genuine magic, warmth, familiarity and community to my Hornchurch experience.
The show itself delivers what a pantomime should in all the right places and at the appropriate level. The simplicity of the story is spot on and the obligatory innuendo is pitched just beyond the understanding of my eleven-year-old god-daughter, which helped avoid any uncomfortable moments arising.
Princess Aurora (Rachel Dawson) is a likeable, softly-spoken young lady sent to sleep for a hundred years by the not-so-wicked Fairy Carabosse (Claire Storey). The only way the spell can be broken is if she receives a big smacker from the man she truly loves.
Unbeknown to her, the kitchen boy Tom Clutterbuck (Thomas Sutcliffe), who is her unlikely lover, has been pulling out all the stops to try and find out how he can revive his sleeping beauty.
There sre not many diversions from the original fairy-tale other than the odd interlude for some minor twerking from the hilarious and best-dressed (worst-dressed) Nurse Nellie (Simon Jessop) and some "All About That Bass" shaking about in the 'audience participation' section.
Despite being two-dimensional for the most part, Mark Walters's set is very impressive: dazzling and imaginative, intricate and intriguing when it begins to develop into something less cardboard looking and more professional. Most impressive is the huge dragon who, although I thought lacked the right level of puff in himself and was a little limp, but I'm assured it is actually 'a really neat idea'—not my words but those of god-daughter number one.
Queens Theatre has served up a real beauty to the patrons who support it all year round. Artistic Director Bob Carlton is leaving the theatre after seventeen years and this has all the hallmarks of a big sequin-covered, feather-flapping present from him to say thank you.
Reviewer: Thomas Magill