Sleeping Beauty
Plested & Brown
The Corn Exchange, Newbury
The Corn Exchange, Newbury
–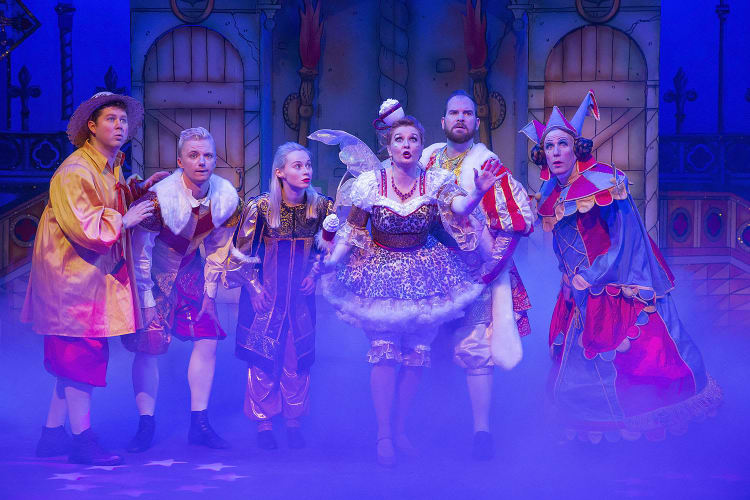 It's no secret that your regional venue's annual pantomime is big business, and so for many, the tradition has been warped by all things deadly: performers of dubious renown, TV tie-ins and celebrity puppets are all commonplace on foyer posters and billboards across the country.
So how refreshing it is to find a unique, hilarious family show on my doorstep!
Rather than taking an identikit script 'off-the-shelf', this Sleeping Beauty has been written by comedians Plested & Brown, giving the show an edge uncommon to the genre. Their combined experiences of the British Improv Circuit (Clare Plested), Trestle Theatre Company (Amanda Wilsher) and Blockbuster Cinema (Adam Brown) have come together to create a show that combines spontaneity, playfulness and a glittering sense of epic scale on the relatively modest Corn Exchange, Newbury stage.
Featuring performers plucked from the West End and the fringe comedy circuit, the cast are far from common fayre.
Lara Denning is a stunningly sequinned, caffeinated Fairy whose warmth draws us in, before bowling us over with several show-stopping numbers. Katharine Bennet-Fox is indulgently wicked as her counterpart, revelling in the evil without ever stooping to stereotype. No doubt, thanks to her long experience as a comedy improviser, Katharine manages to make the most of every line, without ever feeling like she is stealing the show (though she was a favourite in our family group).
Philip Elvy returns to Newbury following a twelve-year hiatus which, on today's performance, is twelve years too long. His fabulously cheeky nanny sees him draw on his Gaulier bouffon clown training in a daring (for panto) interpretation of what could otherwise have been a fairly run-of-the-mill dame role (after all, his charge grows up and falls asleep, so there's not a good deal to work with there).
Matthew Grace has become a firm favourite locally; his Billy Bumpkin has almost become a pseudonym as he has brought the character to eight consecutive pantomimes here. However, what could have become stale is given a new gloss, and Matthew is able to push his naturally funny bones into new territory.
Nick Read manages to draw genuine laughs from the erstwhile straight-man role of king and father to Jay Alexandra Bennett's Aurora. Bennett's interpretation is a princess for our times, a vivacious, ambitious young woman who doesn't need a man to succeed.
The chorus of local young performers are fully included in the narrative, being given roles in genuinely funny visual jokes and set pieces, which serve to ground everything with an unpretentious, community spirit in this expertly written and directed play that manages to balance modern sensibilities, Disneyfied fairy tale tropes and the somewhat idiosyncratic panto tradition with great success.
Overall, the result is a refreshingly modern twist on a familiar and much-loved festive treat, with gags that land high and low, featuring slow burners, one-line groaners and anarchic slapstick—there's plenty to keep everyone in stitches from start to finish.
Reviewer: Tony Trigwell-Jones