Sleeping Beauty
Clare Allen
Georgian Theatre Royal
The Georgian Theatre Royal, Richmond, North Yorkshire
–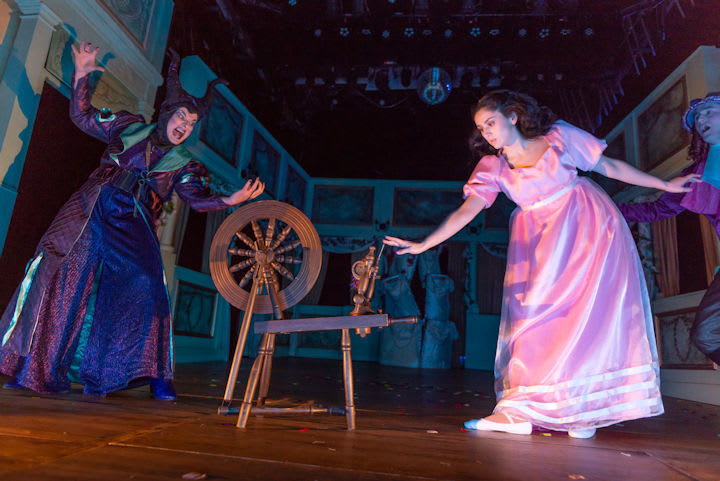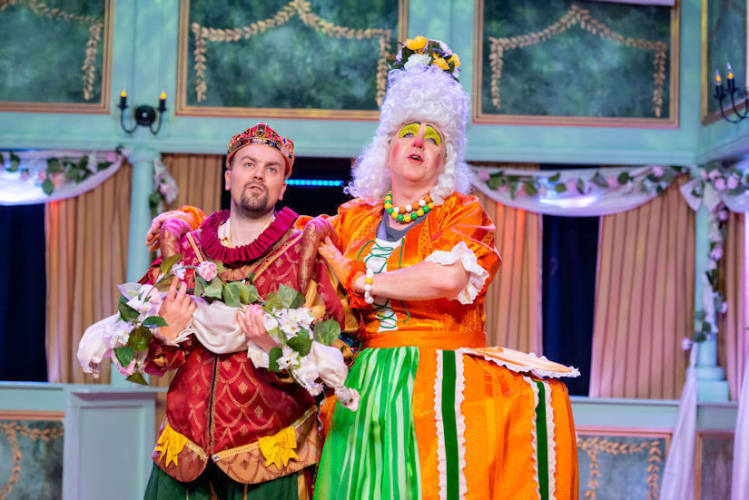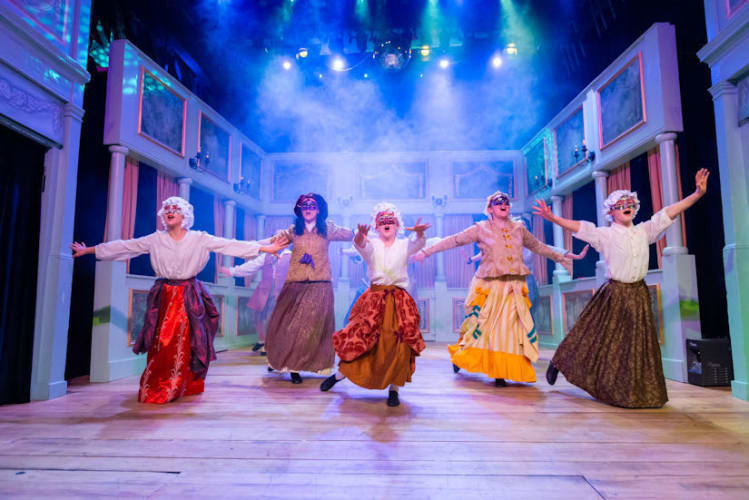 The stage is set—or rather, the set is staged—to look exactly like the auditorium. It's an amazingly perfect mirror image that looks like an authentic extension. Lovingly designed and built by Foxton who, this year, has surpassed every other design he has done for the theatre, giving the theatre herself a starring role. Foxton has produced the best set I have ever seen, and moving the musicians from the pits to the gods is an inspiration.
Writer, producer and the theatre's chief executive, Clare Allen, tells us, "there are two sleeping beauties in this year's production; obviously there's Princess Aurora but also the Theatre itself."
She goes on to explain how this historic Georgian Theatre went to sleep for almost 100 years when it was used as an auction house, furniture depot and paper store. It was only when, in 1939, history master Edwin Bush and his sixth form students at Richmond Grammar School led an investigation into the building that its true identity was rediscovered.
It certainly took more than a simple kiss to awaken Samuel Butler's playhouse, but the real-life parallels with the fairy story make the glorious setting even more poignant.
Butler himself was originally an apprentice corset-maker, but he didn't stay long in that job (pun intended). He was born in York in 1750 and became a travelling actor, eventually taking over the troupe. He married the unusually named Tryphosa, who was 23 years older than him. Butler built a circuit of theatres in Beverley, Harrogate, Kendal, Ulverston, Ripon, Northallerton and Whitby; he added Richmond in 1788.
And so, the pantomime is set in 1788 when Queen Tryphosa, the outrageously funny dame with big hair is Gary 'Gako' Bridgens, and King Samuel (Butler), played by a rather understated Ross Dean, become parents to Princess Aurora, whose full name incorporates all the names of the theatre's boxes.
This year, Bridgens makes his debut as director after spending nine years building his dame character into something of a legend. Foxton's brilliant costume design for Queen Tryphosa is wonderfully extravagant and incorporates a secret compartment where she keeps a bottle of gin masquerading as a baby's feeding bottle.
It's not all 1788, but, as you'd expect from Bridgens, it's a proper knees-up full of silly jokes and popular songs like "I'm Mean" sung in dulcet tones by Nick O'Connor's endearing bad fairy, Maleficent, to the music of Dolly Parton's "Jolene". Freya Mawhinney gives us a great singing voice too as the all American good fairy, Dolly Partridge. Conor Hinds shows off his acting skills doubling up as Dave the kissing prince and as Maleficent's son, the prancing Hercules, who just wants to be an actor—Hinds plays a mean cello too.
Victoria West plays the sugary sleeping Princess Aurora and, on her 21st birthday as she pricks her finger on the spinning wheel, the audience is also put to sleep by a giant hand-knitted patchwork blanket rolled out across their heads. Knitted stuff has become a bit of a tradition in the Georgian pantos and this year is no exception with a lot of time and effort expended by volunteers knitting squares and sewing them together into a massive blanket.
After the interval and 130 years later—okay it's not 100 years like the fairy story, but this is the Georgian's story remember—there's a random dragon for the prince to slay and more very accomplished dancing and singing from The Georgian Theatre Royal Youth Theatre. A mention for one of the smallest members of the ensemble who had her ninth birthday just last week. Grace Broderick oozes confidence, delivers her lines with utter conviction and is infinitely captivating and I hope she remembers that The British Theatre Guide mentioned her first, especially when she wins her first Oscar for best leading lady in years to come!
Historical histrionics with Tunnocks Teacakes literally thrown in, Sleeping Beauty is full of delicious family-friendly laughter; and this song, especially written for the occasion, sums up the message. Sung with great feeling by Bridgens, the audience and accompanied by the recreation of Edwin Bush, an excellent Daniel Bowater, on accordion—to the tune of "Thank You for the Music":
Thank you for this theatre,
A White Rose Winner.
Thanks for all the shows seen in her.
Who can live without it?
I ask in all honesty.
What history.
Without an audience,
What are we?
So I say,
Thank you for the theatre
For sharing it with me.
Reviewer: Helen Brown