Sleeping Beauty
Tom Rolfe
Tom Rolfe for Tom Rolfe Productions
The Witham, Barnard Castle
–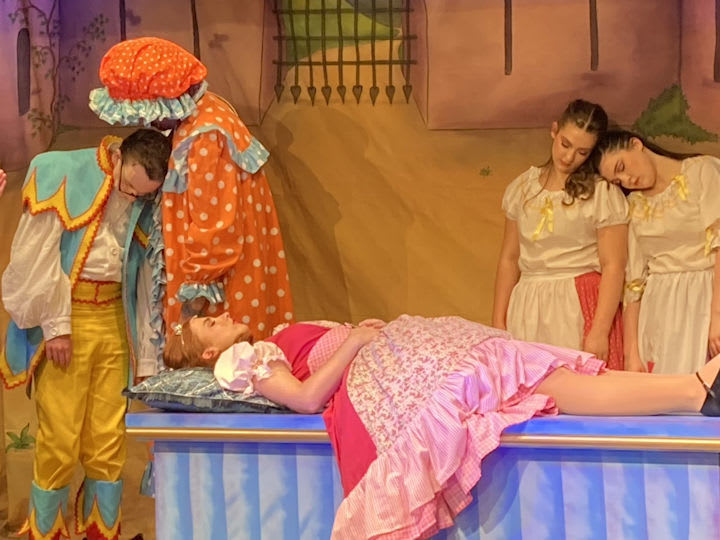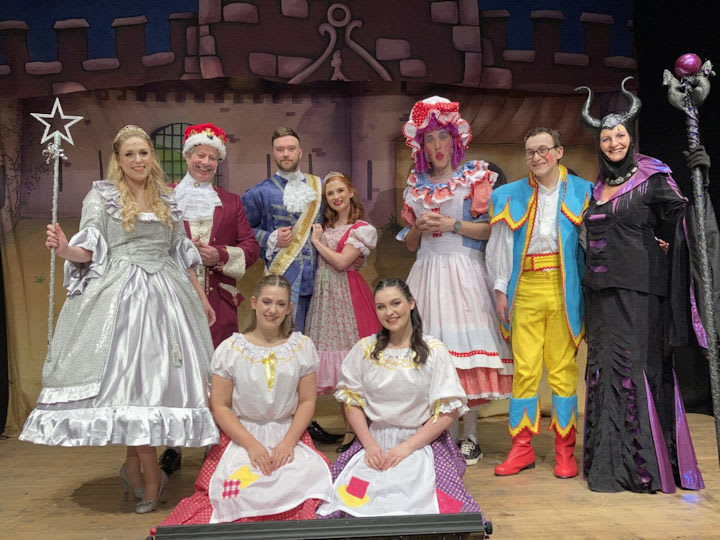 The Witham's first ever pantomime is a bit of a mixed bag. It suffers a severe lack of space on a tiny concert stage without enough room to swing a cat.
Not that there was a cat to swing, although there was an extremely large, impressive dragon in the second half. But first and most importantly, the company needs to ditch the practice of batting tubes of sweets into the audience with what looked like a tennis racket. I know it's difficult in these heavily weighted health and safety COVID days, but this practice, no matter how carefully it's done, is an absolute no-no, and while it probably won't kill anyone, it could certainly injure a small child, especially if one accidently catches a child in the eye!
The tiny stage proved difficult and restrictive for the cast; Nurse Nellie actually really fell over during the madcap rendition of "The Twelve Days of Christmas".
Phil Hoyles's Nurse Nellie is most certainly the best thing about the show. He worked really hard to engage the audience without being patronising, and the children genuinely loved him. He looked like he was enjoying the whole affair too.
Luckily, there are very few props to get in the way, save for Sleeping Beauty's giant bed, a spinning wheel, and a cot, that are used carefully. The two young dancers manage some vibrant dance routines, despite the lack of space. The backdrop depicting a castle courtyard is beautifully painted. I'd like to have credited the artist but unfortunately there was no programme. Costumes are beautiful too, and again I'm sorry not to provide a name to credit fo designer or maker, or dancers for that matter.
The singing was probably good, but unfortunately the sound was way too loud, so I couldn't actually hear most of the songs as they fell into the abyss of volume—it almost hurt my ears and gave me ringing ears and a headache for a couple of hours after the show.
Linda Newport as the evil fairy, Carabosse, managed to raise her voice above the deafening noise, belting out her songs with much aplomb. She was popular with the children too, who increased the noise tenfold booing and hissing until I had to put my fingers in my ears. Unfortunately, Greggles, the energetic mischief-maker, also suffered from the thundering noise, and I could barely hear anything he said, which was a shame as he poured his heart and soul into a very energetic performance.
The show moves on at a good pace, adhering strictly to the traditional storyline, with plenty of audience participation and a few lovely little moments, like Nurse Nellie's hilarious magic trick with a banana and a cloth. The custard pie routine is pretty good too, although rather short on shaving cream. "The Twelve Days of Christmas" routine is definitely the highlight of the show, and the dragon is spectacular.
I'm sorry to report that King Bumble (Prof Brian Llewellyn) stumbled over his lines and was clearly under-rehearsed. However, there were good performances from Johnny Wright as the handsome Prince Daniel of Darlington, Nik Grundison gave us a confident Fairy Kindheart and Hollie Boynton-Briggs a well-acted Sleeping Beauty.
I think the children enjoyed the riotous shouting of "Behind you!" and "Oh no it isn't!"—so all was not lost.
It was good to see a pantomime at The Witham, despite its teething problems; and I see next year's production of Jack and The Beanstalk has been announced.
Reviewer: Helen Brown