Sleeping Beauty: The Rock 'N' Roll Panto
Peter Rowe
Theatr Clwyd
Theatr Clwyd, Mold
–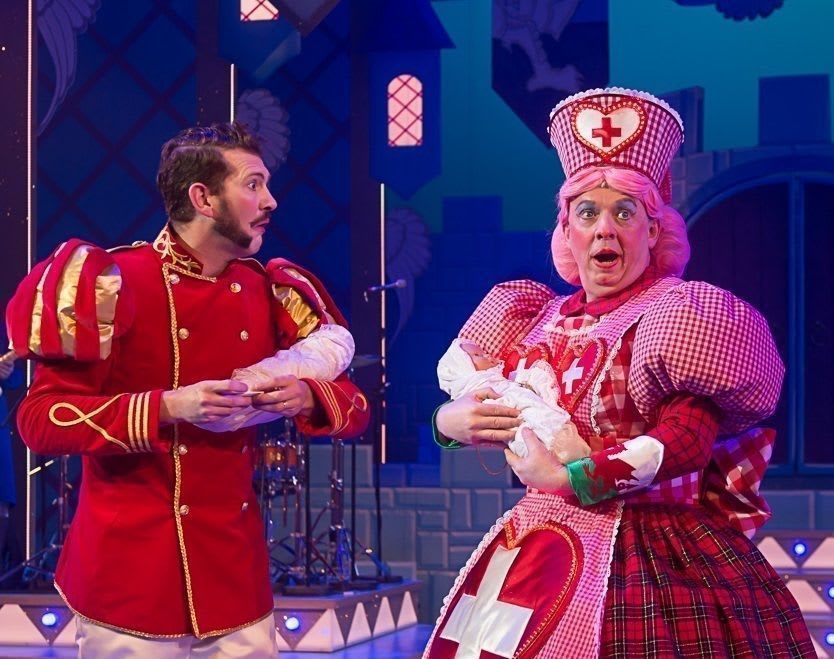 Peter Rowe's traditional Christmas Theatr Clwyd storyline this year involves some impressive time-travelling.
We are transported from the height of the Victorian period to the Swinging 'Sixties, thanks to the curse-induced hundred year sleep of the court, a master-stroke that offers full reign to a catalogue of glittering songs and even more dazzling costumes. Panto season is up and running again to provide a much-needed shot in the arm as winter's grip takes hold.
Some familiar faces return from last year led by the irascible Sean McKenzie as Nurse Tabetha Trott, apparently still doing community service in Mold as a result of last year's shenanigans. Undaunted, he returns with a full repertoire of risqué jokes and outrageous outfits. Just wait until you see the flashing, three-tiered wedding cake ensemble!
Also returning is Rowan Talbot as King Camelot who certainly deserves a drink at the end of the performance for keeping up a vocal style that will be the marmite of this year's production.
Clearly we need a villain and Lynwen Haf Roberts is happy to oblige as the evil fairy Morgana, one of that rare breed who see not being invited to a christening as a bad thing. Indignant to a fault, she is determined to see her son, David Heywood's deliciously damaged Mordred, marry the Princess.
Heywood offers an impressive demonstration of his vocal ability while simultaneously presenting as a macabre hybrid between Adam Faith and Morrissey as he attempts to woo Princess Susie, smartly played by Theatr Clwyd debutant Elian West.
Also making her debut here, and becoming an instant hit with the audience, is Emmy Stonelake as Frederica, an Apprentice Fairy who goes from somewhere near zero to hero by the obligatory happy ending.
Talking of happy endings, there really is no finer tribute than to report a full house on their feet to give a well-deserved standing ovation. Theatr Clwyd has delivered the first cracker of Christmas and it's going down a storm.
Reviewer: Dave Jennings