Sleeping Beauty
Rufus Norris
Watermill Theatre
Watermill Theatre
–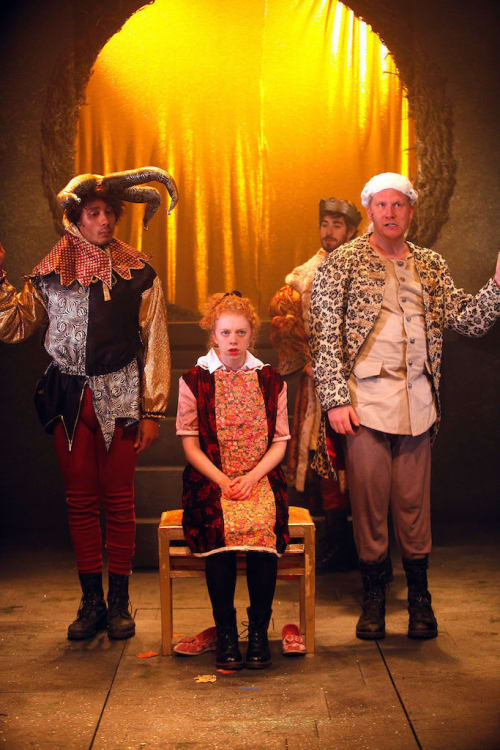 Newbury's Watermill Theatre creates a most festive atmosphere for its Christmas production with attractively decorated Christmas trees and a warm log burning wood fire in the restaurant.
Excited youngsters and their parents were eagerly awaiting the start of Sleeping Beauty superbly written by Rufus Norris, the current Artistic Director of the National Theatre, with beautiful lyrical music by Tarek Merchant.
This is no traditional sugary pantomime but a rich dark and magical fairy story imaginatively brought to the stage by this highly multi-talented company of actor/musicians who play a huge variety of instruments with dexterity and sing exceedingly well.
Simon Kenny's enchanted layered set strikingly creates the forest and the various locations and is atmospherically lit by designer Joshua Carr.
As all good stories start, "once upon a time" there was a frightening club-wielding Ogre (Matthew Romain) who was terrorising the country in search of humans to eat.
However Fairy Goody and her motley band of forest helpers try to protect the inhabitants of the kingdom. Molly Logan brings a freshness to the role of the fairy. With a lilting Irish accent and dishevelled clothes and wilting wings she is the opposite of what we normally expect a fairy to be and gives a terrific performance.
She can still cast spells using her fairy dust, but after each one makes a loud and prolonged fart much to the delight of the youngsters who loved the effect and laughed loudly.
The King and his Queen (Sioned Saunders) are desperate to have a child and Fairy Goody helps them and is promised to receive an invitation to celebrate the baby's "naming day."
However she is not invited to the ceremony and sets a curse on Beauty for if she pricks her finger she will fall into a deep sleep for a hundred years and will only wake up when kissed by a charming prince and consequently all needles are removed from the palace.
Rachel Winters perfectly creates the petulant Princess Beauty, fretting at being locked up in the palace and not allowed out and is desperate to be a normal teenager.
On the eve of her 16th birthday, she still seeks excitement and goes exploring and finds a spinning wheel and pricks her finger on the spindle and so the spell is activated.
Various suitors are sought to rescue Beauty including a geeky Prince of Nerds and a Prince of Nerves (Alex Mugnaioni) but they are not suitable.
Simon Nock is most impressive as the domineering Ogress relishing this role but has a deep secret. Her son the vain naive Prince, charmingly performed by Peter Bray as he 'struts his stuff' eventually hacks his way through the branches and rescues Beauty with a kiss.
But the story doesn't end there and the future of the couple has many twists and turns and a dramatic unexpected ending.
The production values are exceedingly high in this excellent seasonal show. It's filled with humour, fun and is astutely and inventively directed by Bill Buckhurst from Shakespeare's Globe. This is the perfect Christmas treat for all the family.
Reviewer: Robin Strapp