Sleeping Beauty
Chris Jarvis
Daryl Back in association with HQ Theatres
Wyvern Theatre, Swindon
–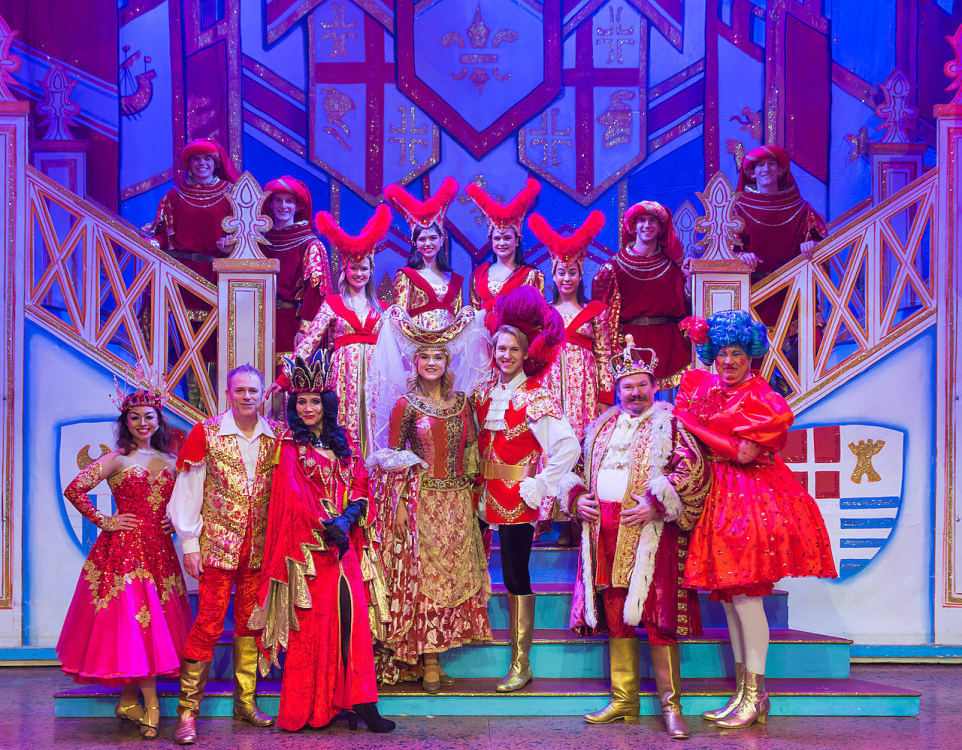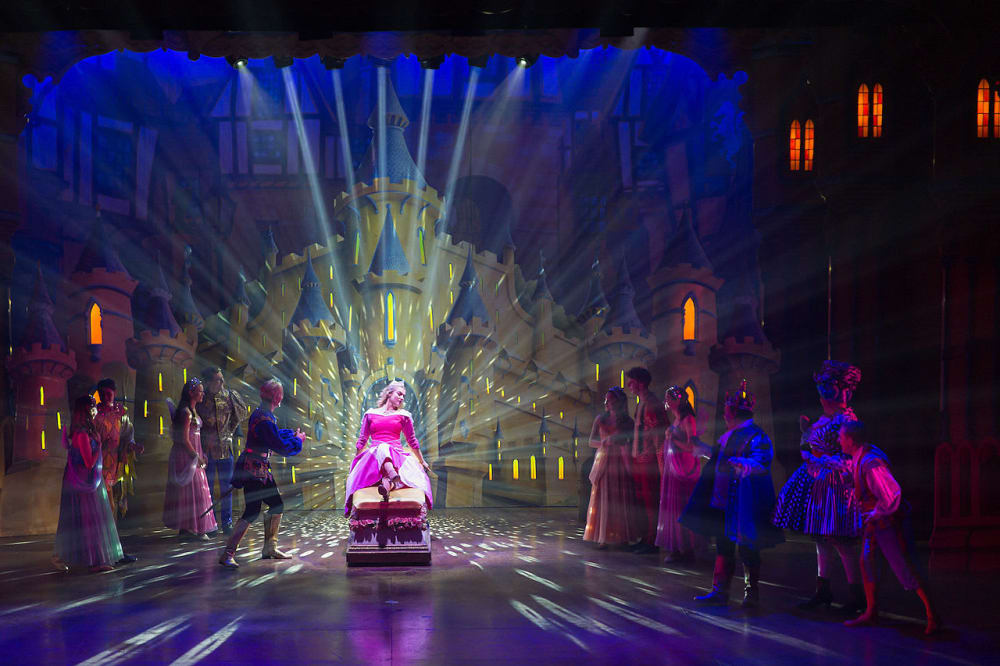 There was a full house for the press night of Sleeping Beauty at the Wyvern Theatre in Swindon and the capacity audience were determined to have a great time and enthusiastically joined in from the very start.
The production values are exceptionally high with lavish, colourful sets, beautiful costumes, sparkling pyrotechnics and impressive lighting designed by James Smith that help to make this show a true Christmas delight.
It is written and directed by and starring Chris Jarvis, whose infectious energetic performance as Happy Harry quickly had the youngsters on his side and he established a wonderful warm rapport with them.
Julie Yammanee is the enchanting Fairy Flora, who arrives at Tiddlington Castle to celebrate the birth of the new baby and bring her gifts. Her nemesis is the evil Carabosse, a splendidly evil, sassy performance by Michelle Collins (Eastenders and Coronation Street) who revelled in the boos from the audience that got louder and louder.
She casts a curse on the baby princess and so the King (Andrew Whitehead) bans all spinning wheels from the land and sends her to live in a cottage in the woods with Nanny Nutkins until her 18th birthday. As long as Princess Rose (Erin Bell) doesn't prick her finger on the needle, all will be well.
Matthew Rixon is the consummate Dame, wearing the wackiest of frocks, and was everyone's favourite.
But one spinning wheel survives and, despite the pleading from the audience, Rose is tricked by Carabosse and falls into a deep sleep for 100 years. If only there was a handsome Prince to break the curse.
Enter Julian Quijano, the thigh-slapping Prince Dickie of Dixieland from the land of the USA, who gallantly saves the day.
All the traditional panto routines are joyfully present. There are loads of local topical gags, hilarious references to Trump and Brexit ("What's a Brexit dinner? Just like a normal one only without Brussels.") Oh yes it is one of those pantos and the puns come fast and furious.
Look out for the gigantic ferocious dragon, Flopsy the loveable rabbit and a riotous version of "The Twelve Days of Christmas". There's bags of audience participation including the spirited "I'm H.A.P.P.Y" song competition. Musical director Andy Davies creates a big band sound with many popular songs.
Lucy Dungate's polished choreography is performed by an exuberant ensemble from Laine Theatre Arts who fizz with energy.
The rousing finale reprise had everyone dancing in the aisles. A perfect way to celebrate the festive season!
Reviewer: Robin Strapp