Sleeping Beauty
Paul Hendy
Sheffield Theatres and Evolution Pantomime
Lyceum Theatre Sheffield
(2011)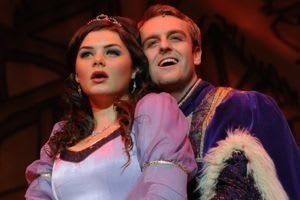 There was a seasonal and welcoming atmosphere in the foyer on arrival with front of house staff dressed to kill in flimsy princess outfits and outrageous eye lashes, a fusion of principal girl and pantomime dame.
The full house included as many ladies of a certain age re-visiting pantomime experiences past as young children about to be initiated into its mysteries. The format and script by Paul Hendy has something for everyone: the traditional elements of pantomime are seasoned by local references and inspired casting of familiar figures, notably Sid Sloane from Playschool, and Margi Clarke from Coronation Street.
Hats off the the two designers, Terry Parsons and Helga Wood, for a cornucopia of beautifully painted and operational sets and constantly changing costumes, for the dancers as well as the principals—a feast for the eye. The first half ends splendidly with a fright I hardly dare mention, which fortunately returns to frighten us a bit more before the end of the show.
There are plenty of opportunities for audience participation. Sid Sloane's relaxed and charming manner and huge, encouraging smile quickly won children and adults over. Am I alone in finding the 'Can't hear it/ Say it again louder' sequences a mite tedious? Maybe less would be more. But by the end, the audience was well thawed and happy to stand up for the traditional, competitive sing song.
The audience also warmed to its task of booing and catcalling Margi Clarke as the pantomime villain. She looked splendidly evil as Carabosse, the wicked fairy, and strutted and grimaced to perfection
The comic interest is divided between Damian Williams as Nurse Nellie, a dame familiar from previous years, and Ian Chaplin as a king with a pronounced speech impediment. Mmm! Not that funny! Damian Williams belts out the jokes at full volume and submits to a bit of traditional water torture for our entertainment. 'The water's cold. They haven't heated it up,' he shrieks. It was a cold night. He has my sympathy.
The jokes seem to have been targeted at different sections of the audience at different times: so, an odd sequence for the ladies about the names of beauty products; some scatological stuff for the dads and little boys (a farting princess, indeed); some local references to Doncaster and Rotherham to raise a groan or two. But, not enough, I thought, for the younger children.
Dani Raynor, playing Beauty, was a 2010 contender in Lloyd Webber's search for a Dorothy in the BBC's Over the Rainbow. She and Jo Parsons as Prince Michael amply swelled the musical elements, supported by an energetic group of singing, dancing Villagers, Toys and Ghouls and a very well rehearsed Junior Ensemble who looked as if they were having a whale of a time.
So a good time was had by all, and although Strictly Come Dancing and the X-factor continue on their inexorable way, with high production values and high quality singing and dancing, the press night audience would, I'm sure, agree that there is no substitute for the excitement of communal theatre, particularly at Christmas time.
Sleeping Beauty continues at The Lyceum until 8th January
Reviewer: Velda Harris