The Sleeping Beauty
Music by Tchaikovsky
The Russian State Ballet of Siberia
Theatre Royal, Newcastle, and touring
(2007)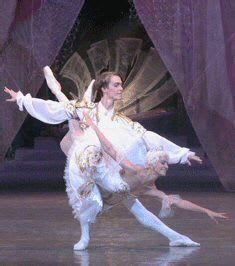 From the opening scene, it's clear this classical rendition by the Russian State Ballet of Siberia is a thoroughly traditional working of the Tchaikovsky crowd-pleaser. Yet far from being a stuffy museum piece - it has all the freshness of new paint. Dazzling costumes and a largely young dance troupe give this enduring favourite an exciting and dynamic feel.
Everyone's familiar with the simple storyline with the feelgood factor. A fragile princess, played beautifully by Anna Aulle, who looks like she could snap in two, a handsome prince to come to her rescue, in the shape of the brilliant Alexander Butrimovich, and a brilliant supporting cast. And all played out to the strains of the immaculately turned-out Russian State Ballet Orchestra, led by Anatoly Tchepurnoi - an absolute joy.
And, of course, it helps that they all live happily ever after
As far as the dancing's concerned, there are no great surprises - there's everything from the authentic court dances, classical ballet technique, mime scenes and processions galore. There is even a bit of humour injected, too.
The evil Fairy Carabosse, played by Demid Zykov, a strapping six-footer, is both scary and captivating, and his comic scenes with the knitting needles prompted ripples of laughter. He dominated in his scenes, his swishing cloak adding to the high drama.
The beautiful costumes add to the spectacle and bring colour and life to the production. Full-length gowns, cloaks and feather head-dresses in golds and brocades for the court scenes and fairies dressed in pastel shades of mint green and pale pink and lilac.
The colourful curtain backdrops - in keeping with the colour themes - are also very effective in setting the scene.
Just one small niggle. I felt the story was told twenty minutes before the end of the production, and the time filled with lots of mini-solos and duets for the various fairytale characters. Inevitably, there was a lot of standing decorously around for the remainder of the troupe. All lovely, of course, but it felt a little like a time-filler, while we waited with bated breath for the fabulous finale.
Reviewer: Katharine Capocci