Sleepyhead
Michael Fowkes
Little Angel Theatre
Royal Exchange Theatre Studio
–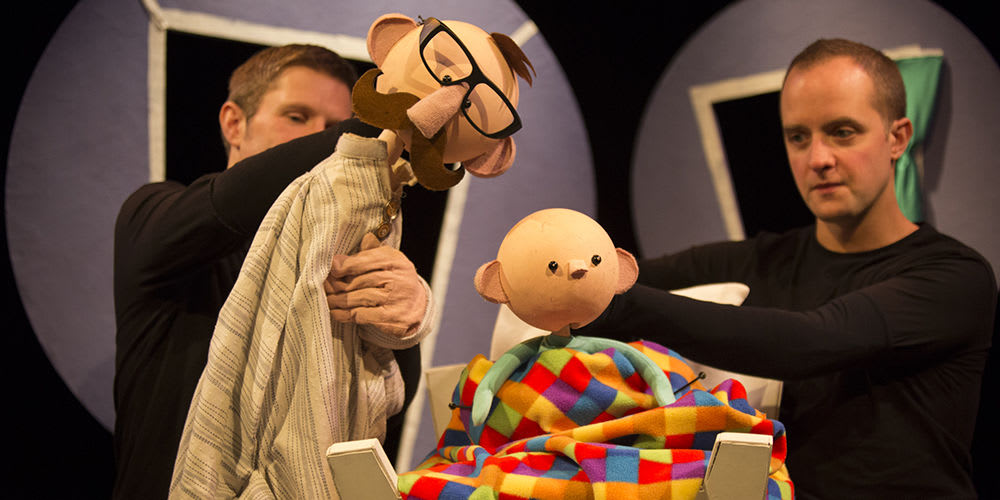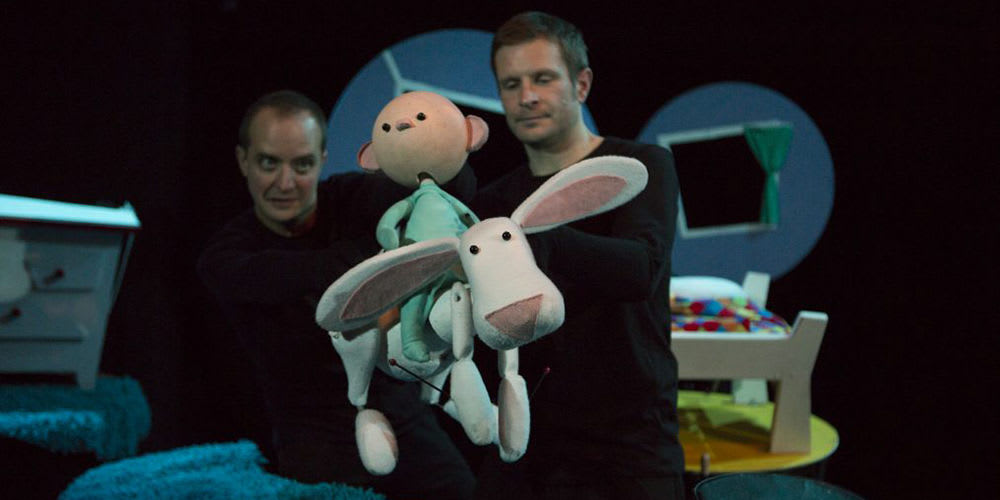 Islington's Little Angel Theatre—which, we are told, is one of only three building-based puppet theatres in England—has taken up residence in the Royal Exchange's Studio for the rest of the year with this charming and colourful show aimed at 2- to 5-year-olds.
The whole presentation shows the experience that this company has with performing to this age group, from the gentle introduction of the puppeteers (David Burchhardt and Nicholas Anscombe) before any puppets are seen to the repetition and clear visual storytelling. Luis Alvarez's design uses big, bold, colourful and slightly wonky shapes to make up the bedroom which can be transformed into other locations easily, managing to be economical and compact while giving the puppeteers lots to play with to tell their simple story.
This story centres on Baby and Dad's attempts to get him to sleep. Dad, sporting a very impressive colonel's moustache, tries all sorts to get baby to sleep, including a book called Sleepyhead and even magic, but inevitably sends himself to sleep instead, leaving Baby to get up to all sorts of mischief unsupervised—even tightrope-walking and other dangerous circus tricks.
Once he has a magic wand, this opens up all sorts of possibilities for him as he magics Dad out of the way and creates a cute little creature out of what looks like an Ikea bath mat. But then Rabbit appears out of the magic case, who is very cool and big enough for Baby to ride, which takes us into a whole very funny routine in which Rabbit is a French waiter trying to get Baby's order for cake right (it made perfect sense at the time). The humour then turns more scatological as the cake has a curious—and noisy—effect on Baby's digestive system, which obviously goes down well with both the target audience and the parents.
Bath-time then goes into a flying sequence with bubbles, which is beautifully done but perhaps goes on a bit long for this age group as some of the kids at the opening performance started to get a bit restless at this point.
Apart from that, this delightful 45-minute piece kept children, parents, reviewers and the theatre staff on the back row charmed, amused and entertained. It's definitely worth calling in if you have little ones and you happen to be in Manchester during the day (morning and afternoon performances only).
Reviewer: David Chadderton