Sleuth
Anthony Shaffer
Theatre Royal, Newcastle, and touring
(2008)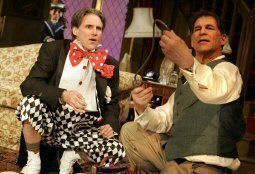 The publicity of Bill Kenwright's production of Sleuth describes it as "the world's greatest thriller", whilst Laurence Olivier famously described it as "a piece of piss" (before going on to star in the film with Michael Caine). Kenwright, I think, is closer to the truth than Olivier, mainly because it is more than a simple thriller: it has far more in common with The Real Inspector Hound, for example, than with your average Agatha Christie or Francis Durbridge.
For it plays with the genre and with the audience's expectations, starting, in the traditional thriller manner, in a set (by Simon Scullion) which is wonderfully evocative of all those country house mysteries of the kind that the first character we see, Andrew Wyke (Simon MacCorkindale), writes, and full of interesting objects and pictures which could, we feel, contribute to the mystery to come. Then protagonist number two, Milo Tindle (Michael Praed) arrives and it emerges that he intends to marry Wyke's soon-to-be-divorced wife Marguerite and Wyke proposes an insurance fraud which will benefit them both.
So far, so traditional. But then begins the series of twists and turns which take it well beyond the traditional to a mixture of psychological thriller, black comedy and almost parody.
What is significant is that, 38 years on and after long runs in the West End and on Broadway (including a Tony Award) and two film versions, it still has the power to hold and entertain an audience. The enduring popularity of the thriller on stage and on TV (with Miss Marple and Hercule Poirot still getting the viewing figures!) means that Sleuth still reaches its audience.
Of course, that it does so is in no small measure due to the performances: both MacCorkindale and Praed fully inhabit their characters, giving them a reality totally in keeping with the traditional thriller and the more modern take on it required by Shaffer's twists and turns. They are closer in age than the characters were protrayed in previous productions and in the films but to someone coming new to the piece this wouldn't matter at all and, surprisingly, to those who know it, the difference very quickly became irrelevant.
One little complaint, though: for some reason lighting designer Mark Howett has very little light coming from front-of-house so that, when the actors came to the front of the stage, they were in deep shadow. Whilst I can think of a number of possible explanations for this, I have to confess that I found it off-putting. But that's a minor niggle in what was, otherwise, a very enjoyable evening's theatre.
Running until Saturday 5th July. Newcastle is the last stop on the tour.
Reviewer: Peter Lathan