Slipping
Claudine Toutoungi
The Stephen Joseph Theatre Company
Stephen Joseph Theatre McCarthy Auditorium
–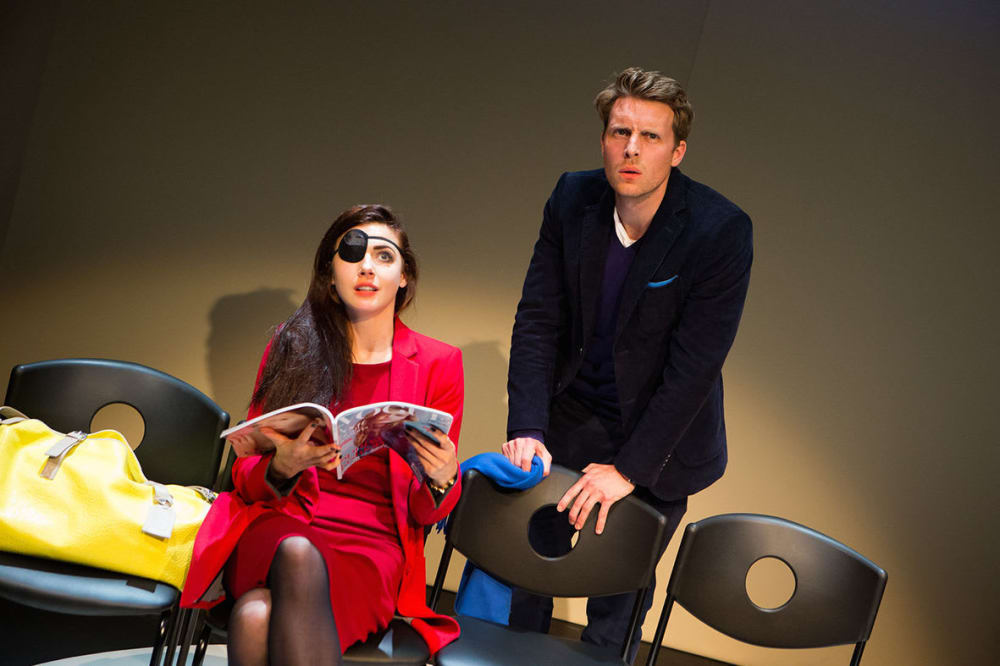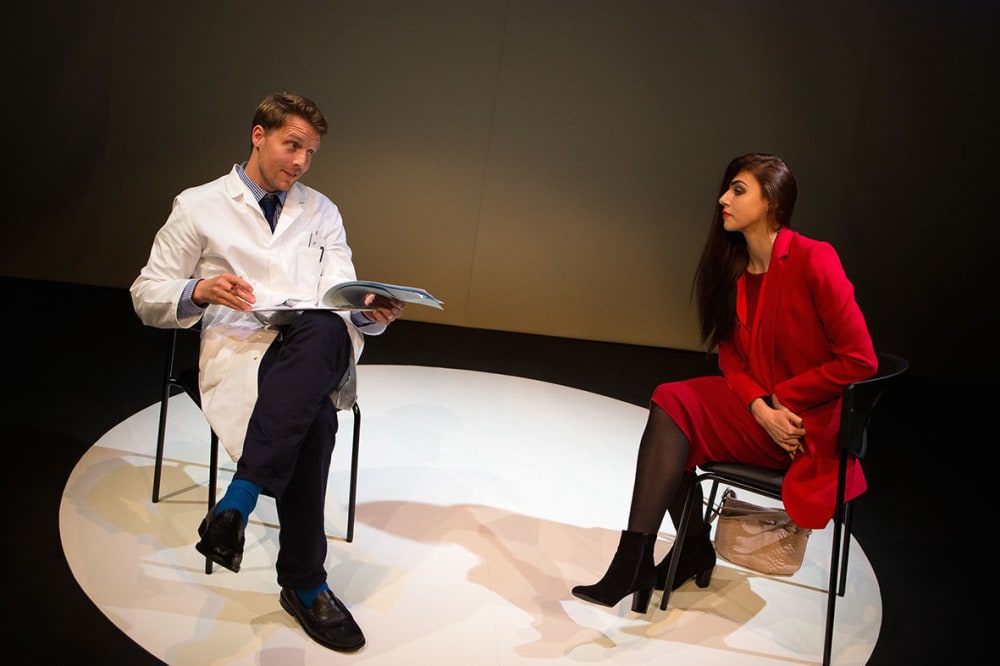 Claudine Toutoungi is a trained actress who has more recently turned her hand to writing, and though Slipping is one of her first produced pieces, the writer is not entirely an unknown quantity.
She submitted the play as an unsolicited script, which offers hope to all would-be writers. Her work on Screenplay at the Stephen Joseph and previous iterations of this piece (notably as a Radio 4 drama featuring Andrew Scott and Charlotte Riley) mean that the playwright is by no means a novice.
Nonetheless, while there is much to admire in this honest, often humorous writing, there is some sense that further redrafts and workshopping would have honed the script further for the stage.
It's a two-hander about Elena (Charlotte Harwood) and Sean (Christopher Harper): the former a patient awaiting eye removal surgery, the latter the ocularist (not a doctor, as he insists) in charge of the case.
Toutoungi was drawn to write a tale about the physicality of eye checkups, noting the familiarity and intimacy of gazing into a stranger's unflinching stare. From the outset, this familiarity breeds attraction, and the pair become lovers, though both of them prove unreliable narrators of their own lives—both harbour secrets.
And what secrets. At times the revelations come so thick, fast and dramatic that they verge into melodrama—the lovers run through the full gamut of plot twists.
So I'll get rid of the difficulties first: this is a play from a relatively inexperienced writer, and at times it shows. As well as the seemingly endless sequence of shock announcements, the play sometimes relies on quite jaded devices—the 'phone going off just as its owner happens to have left the room, the dramatic showdown just when one character feels at their most triumphant.
More sensitive direction might have moderated these overfamiliar tropes, but we even have a literal overhearing scene in which further revelation is wrought when one character stands a few metres behind the other, unbeknownst to the individual handily spouting a summary of their major personality flaws.
So there are times when the dramatic irony is laboured and the climaxes heavy-handed. On the other hand, there are sparkling moments. Harper delivers a devilishly good performance as the troubled ocularist, full of range, nuance and wit. The scene in which he delivers a lecture to a room of would-be investors is plausibly (and—despite the subject matter—interestingly) written, directed and delivered.
The scene which follows illustrates both the strengths and the weaknesses of the piece. There are moments of real passion between the pair, and Harwood and Harper demonstrate a clear on-stage chemistry with comic timing and emotive interplay both working with apparent ease.
There follows a series of revelations and arguments and, while both performers handle the gear shifts well, there are some odd motivations and abrupt jolts which aren't quite satisfactorily constructed. Too many different confrontations are occurring at once in the scene for it to feel like an organically developed interaction.
Harwood, in particular, has the harder job. While at times Elena presents an intriguing sketch of an individual confronting her self-image in troubling circumstances, she is also given switches and reversals which lead at times to obscure motivations and manic fluctuations. Her monologue equivalent to Harper's conference pitch is less successful, with comic lines seeming a little more forced and implausible for a character who is supposedly so aware of her self-projected image.
But she also deals movingly well with some of the rawer emotional content and, by the end, our sympathies are definitely with this character—with both, really, despite their respective ranges of mistakes, flaws and wilful misconduct.
The staging, directed by Henry Bell and designed by Lucy Weller, is clean and modern, which makes it a shame when the minimalist but lengthy set changes interrupt the flow of the drama. A reduction in the number of scenes, and a staging which allowed for even simpler changes (perhaps effected by the performers themselves), would have further aided the transition from radio to stage play.
However, as a marker set out by a compassionate writer with an unusual angle on the tricky genre of the two-hander, this is a piece with promise, performed with skill and energy by its likeable cast.
Reviewer: Mark Smith