Smack That (a conversation)
Rhiannon Faith, devised by the cast
Barbican Pit
–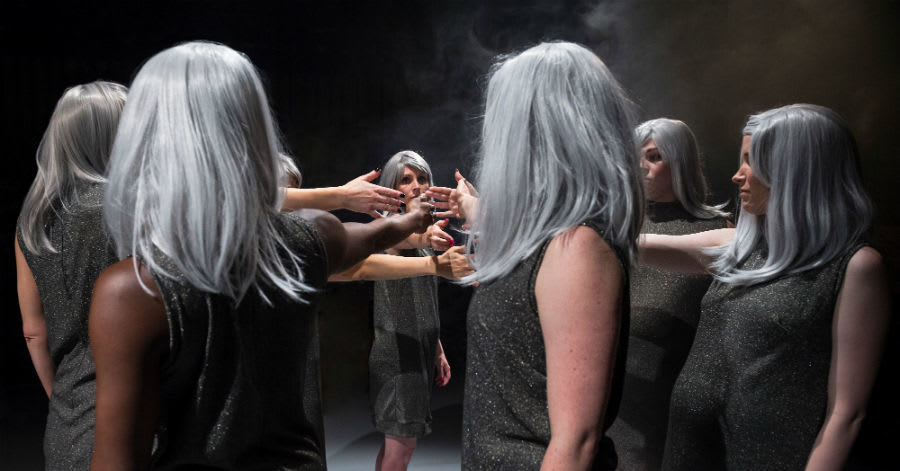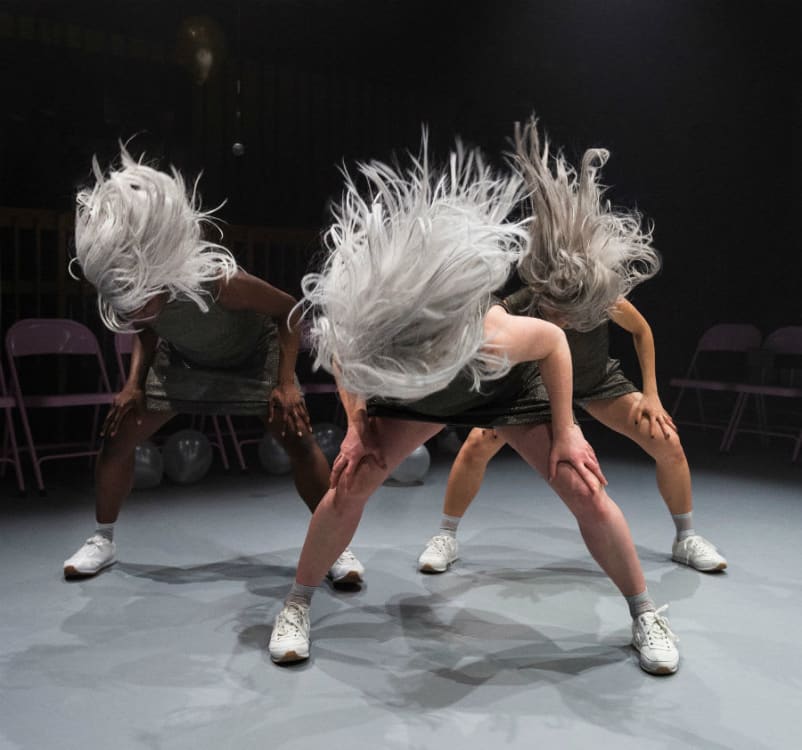 Beverly's party gets to be a very unsettling affair, but not before it has entertained us with drinks, popcorn, and party games.
The audience sits in a circle of pink chairs as six women identically dressed in silver dresses and grey wigs check we have our drinks and are comfortable. They are all called Beverly and they give us name tags with Bev in the title, for, as they explain, "there is a bit of Bev in all of us".
The playful mood soon changes as the show imaginatively explores the trauma of domestic abuse through the fragments of victims stories, through dance that powerfully evokes its emotional impact and finally through a passionate toast of outrage to those in the world who have contributed to domestic abuse.
Although the performance recognises that the victims of domestic abuse include children, men, and LGBT people its focus is mainly the women victims that make up most of the statistics.
The games are the greatest opportunities for audience involvement.
Those who open each layer of pass the parcel find and read out a statistic such as "a woman on average suffers abuse thirty-five times before seeking help," and "in England and Wales, one woman is killed by a partner or ex partner every three days."
The most upsetting game has the audience continue to sit or to stand in response to the formulae "Never have I ever..." which begins with such minor things as "spilled red wine" but goes on to include such statements as "woke up with a man inside me" and "been pushed on a man's cock and been made to suck it".
Such moments in the show are why the audience is told they can during the performance if they need, use a separate break-out room where a qualified therapist is available to provide support.
And if the game of "Never have I..." might be a time when that is necessary, other such moments are possible during the stunningly choreographed dance expressions of women suffering.
You will for some time afterwards recall the woman whose dance ends with uncontrollably shaking, and that other woman whose face is repeatedly banged onto a cake before she is tossed aside. Then there is a sequence which begins with a voice saying, "you get this sliver of humanity, a hand outreached." In response, women begin moving in hope with one arm extended and end with both arms outstretched in a scream.
Maddy Morgan is particularly impressive dancing a sequence which an audience member described as a fine balance between style and the brutal.
By the time Rebecca Dunn stands up to propose a passionate angry toast, her words express our outrage.
It opens with a toast to Theresa May who is setting up a commissioner to oversee domestic abuse at the same time as cuts are closing support centres for its victims.
She also toasts Chris Brown, Donald Trump, Oscar Pistorius and the forty-six countries that have yet to introduce legislation on domestic abuse.
And with her eyes blazing at the scale of the horror suffered by victims she angrily concludes with "Protect your fucking people. Cheers fuckers."
Smack That (a conversation) is part of the Barbican's 2018 Season, The Art of Change, which explores how artists respond to, reflect and can potentially effect change in the social and political landscape.
Reviewer: Keith Mckenna