Smack That (a conversation)
Rhiannon Faith, devised by the cast
Ovalhouse
–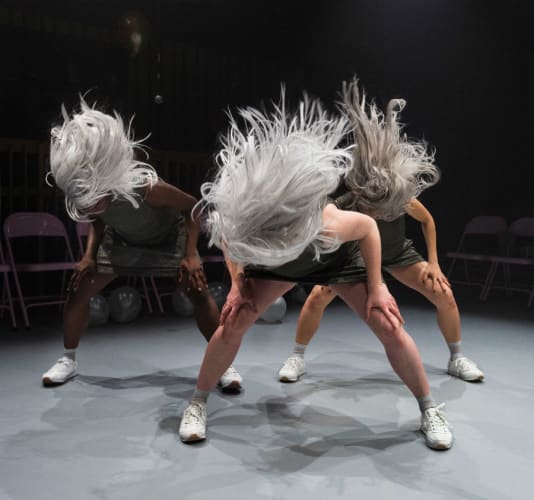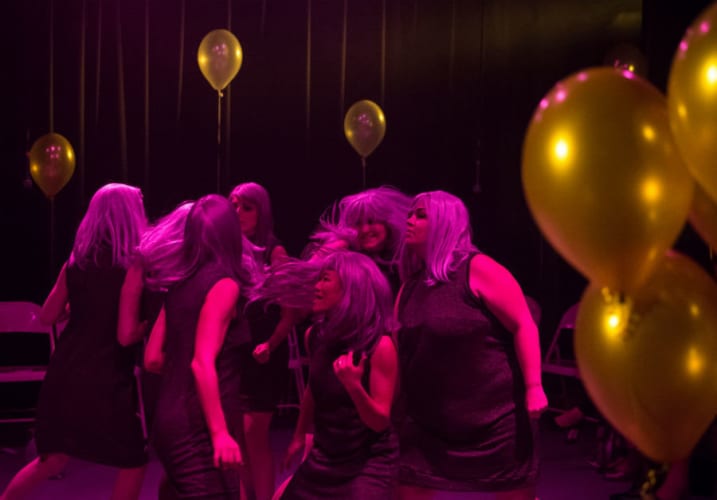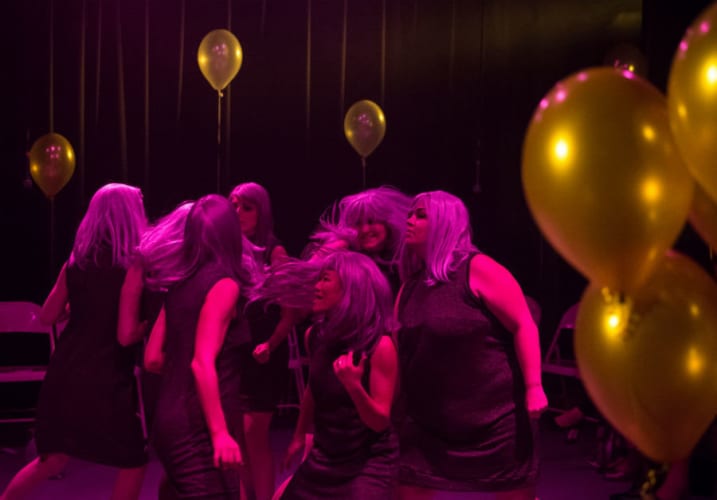 If you are in the mood for just one party in 2019, then make it Bev's, which may well be one of the theatrical highlights of the year.
There are drinks, popcorn, party games and, as it's a conversation about domestic violence, there are emotionally moving stories from survivors and dance sequences that leave both audience and performers breathless.
Six Bevs in silver dresses and long, grey wigs welcome us to the circle of pink chairs and hanging balloons. Each of us is given a name tag that includes the word Bev because "there is a bit of Bev in all of us".
Just what they mean by that will later become clear, but for a short time we watch them dance exuberantly.
There is nothing daunting about the first game. It's just a matter of raising or lowering our arms to indicate a preference for one of two alternatives such as "champagne or punch", "Tottenham or Arsenal".
It leads to stories from the real experience of the Bevs' first meeting with partners and how things could shift between golden times and grey times. "Grey when his eyes turned red"; "Grey when there was blood on the floor."
The games become more disquieting, the dances and stories progressively more disturbing.
A game which allows us to stand to acknowledge our own trauma begins gently enough with the statement, "never have I ever..." being completed initially with minor things such as "fallen over on the dance floor", but soon shifting to upsetting events of having "woke up with a man inside me" and having "been pushed on a man's cock and been made to suck it".
It is astonishing and shocking how many of the mostly female audience stood for every statement in the Ovalhouse performance.
But in case anyone should think this audience is unique, a game of pass the parcel reveals with every layer unwrapped some terrible statistic: "1 in 4 women will experience abuse in their lifetime" and "in England and Wales, one woman is killed by a partner or ex-partner every three days."
Between the games, the Bevs dance unsettling expressions of women suffering. Particularly disturbing is the sequence in which a Bev (Yakilo Masui) has her face repeatedly banged into a cake before being tossed away and the whole sequence repeated.
A dancer falls and is caught by another, a Bev beats herself till she is held by someone, a third shakes uncontrollably till she also is held.
Angrily, Rebecca Dunn toasts those who are part of the problem, from the 46 countries that are yet to introduce legislation on domestic violence, to the decision of Theresa May to set up a domestic abuse commissioner at the same time as government is causing the closure of refuge centres. "You are letting women down. You are beating us down. Protect your fucking people. Cheers fuckers."
Reviewer: Keith Mckenna