Smoke
Bryony Lavery
New Vic Theatre, Newcastle Under Lyme
(2006)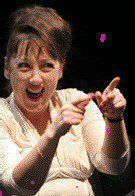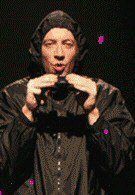 Bryony Lavery's new play appears at first glance almost like a Bridget Jones's Diary for the stage: it's the tale of a woman who's lacking love and her unsuccessful attempts to find the man of her dreams.
Unlike Helen Fielding's creation, the central character of Lavery's play, Donna, attracts a stalker. When he's rebuked, his feelings for Donna turn to obsession. So Donna's friend Theresa conjures up a cunning plot to get rid of the stalker which involves the women impersonating each other and Donna staying in Theresa's flat.
So far so good. The first half of Smoke is funny, perceptive and at times frightening. Explosive effects have you jumping out of your seat. And stalker Rod's deranged behaviour is real enough to terrify a number of women in the audience.
Sally Carman is a likeable Donna, resigned to her fate of not being able to attract the right sort of man, just a little bit light-headed yet not too pathetic so that she loses our sympathy.
Lisa Millett is a complete opposite as Theresa, more outgoing, always ready to party and so desperate for love that she thinks any new man she meets is "the one".
Despite this being a play about modern women and their relationships, Robert Cameron nearly steals the show as Rod. He's as wet as a Bank Holiday weekend, makes candles in his spare time and sings soppy songs when he realises he's in love with Donna.
Cameron is especially impressive as he grows more and more fixated with Donna, breaking into her bolt hole as he's intent on revenge for being dumped.
The first half builds to a thrilling climax, with a ghost that haunts Theresa's flat scaring Donna out of her wits.
However, Smoke then becomes rather silly. We finally see the spook, called Tom. He's described in the script contained within the programme as "a piece of charred ectoplasm" - and from then on the play's a letdown.
That's no fault of Michael Hugo who throws himself wholeheartedly into the part. Tom is disfigured and has a bad foot which means he hops across the stage all the time. He's pretty scary when he's hidden i
n near-darkness - but when he finally appeared I got the same feeling as I had towards the end of the film Jaws when the manufactured shark came out of the water: the illusion was shattered.
The denouement to Smoke leaves all the characters with their worlds crashing down around them while Tom stupidly keeps asking "am I dead?" All the earlier comedy, the clever plotting and committed acting are undone by Tom's annoying antics and a script that becomes ridiculous.
The New Vic's artistic director Gwenda Hughes tries to hold everything together but by the end you get the impression that Lavery has lost her sense of direction somewhere in the mists that swirl around the stage.
This play starts so promisingly but well before the end the best ideas have gone up in smoke.
"Smoke" runs until March 4th
Reviewer: Steve Orme