Smother
Andrea Walker
201 Dance Company
Theatre Royal, Stratford East
–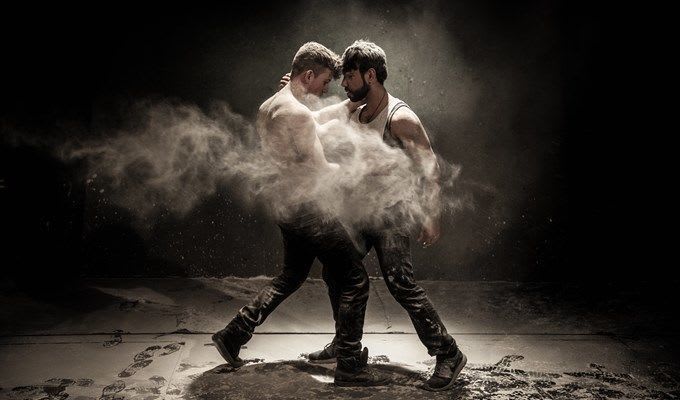 Hip-hop has tended to be aggressively macho and when this creation of pop choreographer Andrea Walker was first staged it was greeted as a welcome breakthrough in its presentation of same sex relationships, both male and female.
It does so with virility and strong feeling from a team of seven accomplished dancers who don't just move their bodies with precision but act out emotions from their eyes to their fingertips with gut-wrenching feeling: just watch their faces and bent-over, sucked in abdomen.
After a relatively conventional urban dance opening that introduces the company, a sequence of numbers to well-matched song tracks presents a narrative of three couples: straight, gay and lesbian. At first, relationships are fairly fluid, then they pair off and later a third man breaks into the male relationship.
There is no spoken dialogue, no verbal argument; Smother traces the patterns of emotional and erotic engagement through movement. It is played out in a dark world defined by Louisa Smurthwaite and Norvydas Genys's atmospheric lighting, its beams piercing a heavily misted environment.
Puffs of white powder facilitate breaking down barriers and overcome inhibitions but the addiction of the man danced by Saran Kohli disturbs his lover (choreographer Andrea Walker) who becomes involved with another man (Luca Fracasso). Meanwhile, Amy Lucas and Ash Lloyd appear as a heterosexual couple and Dineshi Nirgunananthan and Michaela Cisarikova dance out the development of a lesbian pairing.
Though Smother places a spotlight on same-sex relationships and physical attraction, with a wry glimpse at the awkward embarrassment the women find in breaking a taboo, this isn't about difference but the kind of emotional journey we can all have.
If you ever found or lost love (and admit it we mostly have) this is partly your story, danced with both passion and gentleness and looking beautiful. This isn't the regimented, show-off hip off of floor spins and back flips but dance that explores feelings much more subtly. The sharp angles of hip-hop blend into free flowing movement, adding eloquence to exciting action.
Note: There is no performance on 14 April.
Reviewer: Howard Loxton