Snookered
Ishy Din
Tamasha
The Traverse Theatre, Edinburgh
–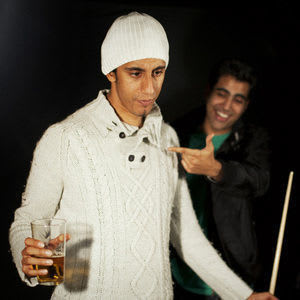 This play does have slight similarities with Patrick Marber's Dealer's Choice with its naturalistic setting, mix of humour and tragedy and the characters being focused on a game. The use of the pool game like the poker game both highlights and heightens tensions from outside the game, though in this play the tensions are those of a group of young men in a northern town whose parents came from Pakistan.
The bar with its pool table has been perfectly recreated; the drinking and the pool playing too by the four actors is also totally naturalistic, giving a real fly-on-the-wall feel to the action. Din's dialogue though with its northern Pakistani patois, jokes and cursing makes the characters feel very real.
Billy (Jaz Deol) has returned from London to meet up with his old friends for their annual game of pool. As the four friends start drinking, knocking back the lagers from the real onstage pump and the JD shots from the silent white barman, cracks start to show in their relationships. Secrets are revealed but there are no real bombshells and no one character is singled out as a victim or villain.
The play manages to touch upon the problems facing British Muslims without making this the focus of the play or indeed too important to any of characters themselves. Belief is mentioned, but there is no real quarrel over it. The real passion is in the discussions of loyalty, friendship and money, so that although some of the slang might be unfamiliar to the audience, the things that really motivate the characters are universal.
At times the conversations between the characters were confusing, with the natural style and the characters themselves not needing to explain past events fully; better exposition though would have taken away from the dialogue. The tensions did build up helped by the pool game but there was no major twist. There were some really strong moments near the end of the play although the ending itself seemed to take slightly long coming.
A play around a pool table that is not black or white, very truthfully neither ignoring the racial and religious context nor making it the main feature.
Until 18th February at The Traverse and on tour until April.
Reviewer: Seth Ewin