Snow in Midsummer
Frances Ya-Chu Cowhig
Royal Shakespeare Company
Swan Theatre, Stratford-upon-Avon
–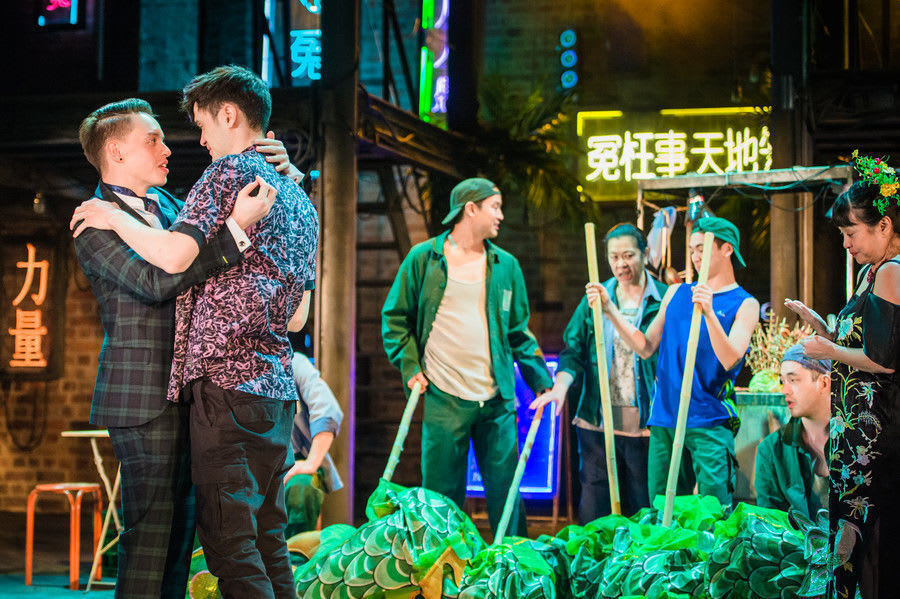 When Guan Hanqing wrote what was to become one of the most famous Classic Chinese dramas over 800 years ago, it's a safe bet he never envisaged the inclusion of rape, homosexual lovers or heart transplant surgery.
Here however we are dealing with a modern re-imagining by American playwright and playwriting professor Frances Ya-Chu Cowhig.
Common to both stories is the fate of the heroine Dou Yi. Facing execution for a murder she did not commit, she vows that her body will be covered in snow in midsummer, and curses her village with drought until her innocence is proved.
Three years later, her ghost reappears to demand justice, assisted in Cowhig's version by the arrival of self-made businesswoman Tianyun. She takes over the now run-down factory in a community where families have farmed for 20 generations, but so parched that plastic trees have replaced the real ones. After her daughter starts seeing the ghost, Tianyun perceives a need to respond in order to lift the curse.
Updating the story to the present day certainly offers bags of potential: the juxtaposition of superstition and progress in modern China, tradition and change, the power of the individual against a corrupt authority.
Sadly, the script is not up to the job. Its new sub-plots seemed incongruous, and in a leaden first half, in which declamatory statement took the place of credible dialogue, it seems as if director Justin Audibert is relying upon the musical clamour and Anna Watson's spectacular lighting effects during scene changes to add a little excitement.
Throwing in a dragon dance seems close to desperation.
Matters improve after the interval. As if freed from the weight of its literary heritage, the piece leaps to a higher level in the confrontation of Wendy Kweh's Tianyun and the excellent Jacqueline Chan who plays Dou Yi's mother with a quiet dignity.
The scene is really the heart of the play, refocusing the entire piece from ghosts to guilt. Unlike what has gone before, it makes an immediate impact, making me wonder if the playwright had written this first. It is a shame, though, that it takes so long to feel a pulse.
Katie Leung, best known for giving Harry Potter his first kiss, is a curious choice as Dou Yi. She comes across with the grim jollity of a street-fighter but having the only Scottish accent in the cast makes the character seem like an outsider in the small community—which she most definitely is not.
Sarah Lam combines a mother's tenderness and determination as the wet-nurse, Colin Ryan and Andrew Leung come alive, so to speak, in their death throes and the young Emily Dao is confident and accomplished as Tianyun's daughter.
Snow in Midsummer is the first production in the RSC's Chinese classics project, others of which are yet to be announced. It should be a rewarding experience, despite a tinge of disappointment at its start.
Reviewer: Colin Davison