Snow White and the Seven Dwarfs
Paul Ferguson
Blue Genie Entertainment
Hazlitt Arts Centre, Maidstone
–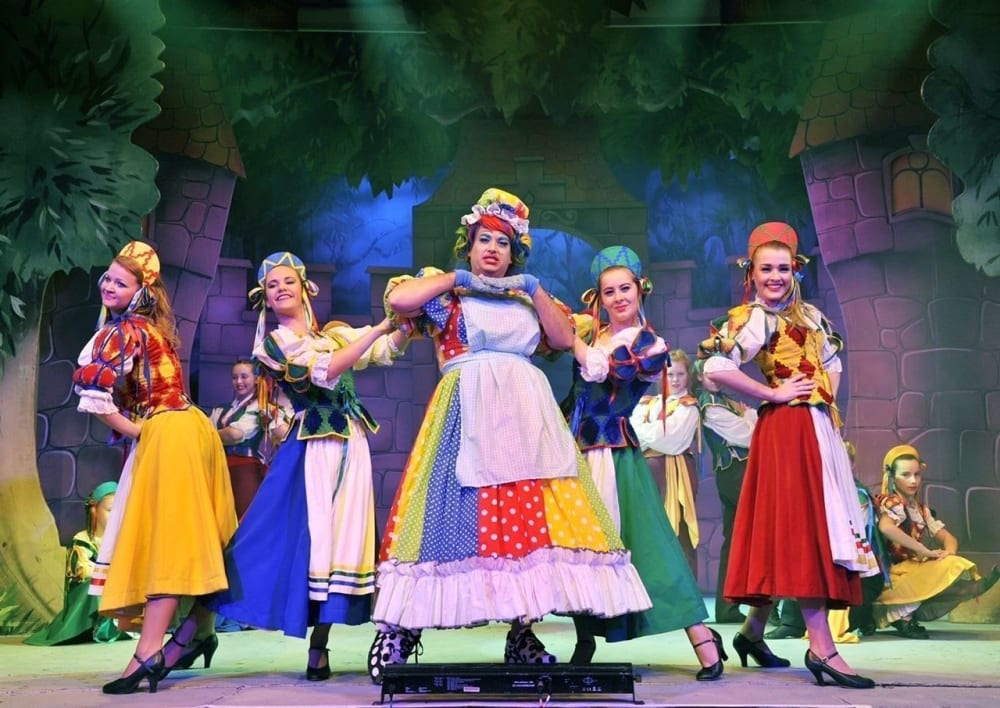 To celebrate his seventh year of presenting pantomimes at the Hazlitt Arts Centre, Blue Genie Entertainment's Gary Telfer brings the tale of Snow White and the Seven Dwarfs to the Maidstone stage.
There are two roles key to the success of Snow White: the title character and the Wicked Queen. These characters, the antitheses of one another, exemplify all that is good and evil in the world and act to remind the audience of the innocence of youth oft corrupted by greed and jealousy.
In the role of Snow White, Amy Burrows is one of this season's strongest Principal Girls. Full of cheer and charm, she plays the role truthfully but retains a sense of naivety much needed to make being taken into the woods to meet her fate believable.
Kate Richards's Wicked Queen Grimmacealot is the complete opposite of Burrows's Snow White. Aided by some effective underscoring courtesy of musical director David Jonathan, she prowls the stage and icily stares at the audience whilst delivering her dialogue. An impressive lighting design from Luke Woods adds yet another layer to her wickedness as bathed in green she terrifies children in her quest to bump off Snow White and wed Prince Charming.
As Charming, Ian 'H' Watkins is a delightful royal, but seems slightly miscast. Watkins has such a warm and cheeky personality that his exaggerated accent is more reminiscent of Muddles mocking the Prince than a future King and his jovial nature is more suited to that of the Comic. An excellent pantomime performer, he knows how to work the crowd and reacts perfectly to a running joke which sees Steps songs interspersed with the dialogue and parodied in celebration of his celebrity.
If Watkins's energy usually sets the bar, this year it goes through the roof with Tom Rolfe and Damian Patton's Odd Job and Muddles. As Snow White's best friends, the two Comics have the audience in fits of laughter as they execute many a front cloth gag with precision and skill.
Act one's Ice Cream Gag, which sees the troublesome twosome attempt to pie each other and Snow White, is a highlight of the show and a real lesson in the art of pantomime. With so few quality double acts in pantomime today, Rolfe and Patton have a bright future ahead of them and bring a sense of old-school tradition back to proceedings with their back catalogue of gags and business.
Sitting somewhere in between Paul O'Grady and Danny La Rue, Jimmy Burton-Iles's Dame Dotty Dumpling is in many ways the driving force of the show with a whole host of musical numbers and many lines of narrative dialogue.
Unclear at first, the reason behind such an approach manifests at the end of act one when it is revealed that Dotty is in fact a real life Fairy in disguise watching over Snow White. Although perhaps a little convenient, it does enable a transformation sequence and for the production to include the Benevolent Agent character so often lacking in the title.
Yet more comedy is added in having the Dwarves voiced by impressionists which sees Bruce Forsyth, Louis Walsh, Simon Cowell, Alan Carr, Keith Lemon, Ozzy Osbourne and Joe Pasquale channel their much-loved personas complete with catchphrases.
Performed by a team of young performers in addition to the junior ensemble, the increased cast size, including the three professional ensemble members, means the stage is always filled with happy citizens of Loomband Stretchville, a nod to this year's playground craze.
A panto strong on comedy, a little more romance and contrast would round off Snow White and the Seven Dwarfs and make it an enchanting pantomime as well as the rib-tickling festive treat it is.
Reviewer: Simon Sladen